Reimagine Tomorrow | 2021 UWC Day
Issue date:2021-09-26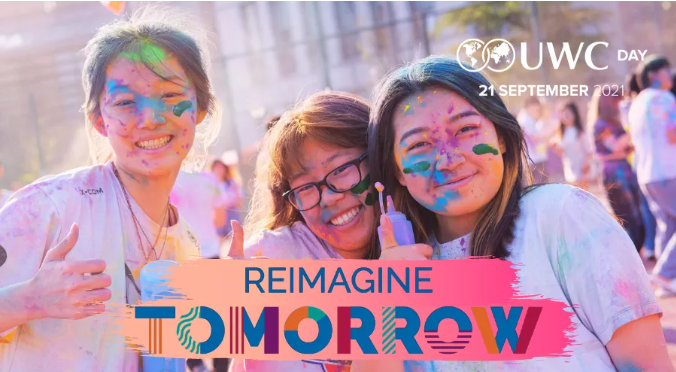 UWC Day is the annual global celebration of the UWC mission and values, which takes place during the week of 21 September every year, to coincide with the UN International Day of Peace.
UWC Day is a moment to reflect and celebrate the strength and diversity of the UWC movement and our mission for a more peaceful and sustainable future through connecting and mobilising UWCers globally. It serves as a chance to spread the word about UWC, our work and values. But it is also an opportunity to reflect on what we do as a movement, to determine how to be more effective change-makers, and to continue to challenge ourselves.
Each year, UWC Day has a different theme which helps to provide a central focus for the day's actions and initiatives, for example: "United We Can" in 2020, "Climate of Change" in 2019, "Inspire Change" in 2018, "The Power of Diversity" in 2017. This year's theme is:

In 2021, at a time when the impacts of COVID-19 are still very present in our lives, injustices and conflicts continue to cause pain for many, and the effects of the climate crisis are already being felt, particularly in the most vulnerable communities around the world – we hope that this year's theme will give us all an opportunity to take a step back and to dream up a better world.
In order to build a more peaceful, sustainable and just future, we have to start by reminding ourselves that such a future is possible: we have to Reimagine Tomorrow.
On Wednesday 22 September, UWC Changshu China held a series of activities to celebrate UWC Day 2021.
In the morning, our K-pop dance group kicked off the celebration with an energetic dance performance at the school Assembly. Following, Principal, Mr Pelham Lindfield Roberts spoke to the community and said: "the UWC community has been called together, amidst the chaos and uncertainty of our times, with a sense of solidarity to reimagine tomorrow."
He emphasised that the UWC education approach is not to tell our learners what to think, but teach them how to think; how to think mindfully, compassionately, carefully, creatively, collaboratively, wisely and with humility.
Through this approach and with learning by doing, we will have the ability and creativity to tackle future challenges with hope for a better tomorrow.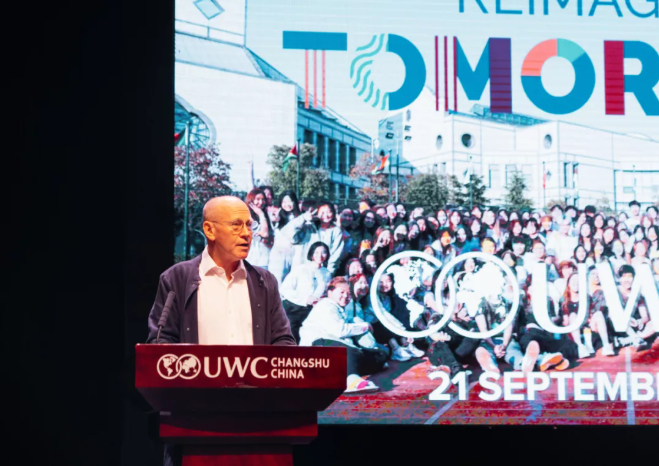 Mr Pelham Lindfield Roberts giving a speech
Michael Martell, Head of Curriculum Design and Innovation and Coordinator of Accreditation, gave an overview of our reflection and vision-building process that launched the creation of our new 10 principles of learning, four key learning plans, as well as our overarching "definition of learning". It's our belief that in order to meet the challenges of tomorrow's world, we must seek to achieve transformative change and a shared vision of learning.
Then, students shared their experiences and demonstrated how the process of learning by doing works in practice. Sky Xu(DP2)and Eva Yu(DP2)talked about their ecology and biodiversity exploration of Kuncheng Lake during Project Week. Benson Lv(DP1), assistant tutor at DT-Summer School, shared how he was inspired by the "Hackability" experience and learned to innovate, use design thinking and come up with solutions to improve the lives of members of local community living with disabilities. A member of the student council, Helen Liu (DP1) shared how she worked with community members to formulate our school "norms" that guide us to live the UWC values in our day-to-day lives.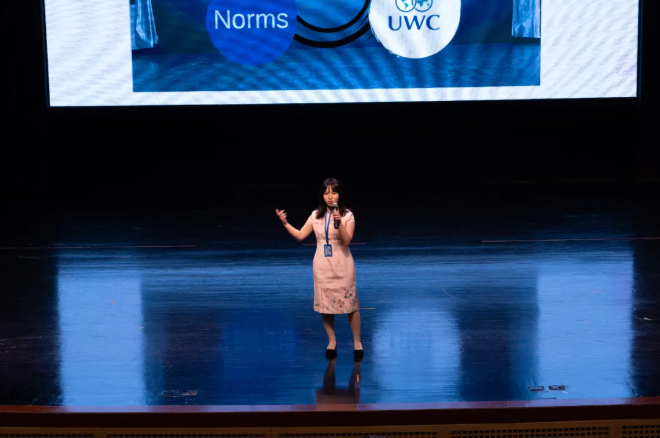 Helen Liu shared her experience as a student council member
Mr Mark Wang, founder and Chair of UWC Changshu China made an inspiring speech and said this was his 23rd UWC Day since becoming a member of UWC as a student. He reiterated that UWC education aims to cultivate new generations of young people who are committed to peace and a sustainable future. He encouraged students and community members to "take actions to make the world a better place and don't start tomorrow, start now."
He called on community members to think of creative ideas for a greener world and said incentives will be given for the most innovative ideas.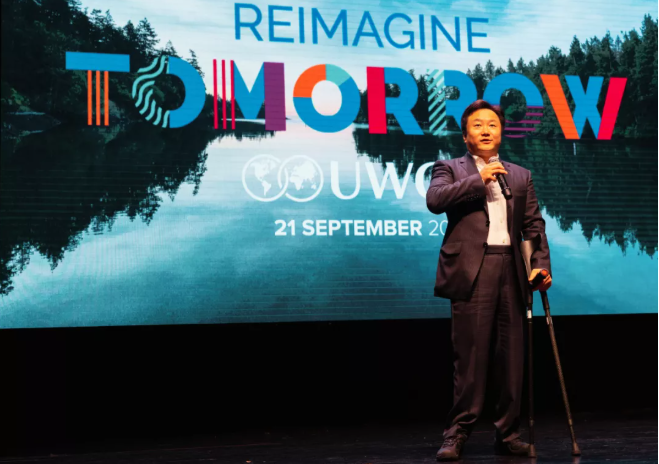 Mr Mark Wang giving a speech
After the assembly, student-led TED talks took place in different venues on campus where students expressed their views on topics that they are passionate about.
Alice Liang (DP1) talked on the topic "Reimagine the future with gender equality - One Room, infinite possibilities". She shared about social media's lethal superwoman narrative and the existing systemic structural issues that hinders the progression of gender equality. She hoped that through the newly set up Zhi Xing specifically focusing on gender equality through self-actualization, more people will pay attention to this issue to promote positive change, and reimagine the future.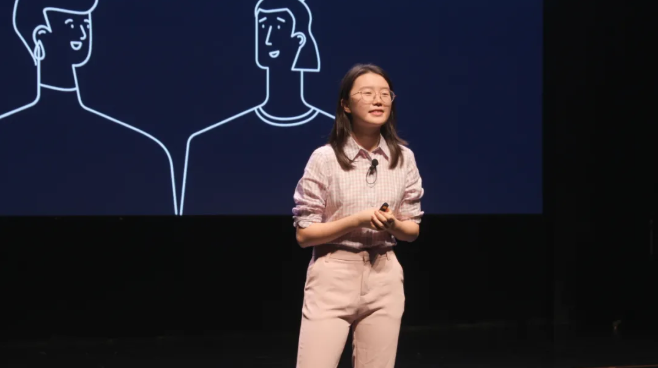 Alice Liang talking about gender equality
Other students talks covered a wide range of topics which include "Education and COVID: Challenges, solutions and future learning opportunities", "Future agricultural trends embracing sustainability", "Agree to disagree: how do we hold on to objectivity and rationality in a post-truth world?"
Theoamai Theater Zhi Xing performed a 20-minute play on the theme "Reimagine Tomorrow". The play tried to discuss a common social issue "Involution" through performance. It started with a dreamland without involution in the first scene, the second scene is about breaking the bubble, and finally rebuilding the ideal future world in the third scene.
"Since there was only three days for us to prepare the performance, we faced a lot of challenges, but it is a very rewarding experience. The meaning of this play really goes beyond the performance itself. " said Ruoran Yang, a member of Theoamai Theater and a performer in the play.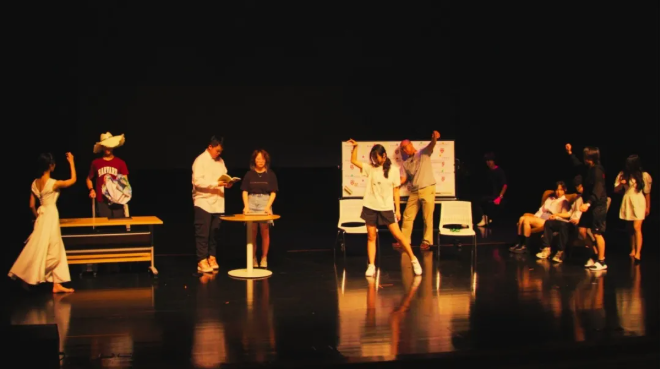 A short play "Reimagine Tomorrow"
Following the TED talks, students, faculty and staff hosted and attended workshops on a range of subjects which reflected creativity in interpreting this year's UWC Day theme, such as "Would we need wings to fly?", "Value in waste", "Chinese tea culture", "Haka Dance", "Edible water bottle production", "Mural painting", "UWCers' culture sharing".
Wall painting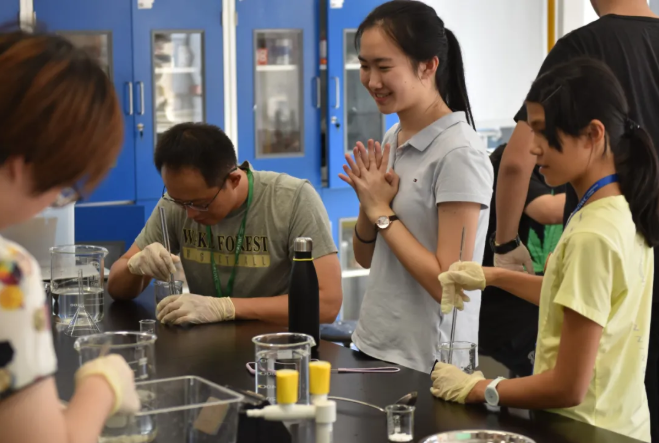 Edible water bottle production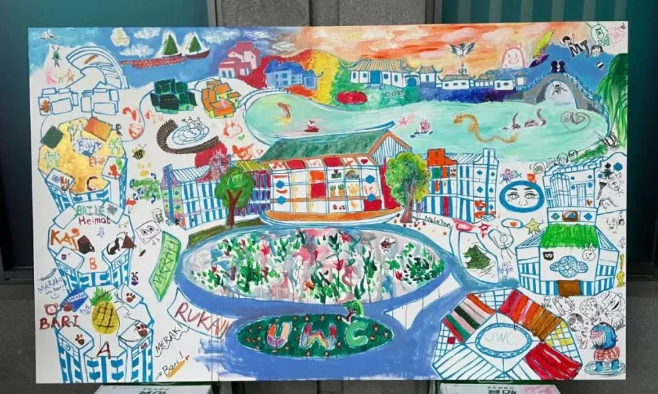 A picture jointly drawn by community members
Haka workshop
The Global Issues Forum (GIF) Team organised a workshop on "The Afghanistan Crisis: How did it get to this point?".
One of the members of the GIF Team said that "the Afghanistan crisis is an issue that has lasted for decades with a number of factors adding to its complexity. While preparing for this workshop, we gained a deeper understanding on the issue. We hope that, through this workshop, we can raise the awareness of current situation in Afghanistan and promote interests in international affairs."
During the workshop, GIF Team members discussed the issue in four sections – the historical context, an overview on the current events, different perspectives, and a discussion session. Participants shared their opinions on issues such as education, women's rights, refugees and ethnic groups.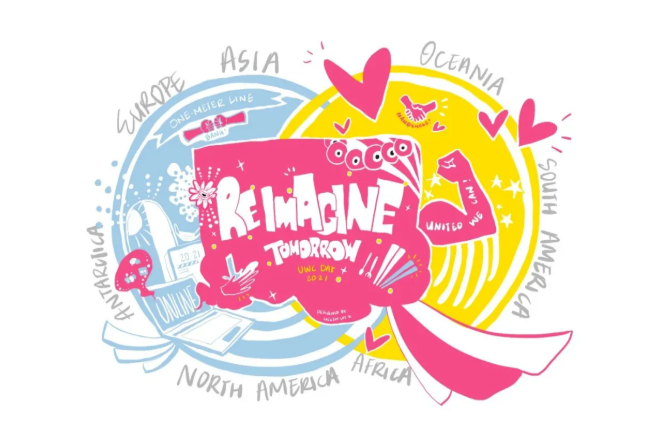 Wall painting "Reimagine Tomorrow" by students
This is a day to celebrate diversity and unity, a day to take action and make an impact, a day to look forward to the future with hope.
Together we will reimagine tomorrow.