Dear friends,
On behalf of all teachers of the Chinese Language and Culture Programme, I would like to extend our warmest welcome to all students who wish to pursue their dreams with a better understanding and appreciation of the unique values of UWC. I hope, by working together, we will become a beautiful, healthy, and upright tree in the land of China in the forest of nations.
As a member of the UWC community, we strive to push forward the UWC movement for a more peaceful and sustainable future of world we live in. We work together with our Chinese and overseas students and help them become young envoys of Chinese culture and proficient users of Mandarin.
Yours Faithfully
Li Ping, Vice Principal (Chinese Programme), UWC Changshu China
As the 15th UWC located in the mainland of China, UWC Changshu China has a special language policy, which is, all students, including native speakers and non-native speakers, must take at least one Chinese course. These courses are not only an integral part of the IBDP diploma programme, but also of great significance for enhancing the cultural identity for Chinese students, helping foreign students from all over the world learn Chinese language and understand Chinese culture.
To meet the different needs of students at different language levels, Chinese department offers 10 different types of Chinese courses, including 7 courses for IBDP two language categories and 3 school-based Chinese courses for FP students.
1、IBDP Category 1
  • Chinese A: Literature (High level & standard level)
  • Chinese A: Language and Literature (High level & standard level)

2、IBDP Category 2
  • Chinese B (High level & standard level)
  • Mandarin Ab initio

3、Chinese Courses for FP students
  • Chinese course for native speakers
  • Chinese course for non-native speakers
  • Conversational Chinese
Chinese Cultural Activities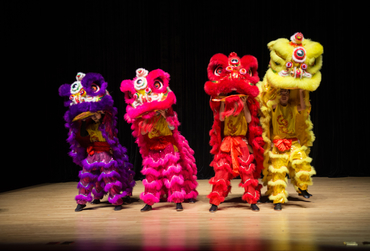 Chinese Cultural Evening (CCE) held before the Spring Festival every year is the biggest Chinese cultural event of UWC Changshu China. It is a platform for students to showcase the diversity and charm of the Chinese culture and express their understanding of Chinese culture through a variety of cultural performance. The success of CCE over the past years has drawn a lot of positive comments, such as "it is so impressive to see that the task of promoting Chinese traditional culture, which has not been done so well, has been carried out brilliantly by UWC, a newly founded and very international college."
Changshu Youth Center for Chinese Traditional Arts and Culture, jointly established in 2018 by the Chinese Department of UWC Changshu China, Changshu Institute of Technology, and Changshu Meili Town Government, aims to tap local resources to promote Chinese culture. The Centre hosts a plethora of activities including lion and dragon dance, dragon boat, martial arts, calligraphy, paper cutting, seal cutting, and lantern making. This platform will help foreign students gain a better understanding of the Chinese cultural traditions, while help Chinese students truly master the essence of Chinese heritage.
To foster a strong and seamless integration of UWC Changshu China community and the wider local communities, students of UWC Changshu China actively participate in various cultural activities organized by the local communities. Our students from Europe, America and Middle East performed with the local artists during the traditional folk song Art Festival in 2018. Our students also joined the 12th Reading Festival in Changshu by reading a Chinese poem in 7 different languages. UWC Changshu China has become an important member in the cultural exchanges in the local community.
Chinese cultural activities are also organized to celebrate the Chinese traditional festivals such as Qing Ming Festival, Mid-autumn festival and Duan Wu festival for students to immerse in Chinese culture