UWC Changshu China Holds Its Third Opening Ceremony
Issue date:2017-09-06
On 5th September 2017, over 560 students and more than 100 faculty, staff as well as guests of honour from almost 100 countries and regions around the world gathered together to celebrate UWC Changshu China's 3rd Opening Ceremony to welcome the new and exciting school year ahead.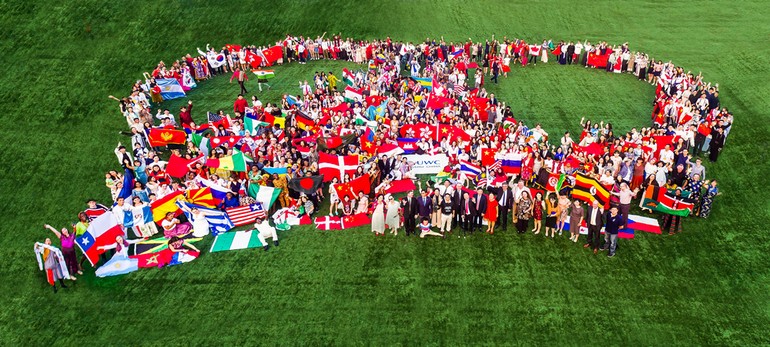 All students and faculty gathered together to welcome the new and exciting school year
This year's opening ceremony theme was "Celebration of Diversity and Strive for a Peaceful World". From the speeches of our Chairman, Principal, the Guest of Honour, teacher and student to the remarkable cultural performances by the students, the UWC Mission, "UWC makes education a force to unite people, nations and cultures for peace and a sustainable future" was exquisitely reflected, expressing a common aspiration among all UWCers——to create a better world together.
Celebration of diversity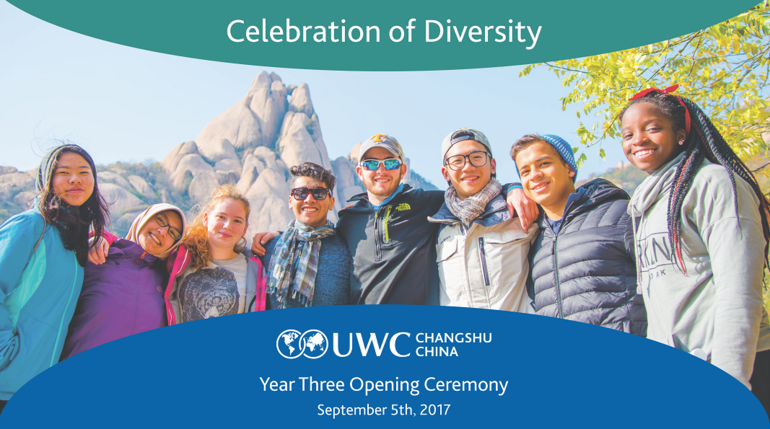 Celebration of diversity
Principal of UWC Changshu China, Robert Clarence mentioned in his speech that he hopes everyone "to reflect on what we achieved last year here and what we, perhaps, need to do differently this year. After all, it is this very act of reflecting which leads, I believe, to life-long learning."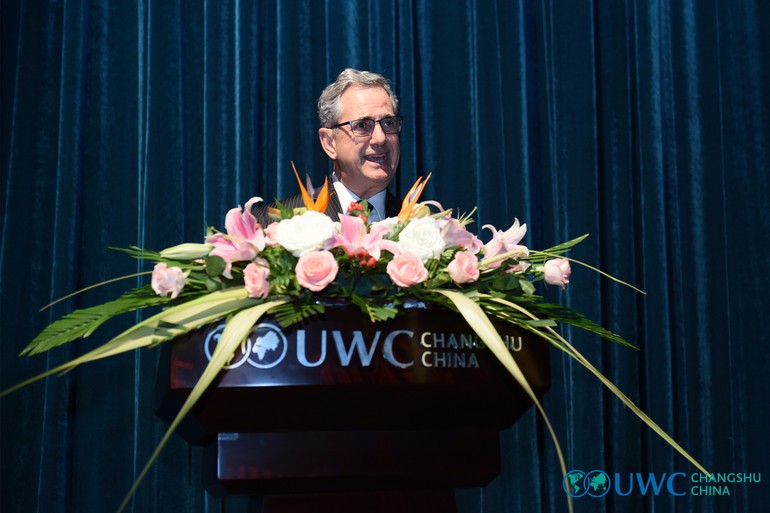 Principal Robert Clarence speaking at the ceremony
Founder and Chair of the board, UWC Red Cross Nordic Alumni Mr. Mark Jiapeng Wang expressed in his speech that"our vision of a college was about so much more than a campus and its buildings, more than an IB curriculum and co-curricular activities. Our vision was all about people: a committed faculty and generation after generation of students who will become committed to UWC's mission and values and who will leave our college determined and able to make the world a better place."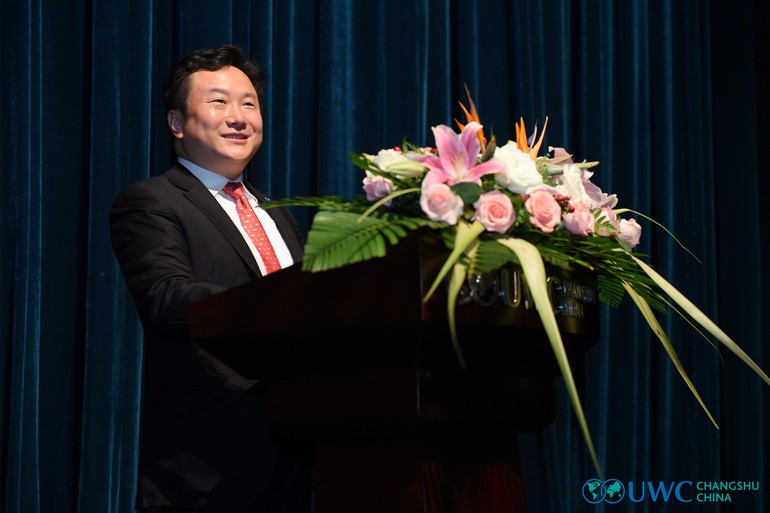 Chairman Mark Jiapeng Wang speaking at the ceremony
As a Pearson College UWC Alumni, Dr. Christian Hodeige, Chair of UWC colleges'chairs and founder of UWC Robert Bosch, stated in his speech that he believed that intercultural understanding and mutual respect were more important in today's world than ever before. He encouraged UWCers to keep UWC ideals in mind and take actions. He said:"We should keep giving each other hope!"
Dr. Christian Hodeige speaking at the ceremony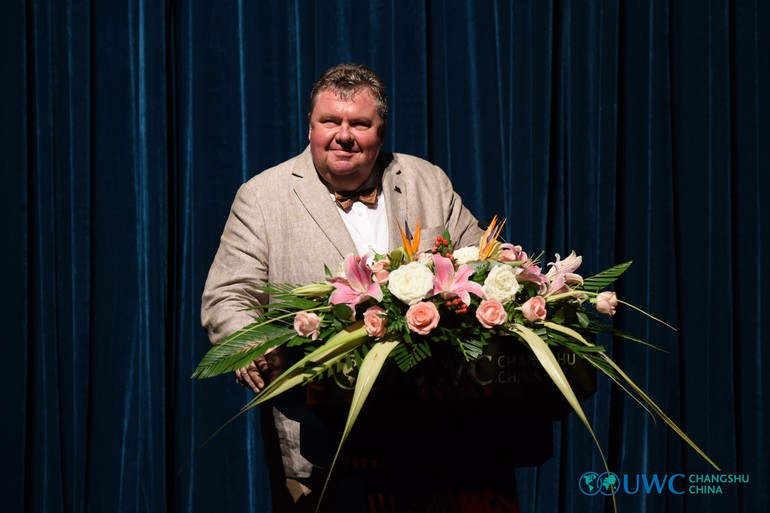 Dr. Christian Hodeige speaking at the ceremony
Dean of studies of UWC Changshu China and UWC Adriatic Alumni, Kokming Lee, also presented a speech where he quoted a phrase from Confucius, "Education breeds confidence. Confidence breeds hope. Hope breeds peace." and explained that "Education should empower a student to realize his or her potentials in life. Ideally, students should use their knowledge and newly learned skills to design solutions to resolve issues that he or she discovers in the community. I believe that with a noble end in mind, a student can learn with more passion and is more resilient in the face of difficulties." - See more at: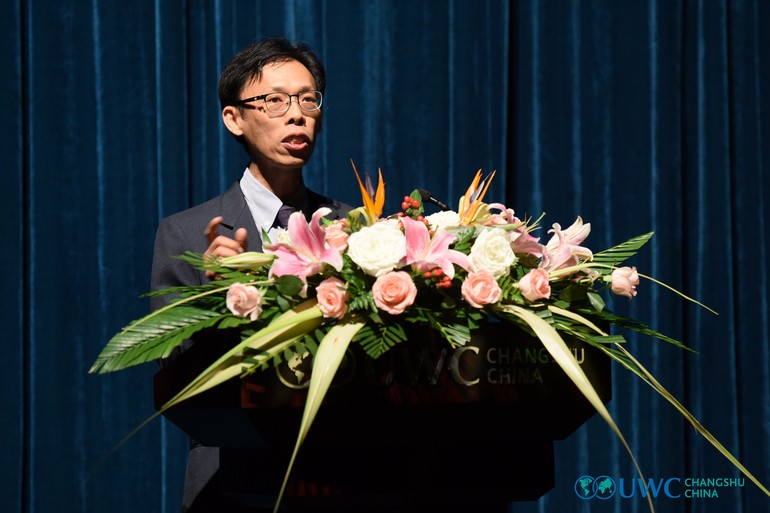 Mr. Kokming Lee speaking at the ceremony
These speeches have inspired all UWCers to work towards the UWC mission with perseverance.
A student from Afghanistan, Darab Ali also shared with the UWC community a very inspirational and meaningful speech. Darab, as a Muslim from a very conservative country, recounted his experience of attending a Christian mass in a church in Shanghai during Christmas. This was something that he would not even imagine before, and is a huge breakthrough to step out of his own comfort zone of his race, religion and society as he opens up to explore and understand different cultures and religions. Darab said that after his participation in the Christian mass during Christmas last year, he developed a deeper understanding of UWC's philosophy of uniting youths from different cultures, races, religion and social backgrounds to promote intercultural understanding and communication, and to achieve world peace and a sustainable development together. If people from various nationality and religions are able to learn about each other, then the community can look at issues from a different perspective, developing mutual understanding and avoid conflicts.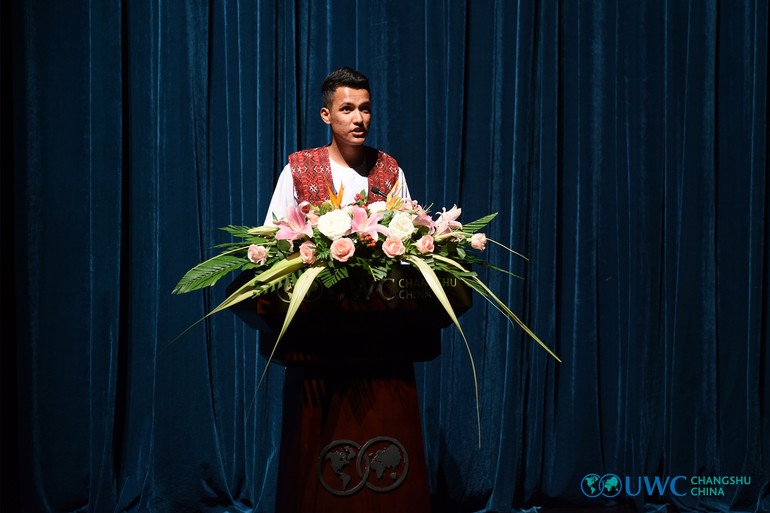 Although the students had only a short week to rehearse for the event, they put together an astonishing show that highlighted the multicultural celebration. Chinese students performed lion dance and dragon dance which represent the Chinese traditional culture with great passion.
Previous
Dragon Dance Lion Dance Dragon Dance Lion Dance
Next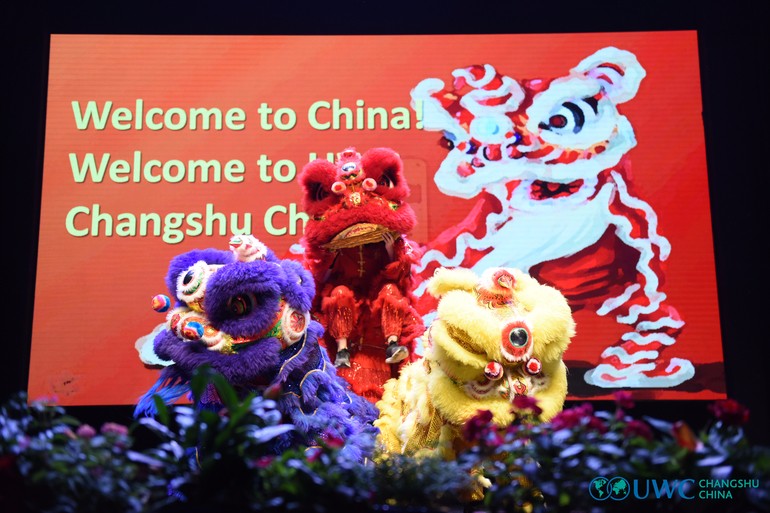 Lion Dance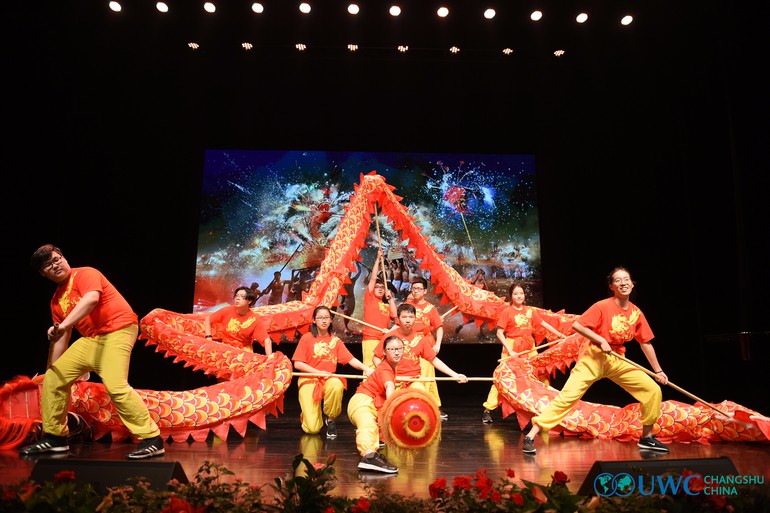 Dragon Dance
While multinational students formed a choir to perform a traditional Zulu song from South Africa called Siyahamba, which translates into 'we are marching in the light of God' and a traditional song, Omweapo, from Namibia which simply means 'we have come together'. Both songs were sang harmoniously with a touch of the African style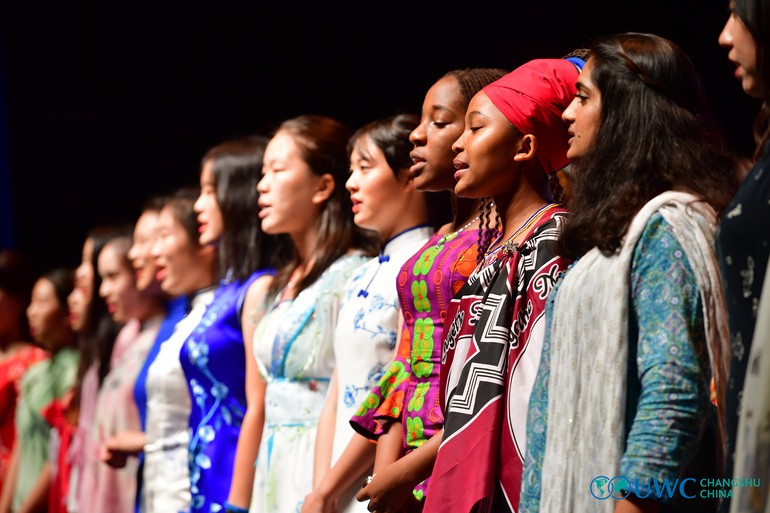 Traditional Zulu song
The A cappella group performed a remix of "Save The World" and "Don't You Worry Child"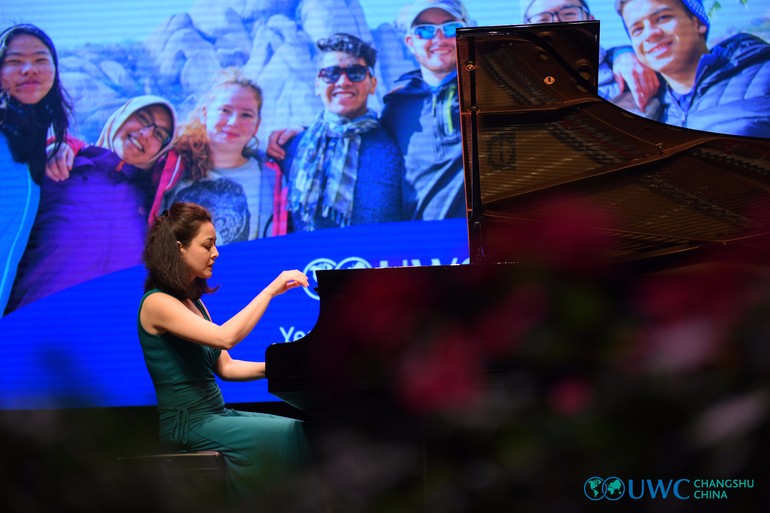 Piano recital by special guest Cornelia Herrmann, a famous pianist
Another group of students who are passionate about dance, performed a song from Norway called "Gunerius" by Karpe Diem which they choreographed themselves. This song is about how stereotypes and prejudice from local populations hinder immigrants to integrate into a community.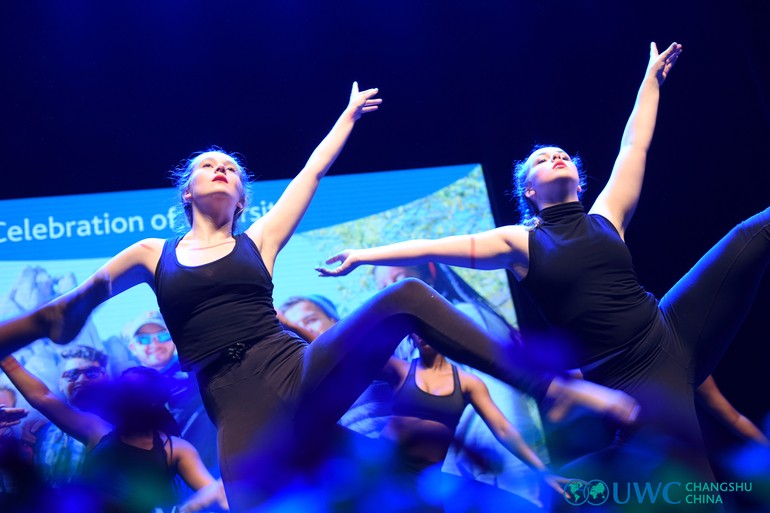 Group dance
Lastly, Zahra Edwards from Trinidad and Tobago, accompanied by the band, sang a very popular song named 'Imagine' written by John Lennon in 1971, which urges us to be one country, one people, and one united world.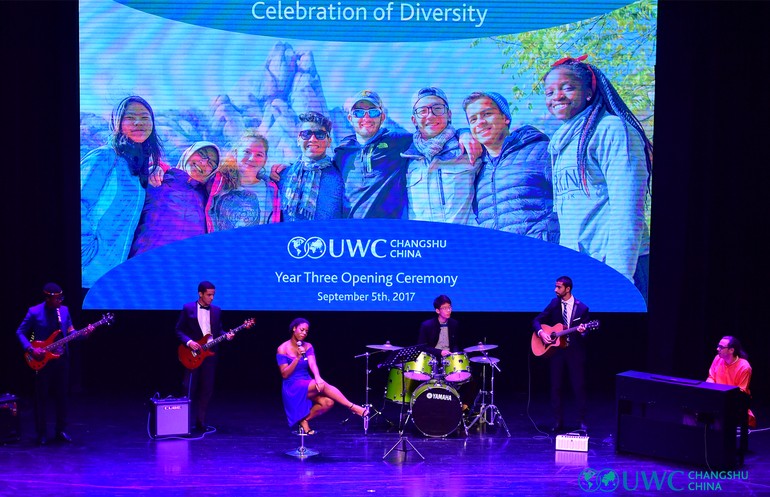 Zahra Edwards singing "Imagine"
One of the student's parent commented "I am so impressed by the elegance, confidence, perseverance and wisdom of the UWCers at the opening ceremony, I finally understand why my daughter insisted on giving up her previous school to go to UWC! It's because of the UWC spirit, because she can find a sense of belonging in the pursuit of truth together with the beautiful souls and knowledgeable minds of UWCers, who are preserving the fundamental and most treasured values and mission of the mankind."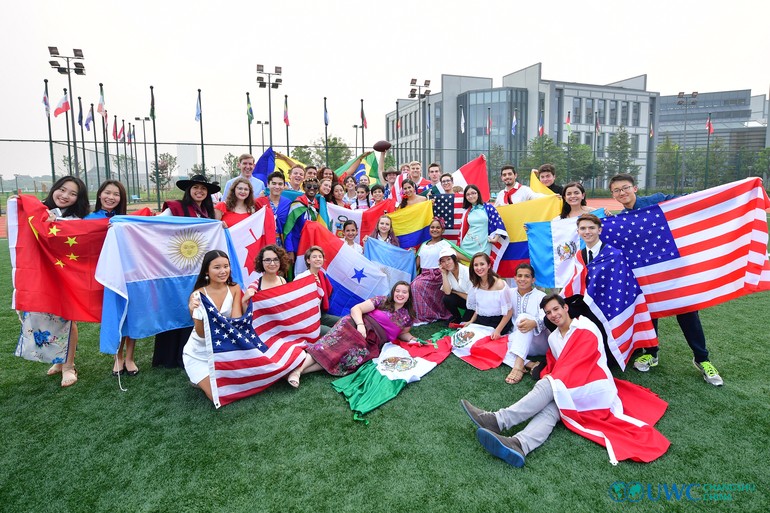 Celebrating the opening with national flags
Mr. Wang Yang, Secretary of CPC Changshu Committee, Mr. Shen Yiping, Standing member of CPC Changshu Commitee, Mr. Dieter Salomon, Mayor of Freiburg, Germany were also among the guests of honour who attended the opening ceremony. Just as what Mr. Wang Jiapeng said, "as a college we can have an impact beyond our campus. The governments of Changshu and Freiburg have established cooperation and become friendly cities and that is solely because of the UWC colleges in our two cities."
After the ceremony, students dressed themselves in colourful and diverse traditional costumes and held their national flags with pride for a group photo, celebrating this memorable moment and enjoying the cultural diversity, expressing their hope for world peace and a sustainable future!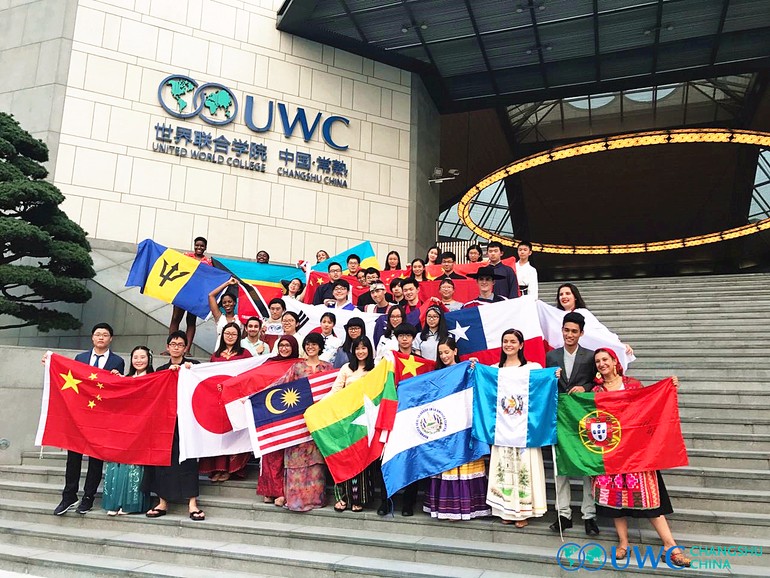 We are united for peace and a sustainable future!
Credit:Media Group ZhiXing Member Jing Wang、Yueh Qi Chuah