UWC Day -- Celebrating the Power of Diversity
Issue date:2017-09-21
UWC Day, which coincides with UN World Peace Day, is celebrated by 17 UWC schools and colleges throughout the world on the 21st of September annually. This year, the theme of UWC Day was "Celebrating The Power of Diversity". Students of UWC Changshu China initiated many activities which were designed to improve cross cultural understanding, encourage in-depth discussions on current challenges to peace and sustainability and empower everyone in the community to live UWC mission.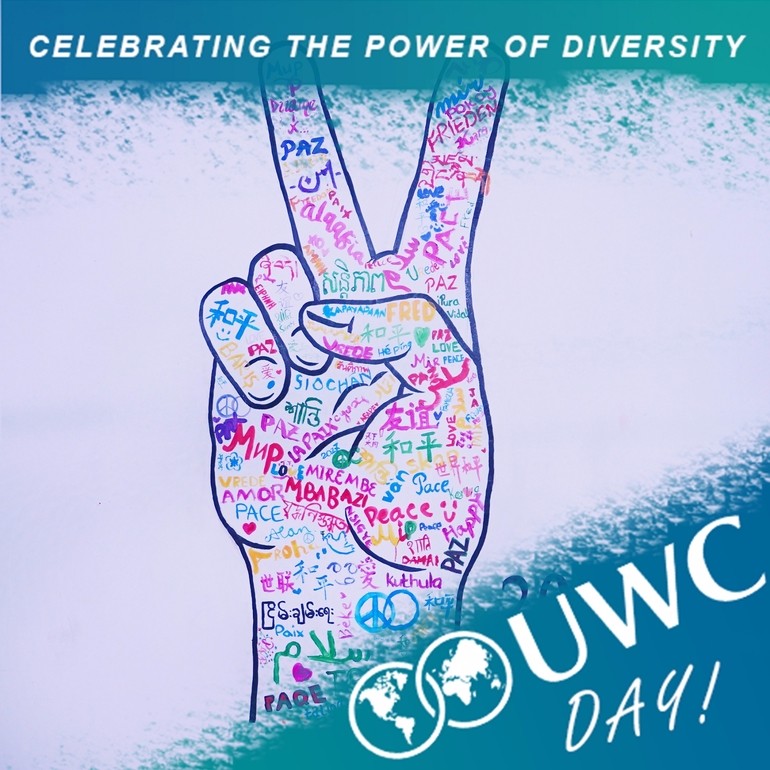 Mural painting "Peace" by students on UWC Day
Every workshop had its unique method of celebrating peace and diversity. In 'How to Change the World In An Hour' workshop led by Konstantina from Greece, the design thinking process developed by Stanford University was used to help participants seek a solution to a problem they are passionate about or closely related to. One valuable lesson taken from this workshop by the participants was to "Think Globally, Act Locally". An issue may be too huge to be solved immediately, but it can start small in a community and gradually spread awareness to the global society. This could be in the form of a video that raises awareness, or could be a creative action. For example, Asha from Jamaica put forward an idea in addressing consumption of unsustainable materials on campus, that is to create an art project using bubble tea plastic cups collected in campus.

Discussing "How to change the world in an hour"
Sandeep, a Pakistani student, hosted a workshop which introduced and summarized the prolonged 70 year Pakistani-Indian conflict. On the issue of Kashmir, Sandeep feels that "Peace building measures have failed, table-talks have failed, and consensus based actions have seemed unmanageable. "The purpose of the workshop was to make people realize the serious consequences of this persistent conflict, which has turned into a 'political war'. By analysing history from a neutral perspective, we came to the conclusion that the young people of each nation has to avoid falling into the trap of 'stereotypical hatred' embedded by their respective history books, and rather focus on building peace between the two nations. The workshop, ended on a positive note, through showcasing videos of local Pakistani people expressing positive feelings towards the Indians and their culture and vice versa, to indicate that love between people of both nations does exist and that there is hope for this problem to be solved in the near future."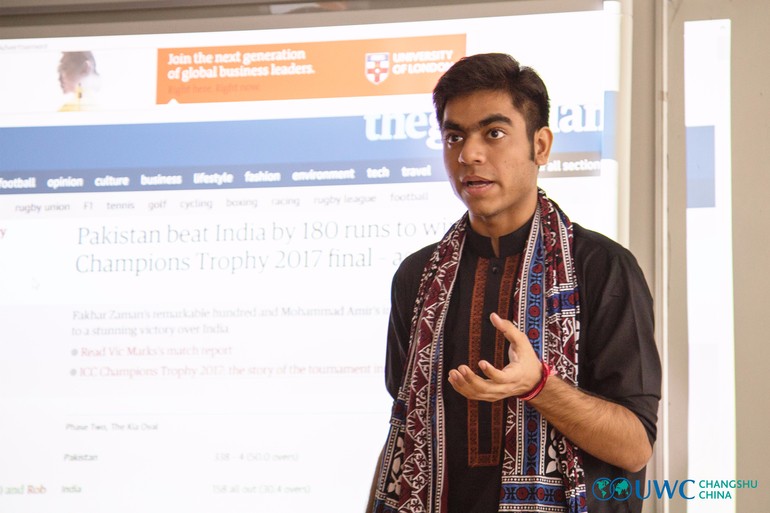 Sandeep shared his thoughts on conflict between Pakistan and India
Student-led workshops have successfully engaged the community to think and reflect on the current global issues and inequality in the society. Interactive workshops, including "How Is It Like To Be In War" and "Are You Privileged" were held which allowed students to better understand the issues through simulations.

These carefully designed workshops covered multiple aspects. There were workshops which not only raise awareness of global issues, but also include further exploration and assessment on the situation and in-depth thoughts about how to apply the acquired knowledge in specific situtations.
In addition, there were also art and dance workshops such as Terracota army clay figure making, yoga, Saman and hip-hop dance classes for students to appreciate the diversity of culture in our community.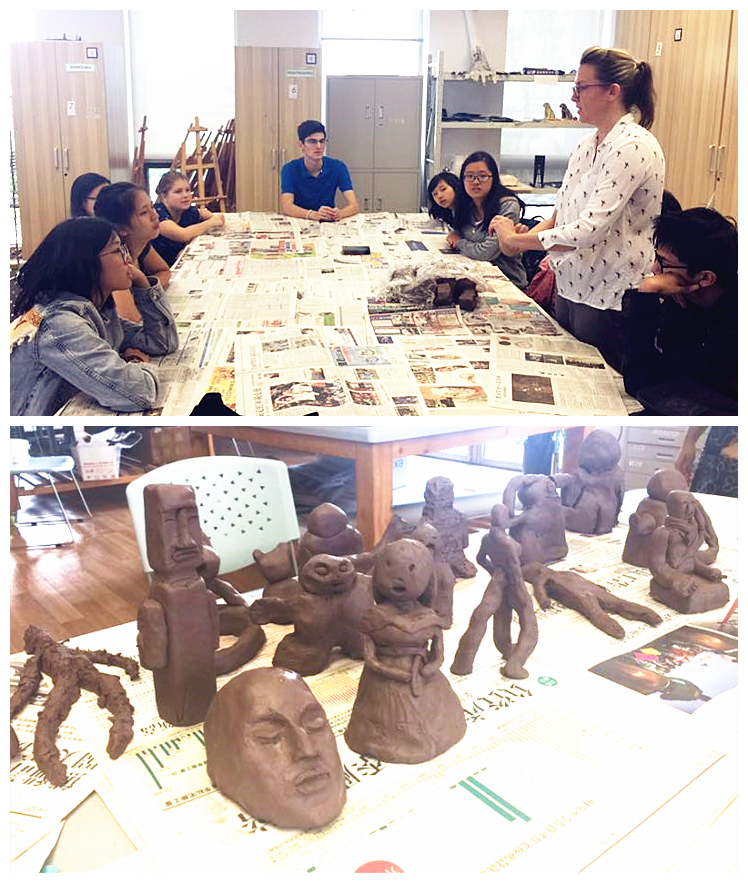 "Terra Cotta" Making Workshop
A couple of challenges were also organized to celebrate peace and most importantly, the true meaning behind UWC's mission. The food-energy-water nexus challenge was aimed to motivate the community to support each other in living a sustainable future by minimizing food waste, taking shorter showers, and saving energy such as electricity. Another challenge was created to urge the community to give something up. This should be something that matters to them and is given up in solidarity with the people who are deprived of those things to experience empathy towards those who could not afford such 'luxury'.

Following the proposal by the students, the school canteen provided an all vegetarian lunch to allow the community to experience a meal that is beneficial to both the body and the environment, encouraging a sustainable lifestyle. One of the teachers spoke highly of the lunch in her Wechat message:"Shout out to the canteen for offering a healthy and more sustainable meal! It was so nice to have a great variety of colorful foods I both like and can feel good about eating."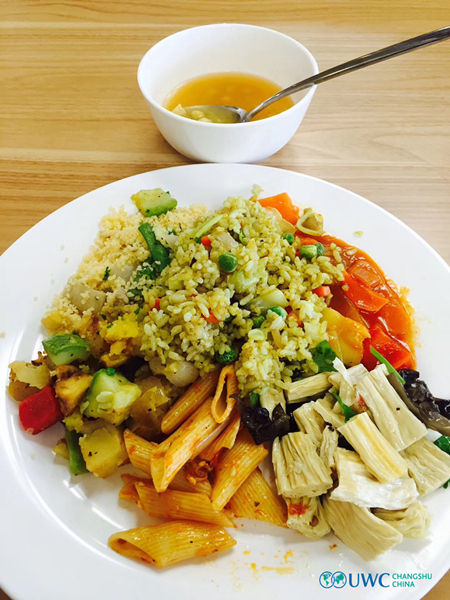 Vegetarian lunch
In the afternoon, the community participated in the Deep Speed Dating activity organized by Emile from Lithuania, Brejge from Netherlands, Nick from the Bahamas, where its theme was specially dedicated to peace. Each three-minute-date was restricted to the questions posed by the organizers. Some examples were "Do you think the media spreads peace or conflict?" and "Describe peace as a fruit". As everyone was from different regions and countries, participants could share and appreciate perspectives of issues related to peace from one another who come from diverse backgrounds.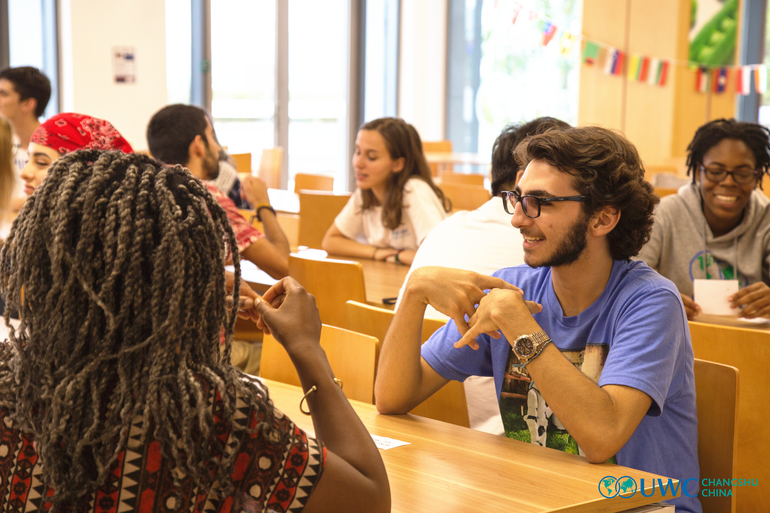 Deep speed dating encourages students to share different perspectives
UWC Day ended with a memorial at an open space in school. Candles were lit up to commemorate those who lost their lives due to the lack of peace and to those who sacrificed their lives in the fight for peace and pray for world peace!
Reflecting on the UWC Day celebration, Milena from Armenia said "UWC Day is a triple holiday for me-full of the bright colours of Peace, Diversity and Independence (yes! My country's- Armenia's Independence is also celebrated on the 21st of September). All the workshops in which I took part that big day had the power to change something in my perspective and in my mindset- giving me the idea that we can still make our planet great again with the help of our kindness, contribution and positive vibes. But, for me, every day spent in my UWC family is a holiday, every day is a UWC day, starting from the doors of the canteen, where you can see people from all the corners of this world, gathered together aroud the same table, discussing interesting ideas and sharing delicious food, sharing love and knowledge with the spirit of peace, cooperation and sustainability."
Traditional Indonesian Dance Workshop