My journey from Daliang Mountain to UWC
Issue date:2022-09-26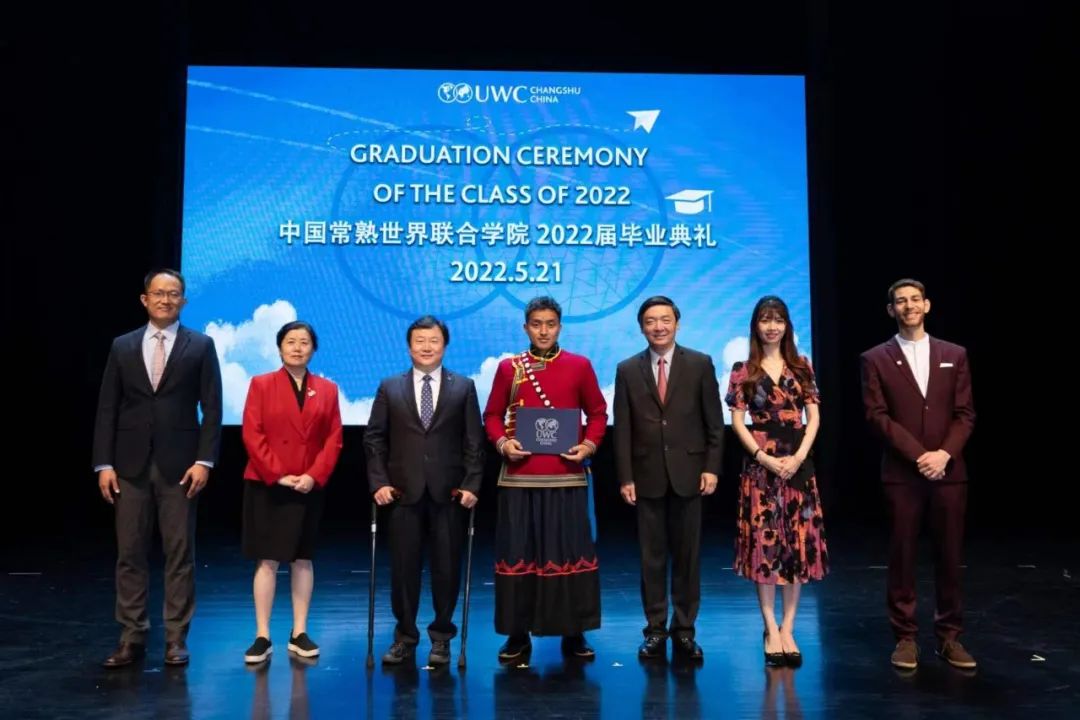 Mahai's (middle) Graduation photo at UWC Changshu China
01 My hometown
Hometown is a land of inspiration. When I returned to my hometown for vacation, I lay on the familiar hillside again. The white clouds are like marshmallows, but at the same time, they have the weight of ice cream, and the blue sky is still the same as when they left, very blue. A few older adults at the village entrance were chatting about reading and studying, and they couldn't hear clearly. The light music in the Mini reminded me of yesterday's memories. Maybe it's because of the older adults' chat, and my memories are also about reading and studying.
It must have been years ago, probably when I was about five years old. The sound of reading in the classroom with only a dozen students in the village always attracted a few of our children who had not yet gone to school to go there and eavesdrop; in fact, it was not to learn a word and a half but simply out of curiosity. But the sound of reading was the loudest I'd ever heard in the village, besides the chirping of roosters.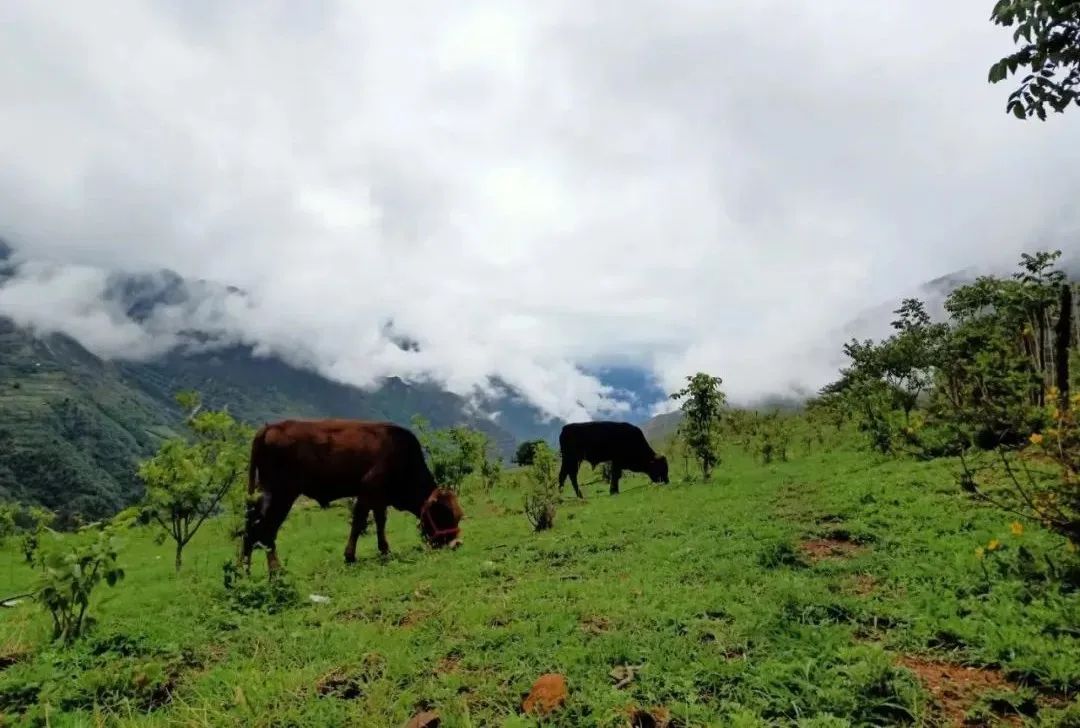 Cattle herding in my hometown
Later, my mother got me a small notebook and a white pencil with a red eraser at the end of the pencil wrapped in golden metal. Those were my most precious assets before elementary school, and I felt very proud whenever I tookthem out in front of other children. In the first column of each page of the homework book, my mother would hold my hand and write down the Arabic numerals 0-10 one by one, and then I would copy my mother on each page of the book. It seemed that I would not be bored at that time because though the numbers were not neatly written, I received encouragement and compliments from my mother and other adults in the village. These are probably my earliest memories of reading.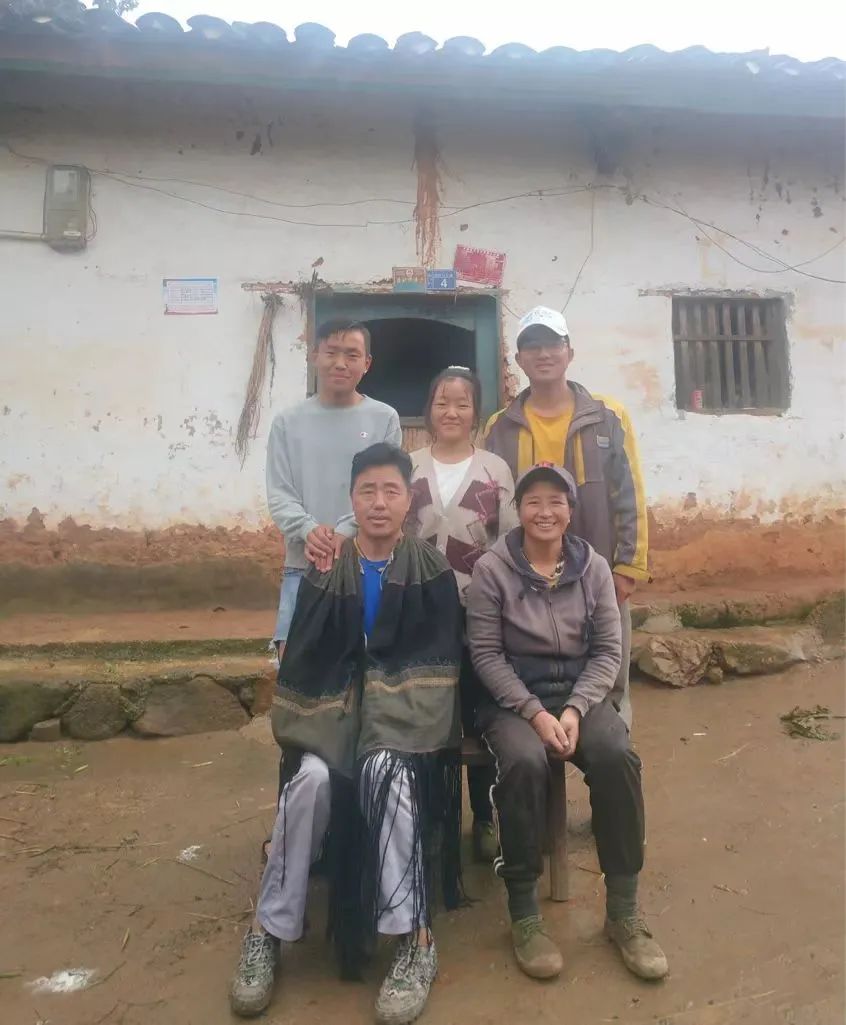 My family
Although the supply of necessities was limited back then, we felt content with what we had. When my uncle graduated from elementary school, I asked him for his dictionary because I didn't have one. I had to go to his house to get it, and I spent a whole day going to his house to get the dictionary. Although I was tired from walking up and down the mountain, I was thrilled at the time, and I happily kept flipping through this dictionary under the kerosene lamp at night and put it at the head of the bed when I slept.
Before junior high school, my world was almost surrounded by the mountains around my hometown. But in the sixth grade of elementary school, a teacher who came from the city gave my first impression of the world outside the mountains by saying: "Beijing, Shanghai, and Guangzhou are big cities, and the buildings there are very high, so high that you can only see the roof when your hat falls off." I imagined that it might be a house as tall as a mountain.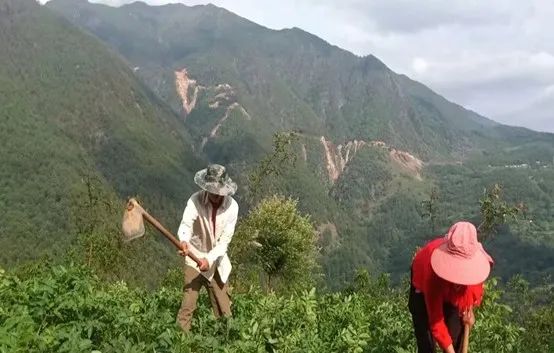 Weeding with mom
After graduating from elementary school, I was lucky to come to the city to studyatLiangshan Prefecture Nationality Middle School. During the first month, I seemed out of place. I know a lot about Chinese characters, but because I have been using the Yi language in the mountains, my Chinese speaking and listening are very weak, especially in Chinese dialects. Because I couldn't get what was said very well, every time I chatted with my classmates, I needed to ask them to repeat, and some of my classmates even thoughtI had a hearing impairment. Fortunately, my teachers and classmates were very encouraging; they urged me to speak up more and try again if I was wrong... So, life was moving in a good direction, I became more confident, and my grades significantly improved.
02 Meeting Bloom Education Development Foundation
There, I met the teachers of the Bloom Education Development Foundation, and the trajectory of my life has changed since then. Bloom gives me and others who receive financial support the opportunity to choose. When we see more options, we have the chance to choose, and Bloom brings us many opportunities. The annual Bloom Multicultural Summer Camp is an excellent example of such opportunities.
In 2017, I attended Bloom Summer Camp, the first camp of my life. For the first time, I came across other cultures, ways of learning besides the university entrance examination system, and studying and living with peers of the same age coming from Beijing, Shanghai, New York, Toronto, and other big cities... In just ten days, I met many people and learned many things I did not know.
When we can't leave Daliang Mountain, our knowledge of life outside the mountain is limited to what we learn from books, movies, and television programs. And these encounters gave me a glimpse of the life of people outside the mountains; although such meetings cannot give me a complete picture, the seeds planted will always grow into plants one day.
Inclusion and encouragement are the main principles of Bloom. We are encouraged to keep trying even when we fail... Teacher Shen and others always inspire us to move forward.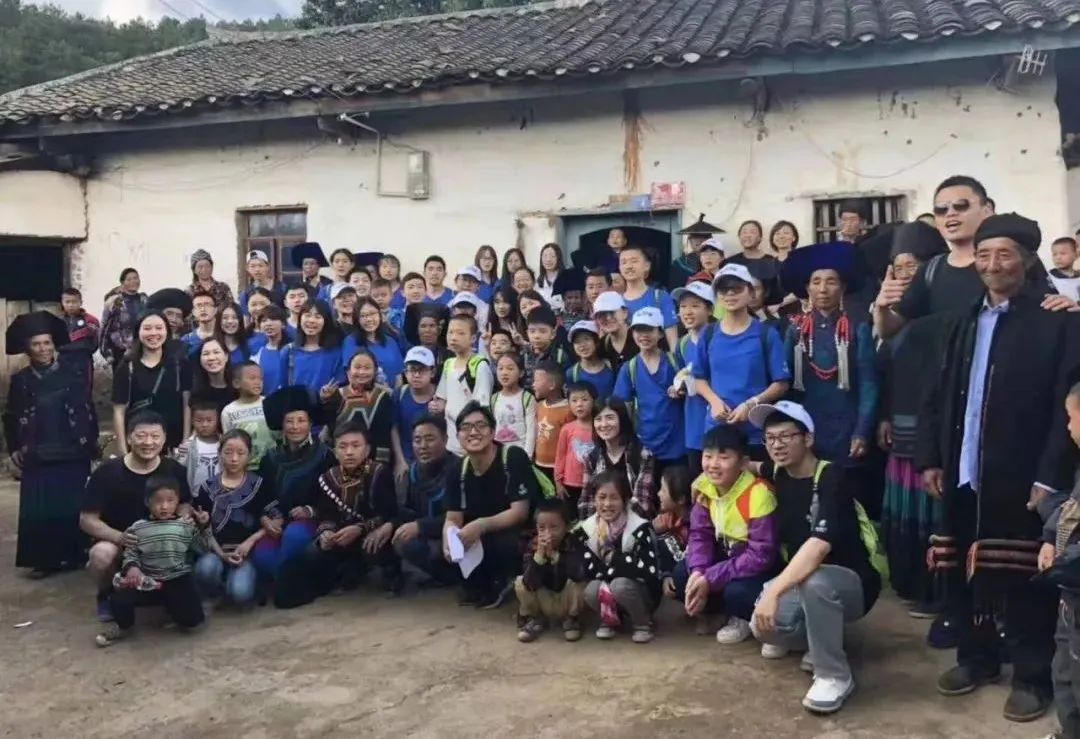 A visit to a farmer in my hometown I initiated
I planned a visit to a farmer in my hometown at the 2019 Bloom Summer Camp, and the theme was to let teenagers from other places have a feel of a local farmer's life in Daliang Mountain. On our way to the village, I realized that there was something that I had forgotten to take into consideration: the road to my hometown was too narrow and bumpy, and it presented a considerable challenge to the bus we rented. In the end, we arrived two hours later than initially planned. This almost disrupted our plans, and many of the items to experience the local life we had in our program were hastily done. Moreover, it was almost dark when we were ready to return to the campsite, and driving at night was another risk. At that time, I almost broke down. I told Teacher Shen while sobbing how bad I felt about this oversight; I made several plans and risk predictions but overlooked this critical issue. I was prepared to be criticized and blamed. However, Teacher Shen said, "It's all right! We together didn't do a good job. The important thing is that we do have a first-hand experience of the most authentic Yi life today." Later, she said that we would do such a project every summer camp in the future.
This kind of tolerance was undoubtedly a tremendous encouragement to me then. Allowing us totry without fear of failure on our journey is very educational. Everyone has a pair of wings, and there is no reason for us to refuse to fly, but without the tolerance and encouragement of those with prior experience, the risk of folding wings will dissuade every one of us who dares to try. And this is a norm in the big family of Bloom. Later, I asked an uncle familiar with the road conditions to drive in front of the road, and eventually, we all returned safely to the camp.
Nowadays, many charity organizations support the dreams of students in the mountains. Many organizations donate materials, but the most significantbenefit of Bloom is that it has a three-dimensional "after-sales service." Besides donations, theyprovide us with many opportunities and platforms. For example, remote English volunteer teaching courses, Yi embroidery projects, multicultural summer camps, special tutoring courses... Bloom pays attention to the connection and communication between the sponsored student and the donor family and cares about the mental condition of the sponsored students.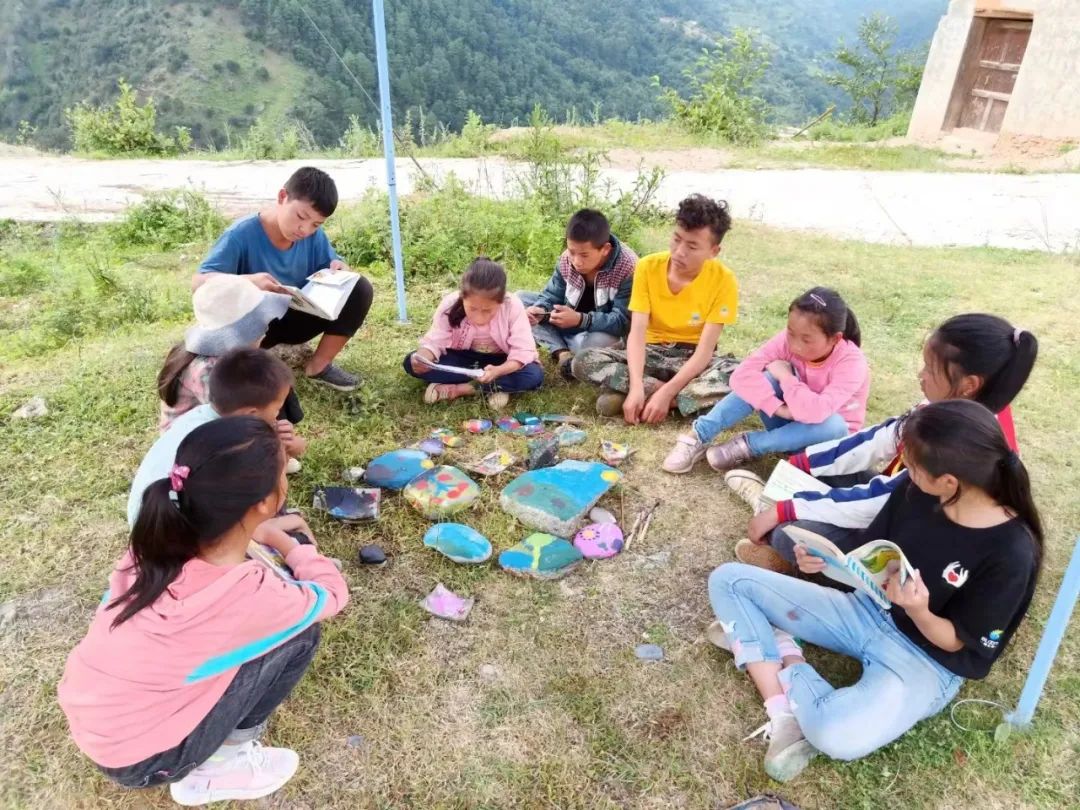 Bringing children in my hometown together to read and draw
During the summer camp in 2017, teacher Shen introduced UWC Changshu to us and encouraged us to apply. Her phrase "give it a try" almost rang through my entire application process. And after talking about the UWC's learning model and student composition at that time, I was deeply attracted to the fact that the world is so big that I wanted to see it. With the encouragement of the Bloom teachers, I applied forUWC.
03"There is more in you than you think"
I was so excited that I passed the online application. Before I went to the Selection Day, I only had one purpose, which is going out of Liangshan to have a look. UWC and Bloom covered all my meals and travel expenses; I just wanted to take advantage to travel. As for the result, I didn't care much because it felt too far away.
But on Selection Day, I changed my mind. Although my English was poor and it was a terrible day for me, I saw foreigners with my own eyes, the flags of other countries in the canteen and playground, and a completely different selection model... This was the first time in my life that I had all those experiences.
Luckily, I was accepted.
Put all one's eggs in one basket. None of the people I know from families like mine have taken this path. Everyone seems to have taken one or two former roads already tested a thousand times. I believe in UWC's mission and education philosophy, and I like this kind of study and life, but I have no idea if this is a suitable way for me. The most realistic question is: what about such an expensive round-trip travel expense? Is it okay to study abroad? What should I do if the university does not offer me a full scholarship in the future? With my current academic records, entering a first-tier university in China should not be a problem. Is such a risk worth it? ...... At that time, I was very hesitant, and my parents, elders, relatives, and friends were also perplexed.
My then-principal called me into his office and told me it was good to go to see the world. With the encouragement of many people, I finally made up my mind to go down this path. I convinced myself that if I couldn't get through, at the end of the day, I could still herd cattle and work on the farm. I remember very clearly that the teacher of the UWC admissions department told me about a similar case, and I didn't know at the time whether it was a case that the teacher had made up to encourage me, but at least to me, it had been a true story in my heart.
"I can only accompany you as far as here; you will need to go ahead by yourself," Dad went with me to Chengdu and said to me at the airport. I turned around with mixedfeelings, pulled up my luggage, and walked forward.
04 UWC experience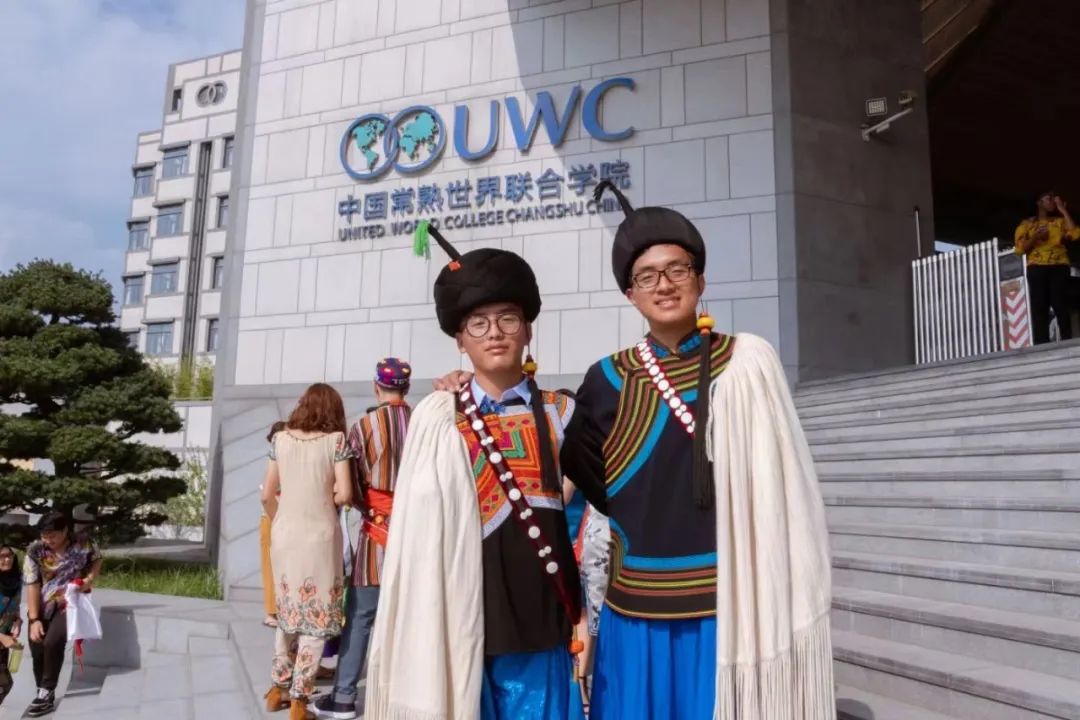 With my classmate Api(left) from the Yi minority on UWC day
The first year of my life at UWC is to adjust to the new life. Under the pressure of the all-English teaching mode, I was nearly knocked down. The language barrier hasbecome my biggest challenge. I could only understand forty percent of what was taught during the class. Incomprehension during the class is the central theme of that year for me, followed by a loss of confidence and self-denial. Looking back, I didn't seem to even have a good look at the sky in Changshu that year; my life fell apart due to the constant mental pressure.
On top of that, time management was a mess. When I was studying at Bloom, teachers arranged my time with a tight schedule on a daily and monthly basis. So, if you could complete the homework assigned, everything would run smoothly. But suddenly, none of this remained the same. The taskassigned won't be due until a month later, and you need to do much self-study of the course contents while being busy with socializing, Zhi Xing, exercising, and so on. This "freedom" suddenly overwhelmed me. I need to decide by myself what to do with my time.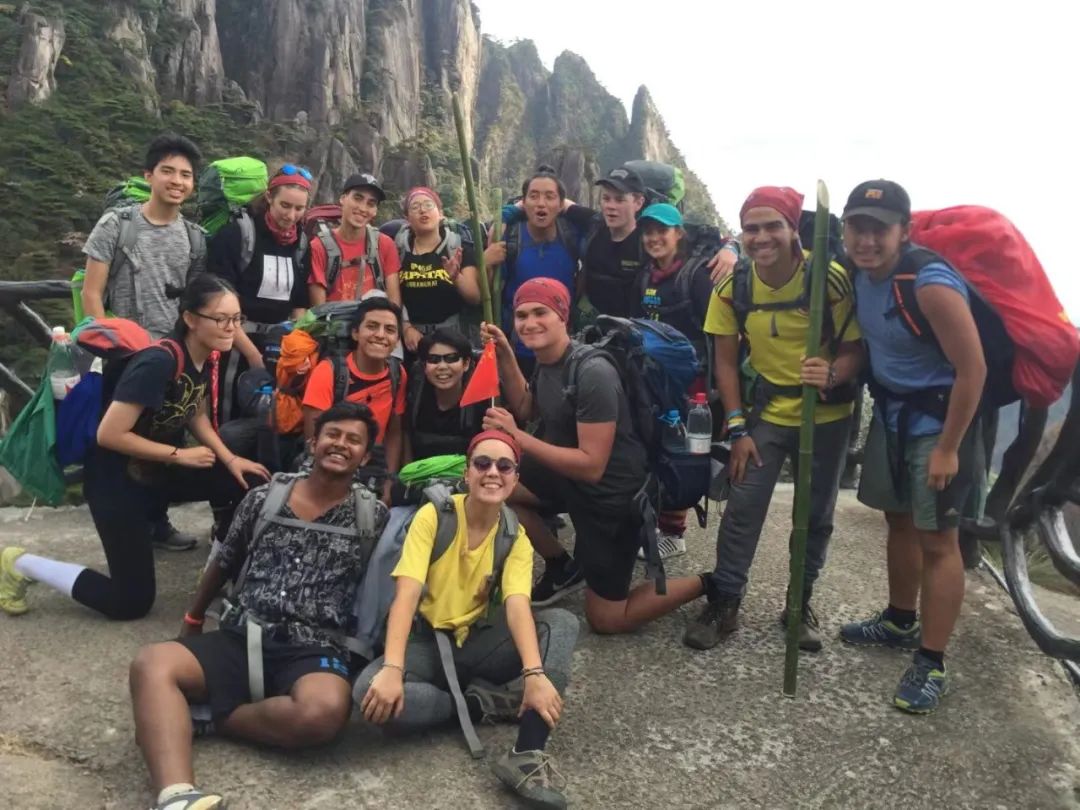 Hiking in Shangrao, Jiangxi Province, with my classmates
Despite my messed-up life, my teachersgave me meticulous care and help. Kaya and Hiba helped me with my English, starting with the most straightforward words. Given that English was the primary language used at school, I could apply what I learned immediately. Thus,my English improved a lot. I found this when I went to Xinyang, Henan Province, for the project week. While at school, everyone's English level was very high, I kept looking up, but I forgot to look down. At Siyuan school in Xinyang, I shared our life at UWC with my team members and local students, and I often helped my foreign team members as a translator. Although the sentences were not so complicated, I still found that my Englishimproved greatly. The school did not assign academic assignments during that week so that we could fully engage during the project week. I gained a little bit of confidence, and the joy of this confidence made me reflect rationally on my present status.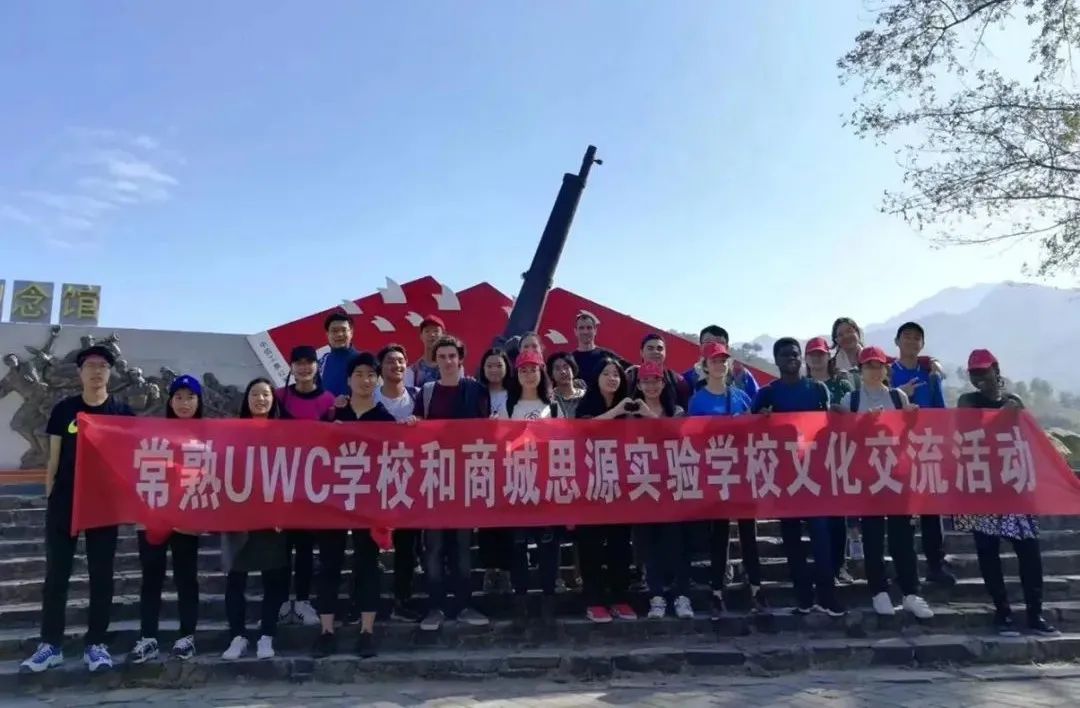 Cultural exchange with a Siyuan School in Henan
After reflection, I found that behind this messed-up life is the vicious circle of mental pressure and,ultimately,at the core, one's confidence. So, when I returned to the campus, I tried to find confidence. The strategy at that time was that since I could not immediately gain confidence in my language capability, I should start byengaging in more activities. And the reason for this idea to be put into practice is because our school has a lot of Zhi Xing activities, and the school encourages students to participate in Zhi Xing.
I revisited the meaning of the community, and after careful consideration, I participated in kayaking and lion dance. First of all, these twoZhi Xing activities do not need a solidfoundation; that is to say, everyone pretty much will start from the same level, and I think I should be able to manage well, given the fact that I was relatively strong growing up in the wild mountains since I was a child. As expected, I gained much confidence in the activities and gradually became more and more passionate about them. With an enhanced sense of accomplishment, I felt more and more sunshine in my life.
Later, I founded Archery Zhi Xing with my classmates, served as the Vice President of the Chinese Cultural Evening (CCE), the captain of the lion dance team, and the leader of the ASAP, and it seems that these activities and programs played a more significant role in my personal growth. In the multicultural environment of UWC, I am also thrilled to share the Yi culture with my classmates and tell the story of my childhood. During the college application season, I was fortunate to receive a full scholarship from Bates College... I think it's essential to gain confidence by trying out different things and then challenge yourself to do more complicated things based on such boosted confidence. I like what UWC founder Kurt Hahn once said: "There is more in you than you think."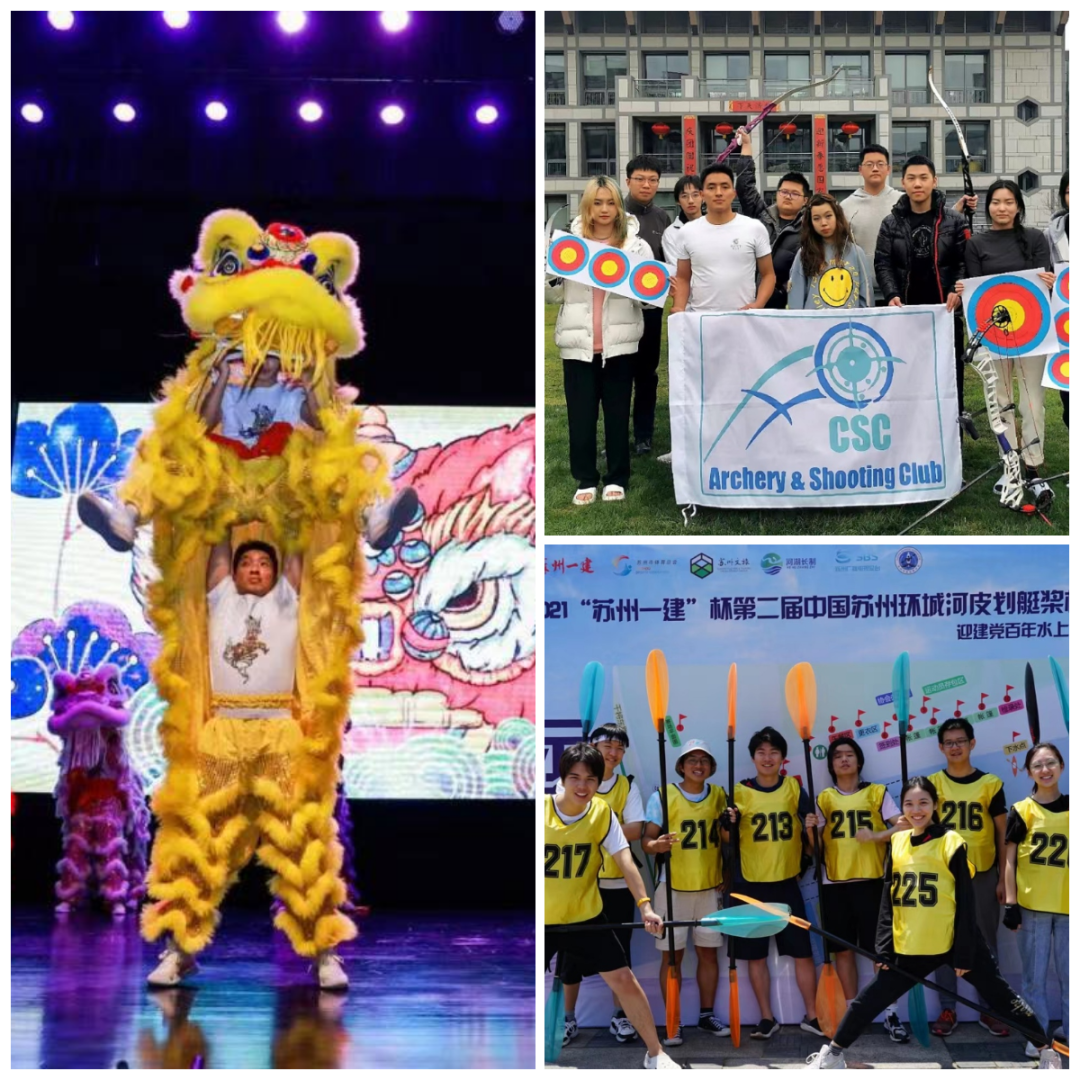 Participating in Zhi Xing activities
I am grateful to UWC Changshu China, the people here, andwhat happened here. I wish to thank my supervisor Justin for the encouragement over the past three years, my counselor Ramie for all kinds of help during the application season, and the teachers of the student life department for asking me and my Liangshan brother Api whether we needed help from the school before every holiday, to the subject teachers for their patience, support, and guidance, to the Bloom volunteer teachers who still gave me love and help after I came to UWC, and the mutual encouragement of friends when they chatted with me late at night... I am also very grateful to the teacher of the admissions office who said to me four years ago when I was still poor in English: "Ma Hai, we are willing to give you this opportunity; we believe in you!"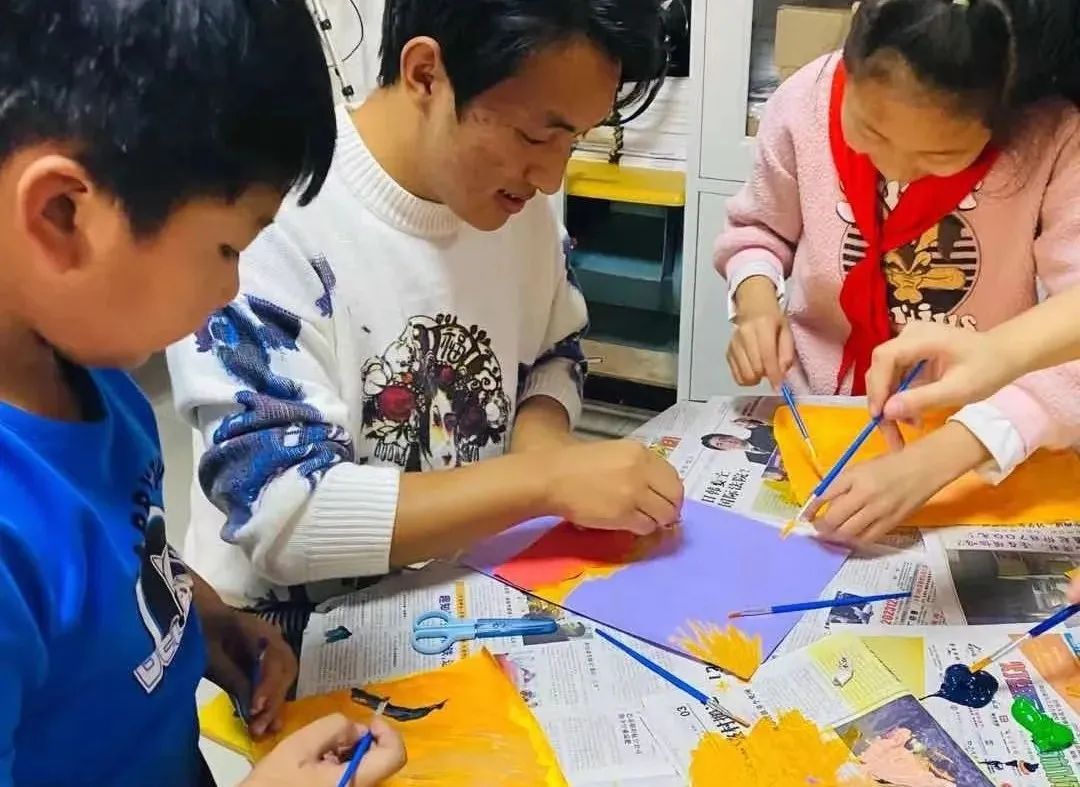 Teaching at a local school in Changshu as a volunteer
Now, I have a new starting point. My parents were even more confused about this starting point. Crossing the mountains and seas, where I am going is the other end of the planet. For my parents, it is like bidding farewell amid rain, and the end of the sight is not a back fading away in the distance but the mist in the picture, especially for my mum, whose farthest journey was the neighboring town. But they still encouraged me with a mantra of "Boys should have the ambition to go afar."
Finally, thanks to everyone who has accompanied me along the way; thank you! Thanks to all the kind-hearted people I met. I am also fortunate to be born in such an era, a beneficiary of the times and a beneficiary of education.