Peace Begins With Us | 2022 UWC Day
Issue date:2022-09-22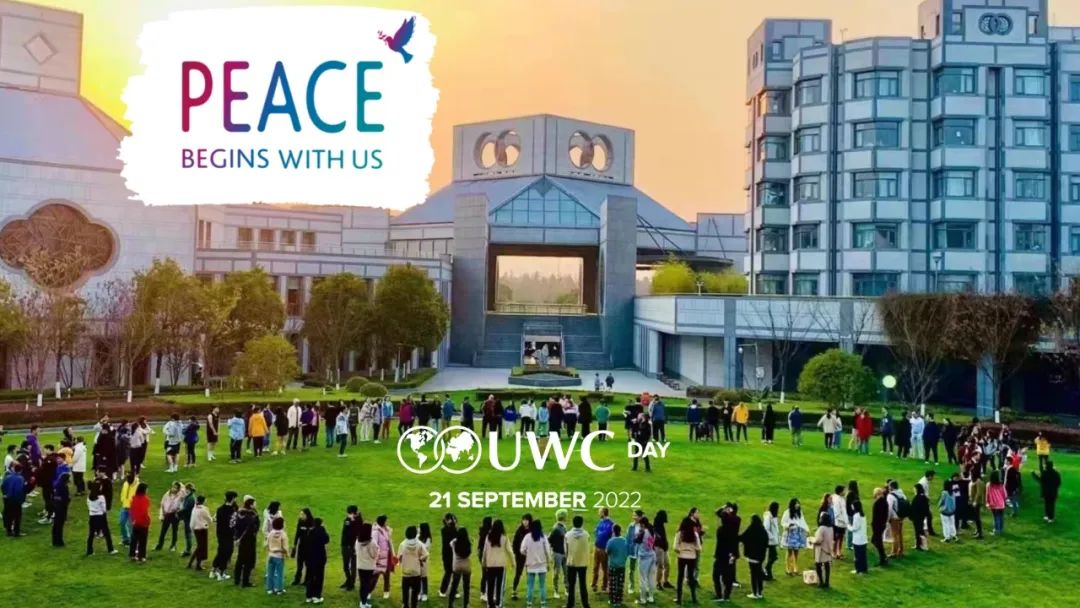 UWC Day is the annual global celebration of the UWC mission and values, which takes place during the week of 21 September every year, to coincide with the UN International Day of Peace.
UWC Day is a moment to reflect and celebrate the strength and diversity of the UWC movement and our mission for a more peaceful and sustainable future through connecting and mobilising UWCers globally. It serves as a chance to spread the word about UWC, our work and our values. But it is also an opportunity to reflect on what we do as a movement, to determine how to be more effective change-makers, and continue to challenge ourselves.
Each year, UWC Day has a different theme which helps to provide a central focus for the day's actions and initiatives, for example: 'Reimagine Tomorrow' in 2021, 'United We Can' in 2020, and 'Climate of Change' in 2019.
This year's theme is "Peace begins with us". This is the time to reflect on our collective responsibility toward building a more peaceful future for us all.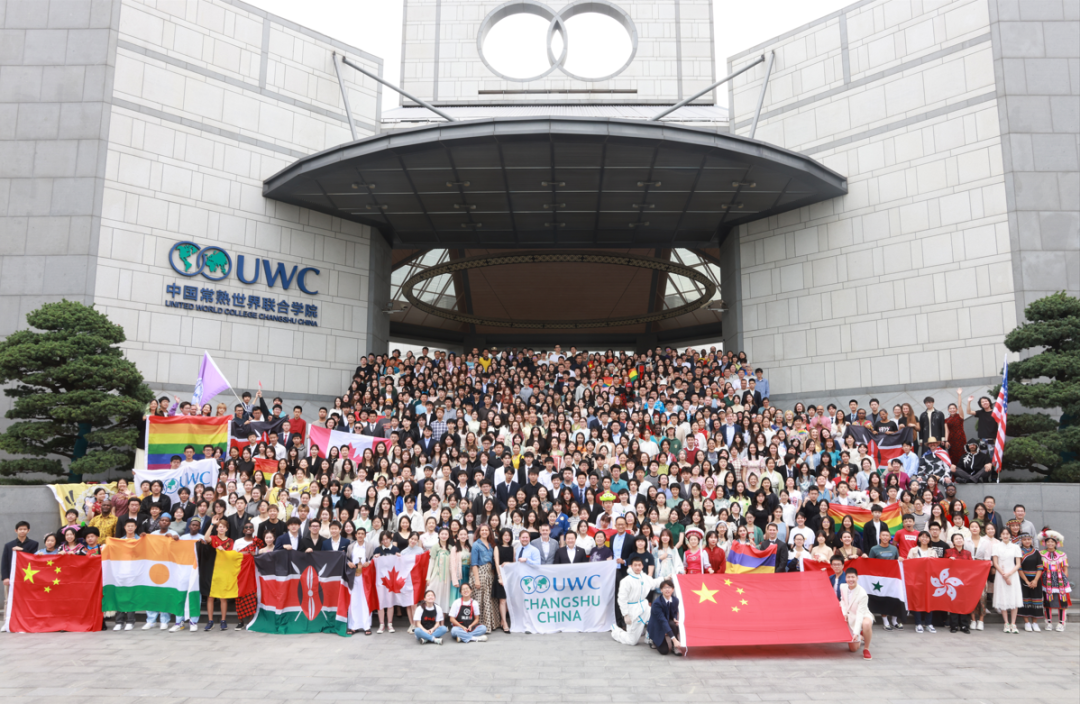 2022 UWC Day group photo
This year also marks the 60th anniversary since the United World College movement was launched.

What started in October 1962 with the founding of the first college, UWC Atlantic, has now grown into a thriving global movement, which includes 18 schools and colleges, hundreds of short courses, more than 4,000 volunteers, 60,000 alumni, educators, partners, donors, students, and staff.
Our 60th anniversary is a wonderful opportunity for us to reflect on our journey, but also to reaffirm our mission to come together as a global community committed to making our world a better place for current and future generations. Celebrations under the overall theme: EDUCATING FOR PEACE. Striving to change the world since 1962 will be held throughout the next twelve months - honouring the changemakers that have made UWC possible, reflecting on UWC journey so far, and looking forward to the next 60 years.
This year also marks the 10th anniversary since the agreement was signed with the Changshu government to establish UWC Changshu China, the 15th UWC in the world.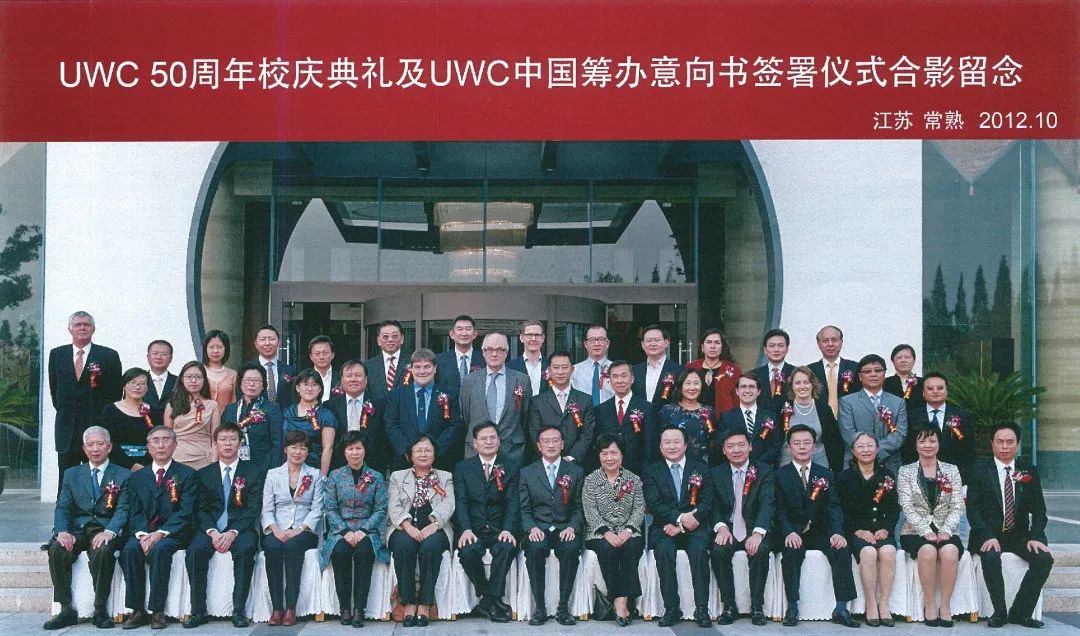 Celebrating UWC 50th Anniversary and signing ceremony of Letter of Intent of UWC Changshu China Project, Oct. 2012
These important occasions provide fantastic opportunities to celebrate UWC's mission and values, and to come together as a community to renew our focus on the power of education as a force to unite!
On Wednesday 21 September, UWC Changshu China held a series of activities to celebrate UWC Day.
In the morning, at the Assembly, Principal Simon Head spoke to the community and said: "One of the most important things we can learn is how to understand each other. By cultivating a culture of belonging, inclusivity, and diverse perspectives we are taking a step towards peace and as the Chinese proverb says 'a journey of a thousand miles begins with a single step'. Peace begins with us means we must accept ourselves for who we are. We must learn to care, starting with ourselves, and when we learn to care, small acts of kindness will have a big impact. As Dr Seuss said in the story The Lorax: 'UNLESS someone like you cares a whole awful lot, nothing is going to get better. It's not.'"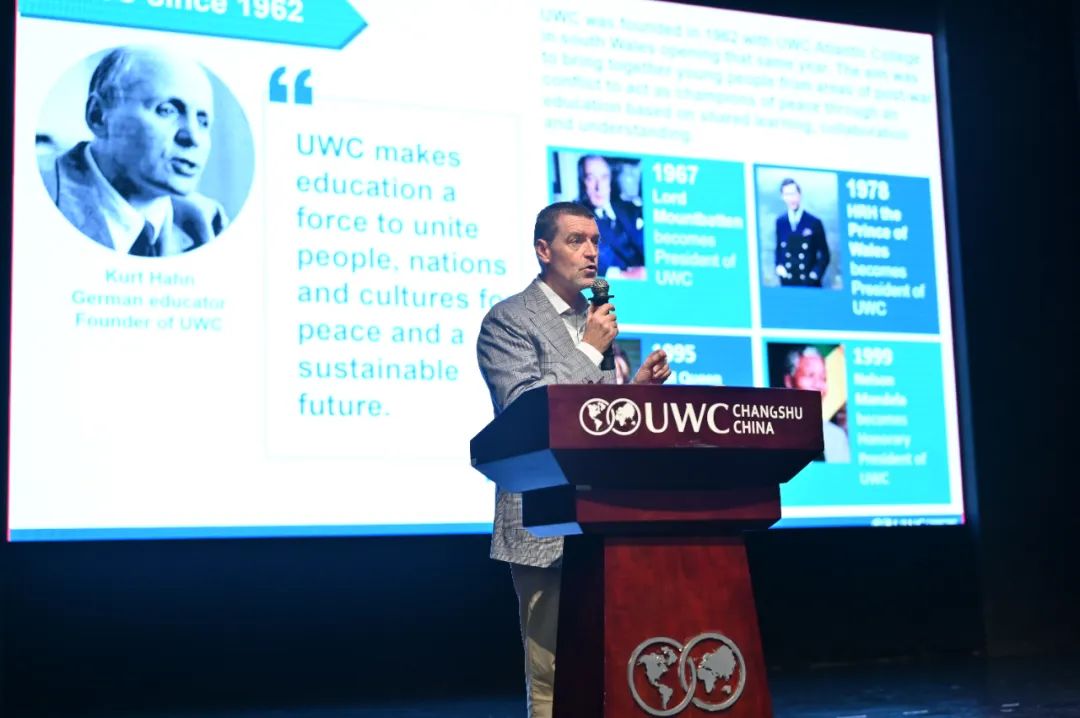 Principal Simon Head giving a speech
After that, two members of the UWC community shared their experiences from different perspectives.
Yousef Ali, a new DP1 student from Yemen shared his experience studying and living in China. "I had experience studying in schools with Chinese students when I came to China. Although there are many differences between myself and my Chinese classmates, they have not stopped me from becoming friends with them. At UWC, students come from different places and family backgrounds, and we have to learn to understand each other, solve conflicts, and live in harmony. This is how I understand that 'Peace begins with us'. "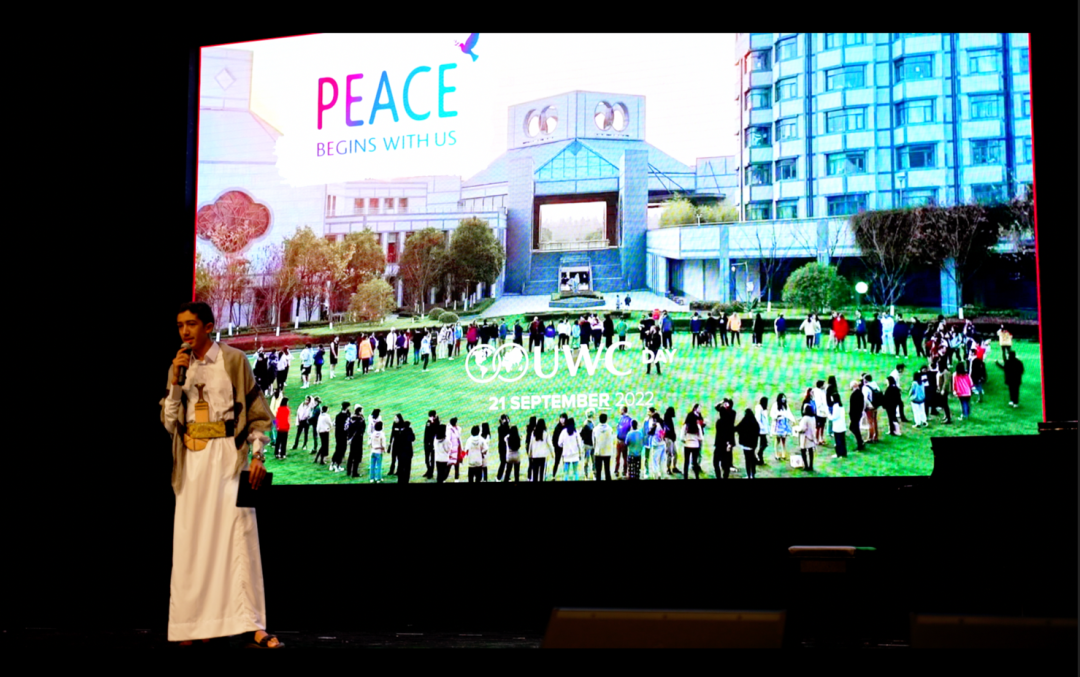 DP1 student Yousef giving a speech
Psychology teacher Adela Ramović, who joins us from UWC Mostar and is a UWC alumna shared her UWC experience. She said: "Today on this UWC day, when we celebrate, we celebrate each other, we celebrate who we are and who we have the potential to become. The journey of UWC will not stop when you leave UWC. Sense of idealism will live with UWCers for the rest of our lives."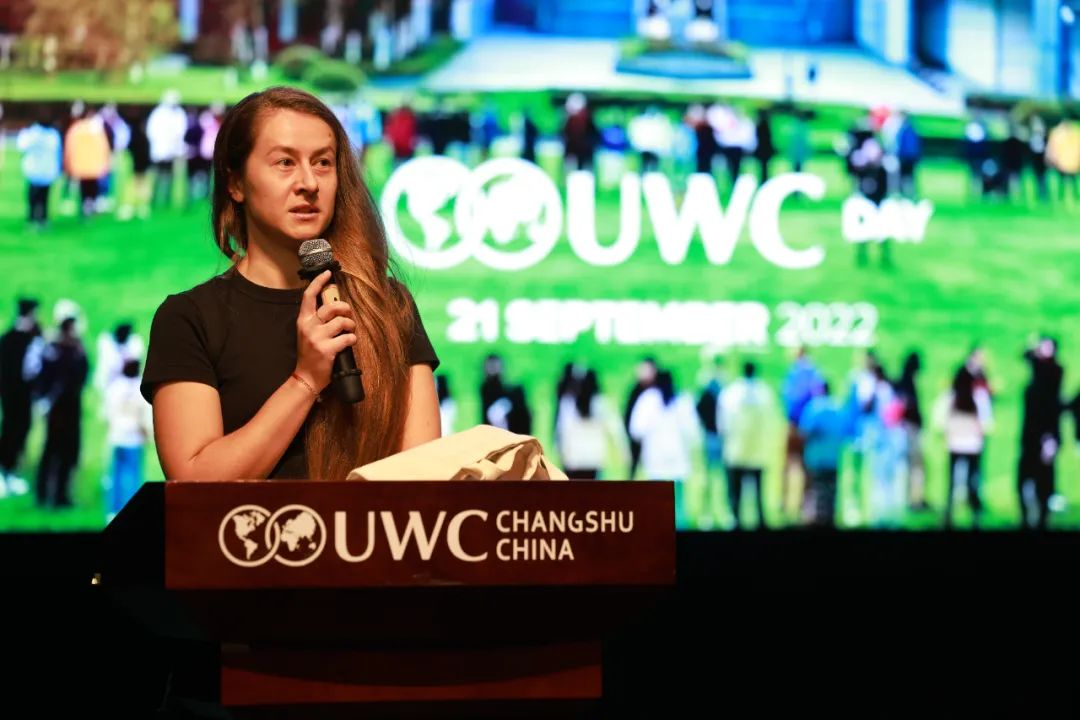 Psychology teacher Adela giving a speech
After the assembly, students and advisors participated in an experiential learning simulation that encourages community members to reflect on the theme of "Peace Begins with Us". Through the simulation, participants learned to empathize with people from different cultural contexts and, experience the challenges people face when encountering a different culture and how cultural misunderstandings can lead to conflict. The simulation itself is fun and interactive but also thought-provoking. Through the facilitated debriefing and discussion session, community members reflected on the importance of the UWC mission and UWC values, especially "international and intercultural understanding".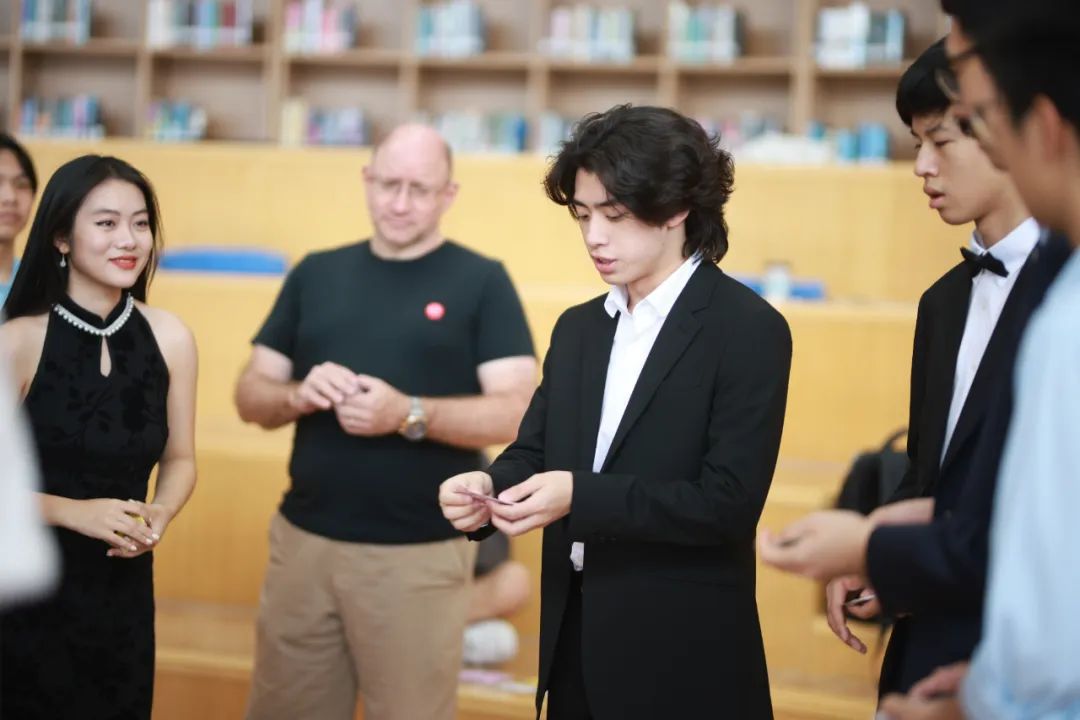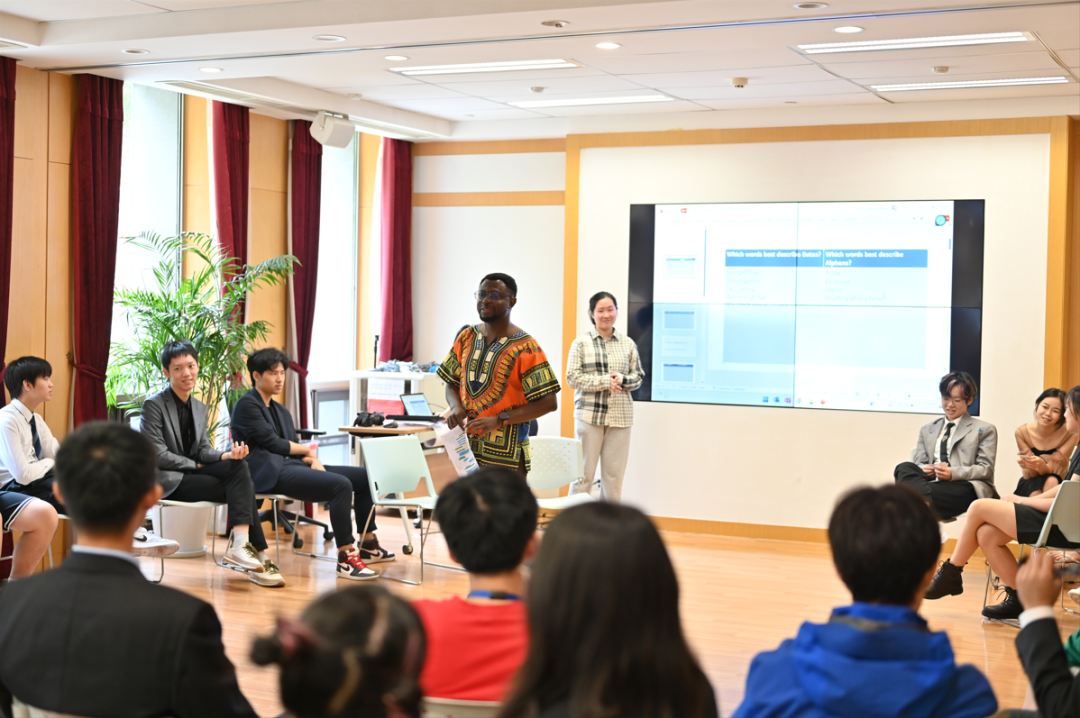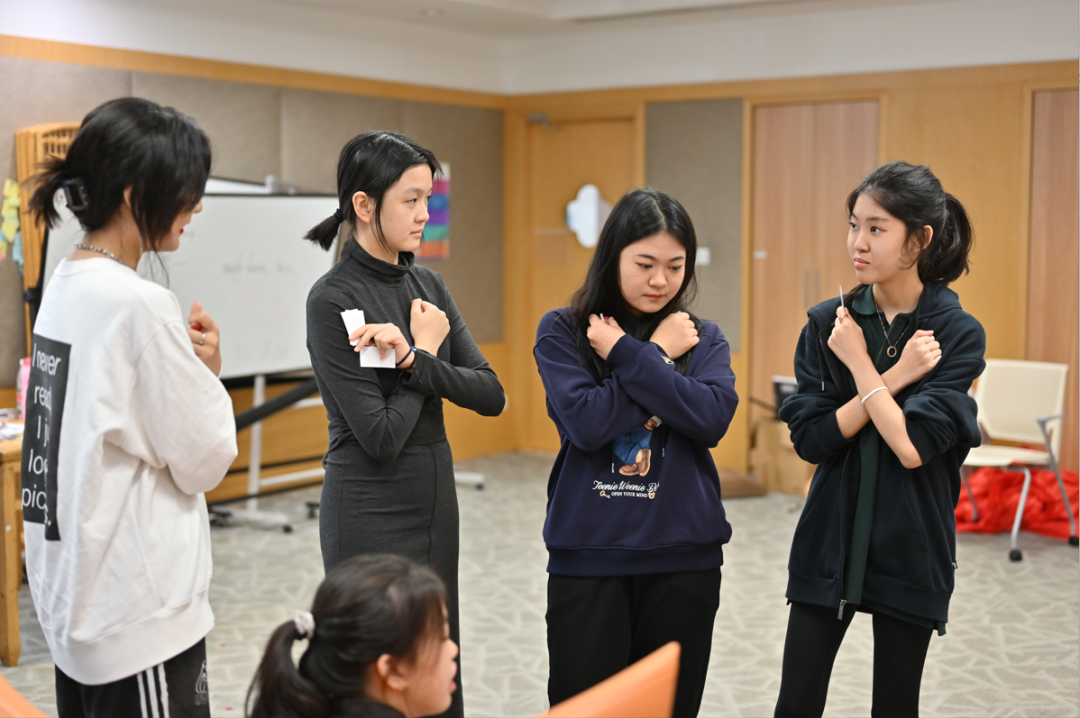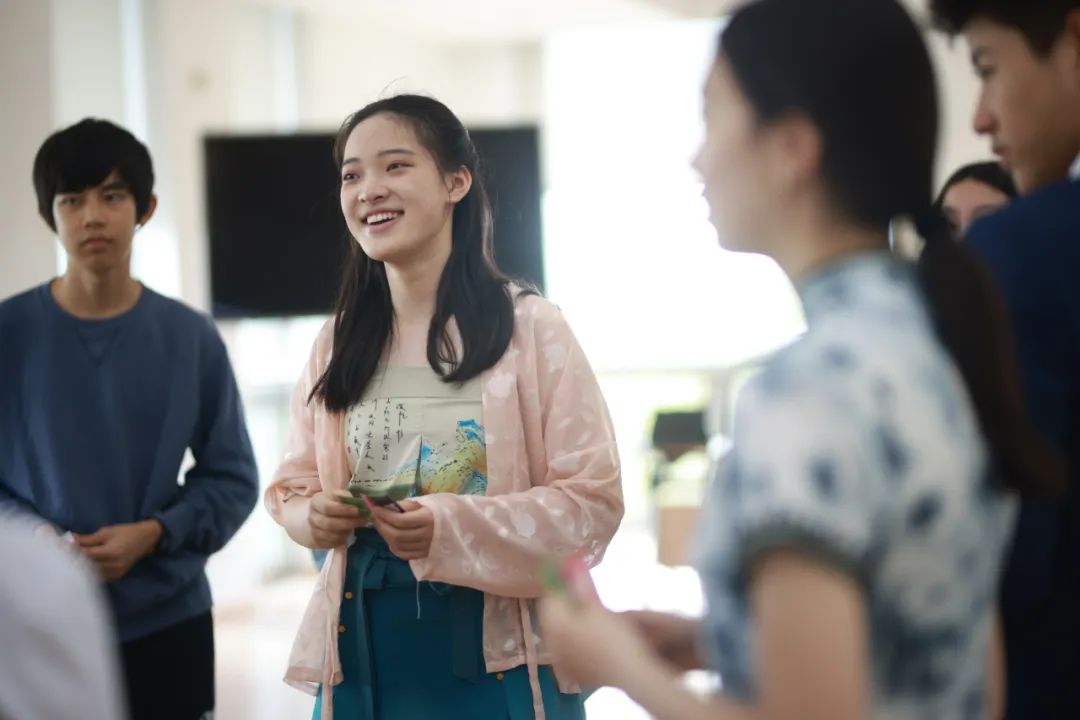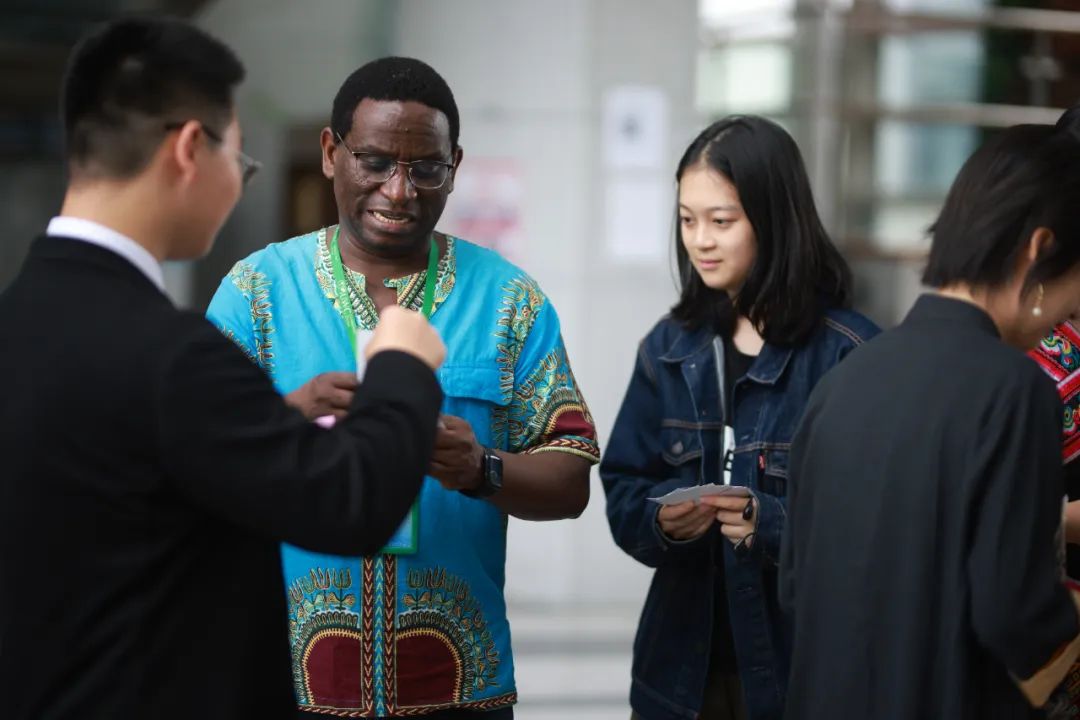 -Swipe left and right to see more-
Pictures of simulation game
Several community members shared their reflections after participating in the simulation.
Isabella Wang, a FP student said: " It's a very innovative game, through which you feel that you have a really personal experience of cross-cultural interaction and the strong stereotype in people's minds. It reminds us that we should always be mindful when interacting with people from different countries and cultures. "
Charlie Li, a Chinese teacher said: "Interactions and communications between people from different cultures sometimes can be extremely challenging and difficult. However, with patience, tolerance, and a desire to understand the traditions, etiquettes and habits, and mindsets of the other culture, there is hope that mankind can take a solid step towards a peaceful world."
As a facilitator, Jessie Xiao, a DP2 student said: "As a facilitator, my experience is different from others. I look at intercultural exchanges from an overall and in-depth perspective. I think we should embrace diversity in the world, differences in languages, and richness in culture, instead of making judgements on other's cultures. Mutual respect and inclusiveness are the foundations for peace."
Students and teachers also organized a wide range of workshops and activities which reflected this year's UWC Day theme.
"Turing's Contributions to Peace workshop" is for community members to learn about Turing's achievements and how he contributed to peace. The purpose of the workshop is to foster a space where community members can discuss the implications of technological advancement for peace.
"We had an inspiring discussion that involved the role of cryptography, social media platforms, etc. In addition to enabling audiences to consider how technologies impacted peace, we also taught participants the basics of cryptography, a subfield of mathematics relating to the encoding and decoding of messages. We made the teaching engaging by giving the participants puzzles to solve and having them collaborate with their neighbours in the problem-solving process" said Joseph Wan, a DP2 student. During the workshop, participants had the opportunity to think of the implications of their own actions, especially those associated with technology to peace and how they can become active contributors to peace with a sense of idealism instead of passive spectators.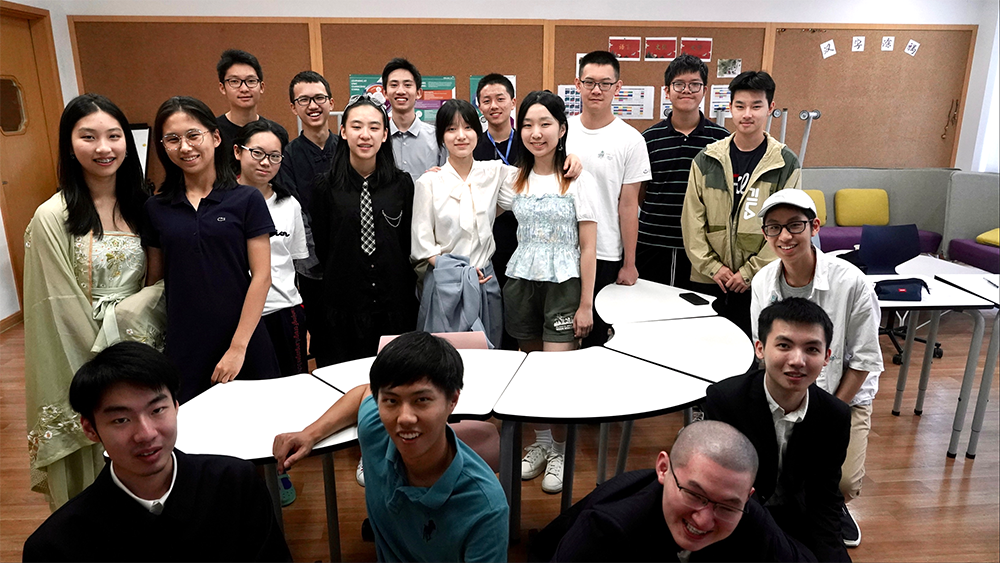 Turing's Contributions to Peace workshop
U-CODE (Girls Coding) Zhi Xing hosted the "Code for Fortune workshop" to approach the theme of inequality and technology through a python turtle game. After a quick tutorial on coding, participants had to create designated artworks through python with unevenly distributed resources among each group in exchange for money. To earn the most money, players were expected to trade with the bank and other groups. Alice Liang, a DP2 student said: "Throughout the workshop, participants experienced multiple unequal treatments that potentially sparked conflicts; yet they learned to cope with the difficulties and develop counter-strategies that fostered peace amongst everyone."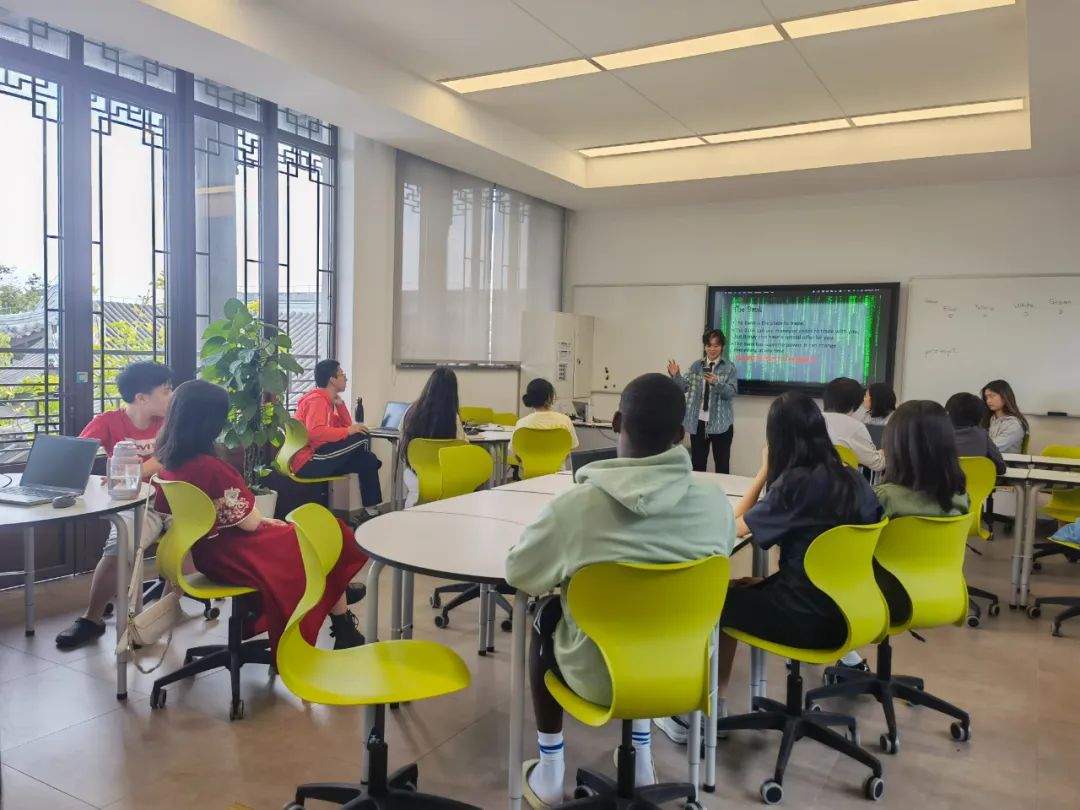 Code for Fortune workshop
Frisbee Zhi Xing organized the "Ultimate Peace workshop". Peter Ye, a DP2 student said: "The theme of this year's UWC day is 'peace begins with us' which highly corresponds to the spirit of Ultimate Frisbee. We aim to build bridges of mutual respect, cooperation, and friendship among the players, which is essential for the maintenance of peace. Overall, our workshop encourages participants to be peacemakers not just on the football field, whether inside or outside of the Frisbee game." DP1 student John Ding said: "We believe playing frisbee in other people's shoes (disabilities) enables us to understand others, moreover, to embrace peace based on mutual understanding. "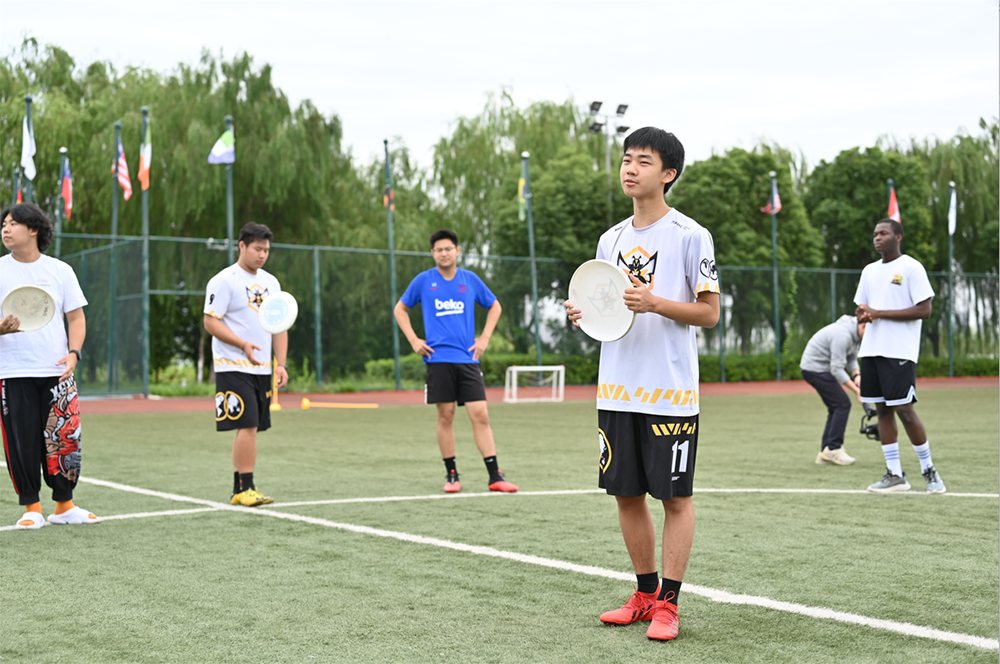 Ultimate Peace workshop
"Thinkers Peace Builder Challenge workshop" was designed for participants to use design thinking skills to find solutions to solve issues around us. Participants showed strong interest in disability-related issues. They think that design thinking has helped them be more empathetic and motivated to design products that can help others in need. This can also contribute to a peaceful society.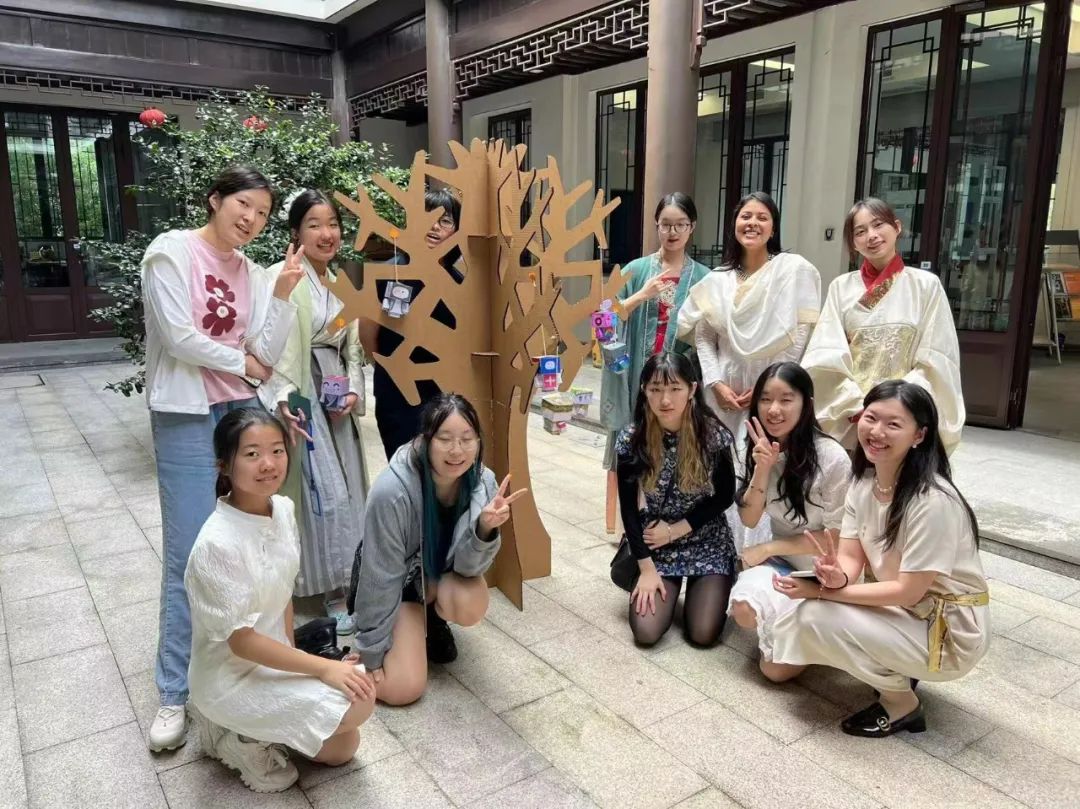 Building Peace Trees workshop
Shruti Podder Rai, a Design Technology teacher, hosted the "Building Peace Trees workshop". Participants designed peace characters to combat the hate messages around the world and hang them on the tree. It was a hands-on workshop to counter bigotry, create a welcoming environment, to embrace inclusion and justice for all. The lively discussions about the absence of conflict, peace-making truce and peace-building strategies were both interesting and informative.
Community members also engaged in other activities such as songwriting, juggling, and meditation during the Day. Students also expressed their hopes for world peace and their understanding of UWC values through poetry and paintings.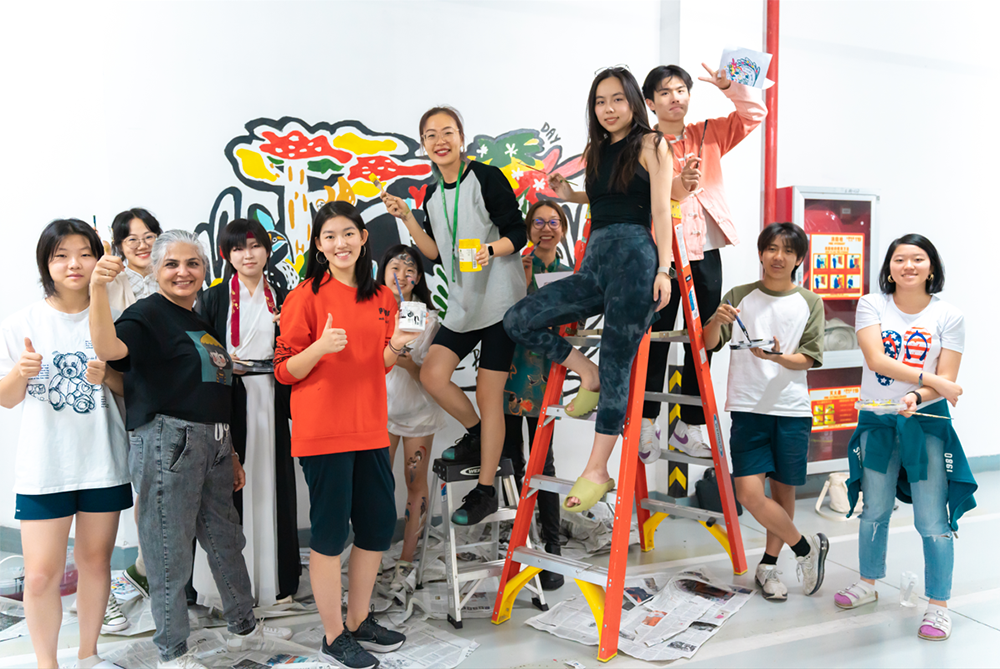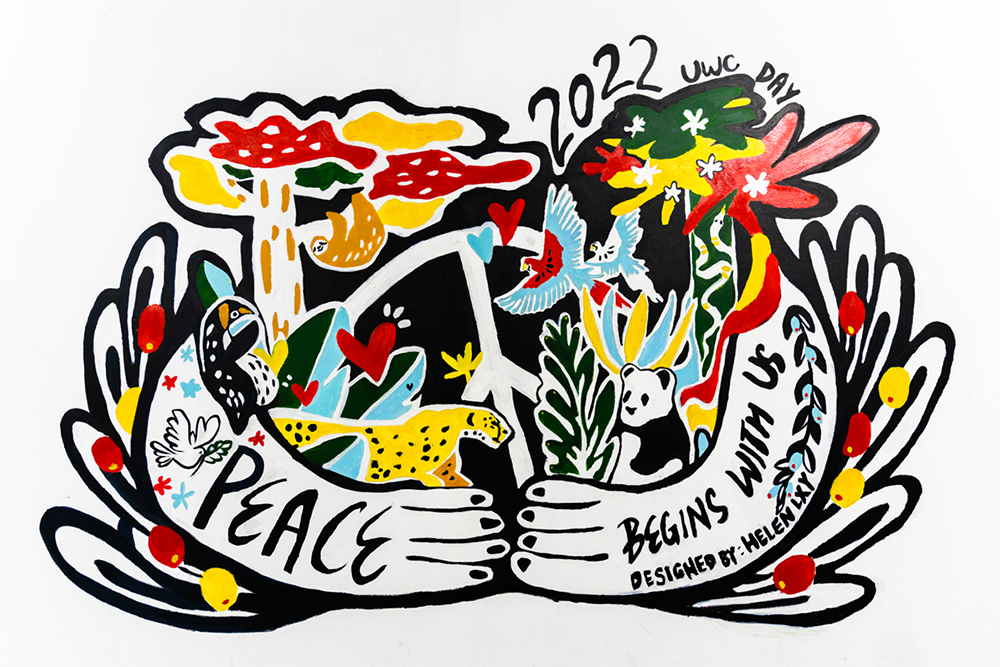 Mural painting "Peace begins with us" by students and faculty
Annabella Tang, a DP2 student said, while reflecting on the day: " This is my second UWC Day. As what teacher Adela said, today I realized that UWC Day is not just about the day, it is about us, every UWCer. It's the UWC mission and spirit that unite us, and the many days and nights at UWC will become our most valuable memories, even when we graduate from UWC."