Ready to Embark on a New Journey
Issue date:2022-09-08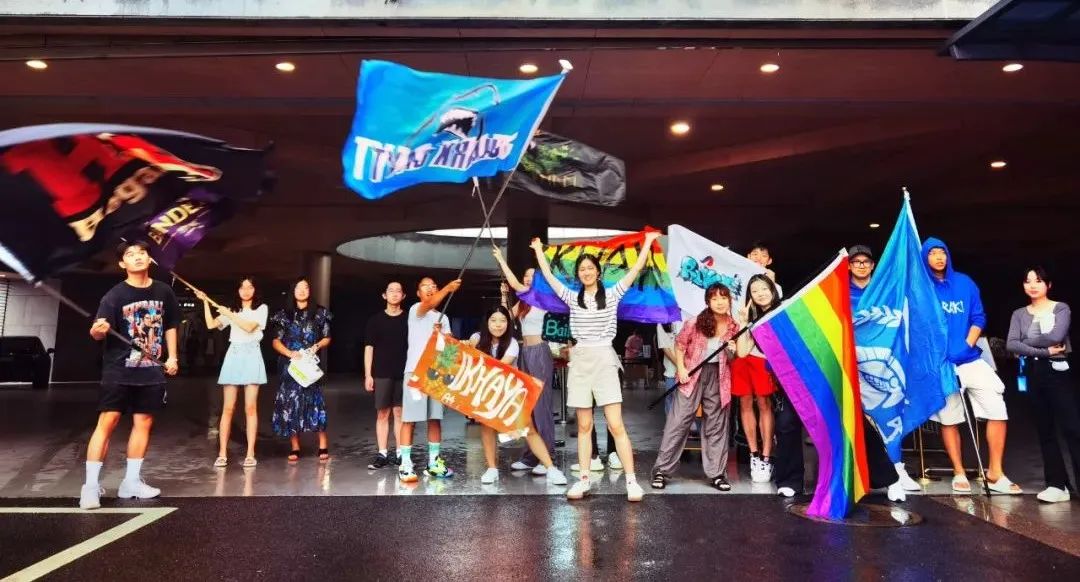 DP2 seniors waving House flags and warmly welcoming new students
On August 27th, during rain, a new cohort of students arrived at UWC Changshu China and joined the big family of UWC.
01 Our New Home
Due to the unexpected weather, all new and returning students gathered in the roofed parking lot, barely able to mask our joyat finally arriving on this island with a charade of patience. Past the boom barrier, members of each House waved their corresponding flags (at UWC Changshu China, each floor of the dorms represents a unique House with its name and culture). At first, I was puzzled over the words written on the flags as I had never seen them in the English dictionary before. Were they random names chosen by each House? It was only afterward that I learned the name of each House comes from the word "House" translated into different languages. My Houseis Bayt, which is "House" in Arabic. As DP2 seniors arrived before us, they were responsible for guiding each new student through the check-in process and into their dorms. From setting foot on campus to carrying my luggage into the dorms, the DP2s helped us throughevery step, ensuringwe never got lost.
Exiting the elevator and setting foot into my room, I felt this would be my new home. Each dorm has four beds, desks, and chairs, neatly sitting in front of the windows as if awaiting our arrival. Fortune smiled upon me as I was allocated a smaller room in my first year. The best word to describe it is "cozy". After setting down my luggage and tidying the room, I layon my bed, eagerly awaiting the newlife of the coming school year.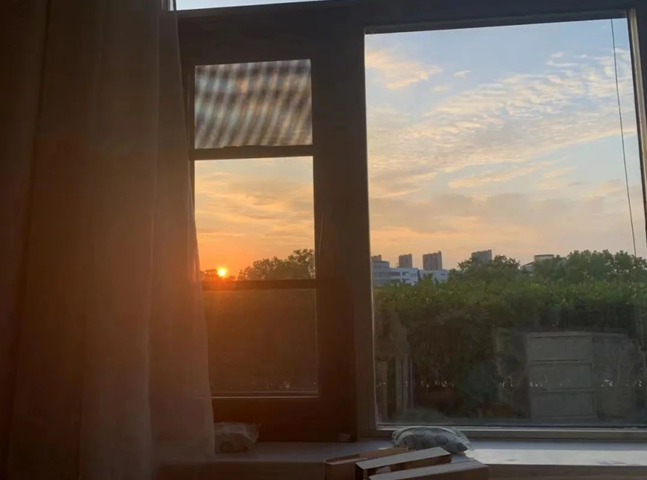 A new student took a sunset view from her dorm
02 Sense of Belonging
Before I came here, one of the unique components I was looking forward to is the House culture of UWC. Before the first House meeting, I found it mysterious how a group of people from all over the world could quickly find common topics, get to care about each other, learn from each other and form a family-like bond.
At 9 PM, in the semicircular Common Room, all our House members met for the first time. We sat in a circle when the HOH (Head of House) introduced herself and welcomed us to Bayt. Then, the seniors forming the PSG (Peer Supporter Group) led a game of "Blowing Wind". This game seemed childish initially, but it quickly lightened up the atmosphere. Whenever a person came to the center, they would share a fun fact about themselves. With a circle of lovely smiling faces, everyone felt relaxed and eager to share. Photography, surfing, cooking, archery, painting, calligraphy, diving… all our interests are widely diverse, just like how UWC celebrates diversity and differences. Our differences make us shine and glow.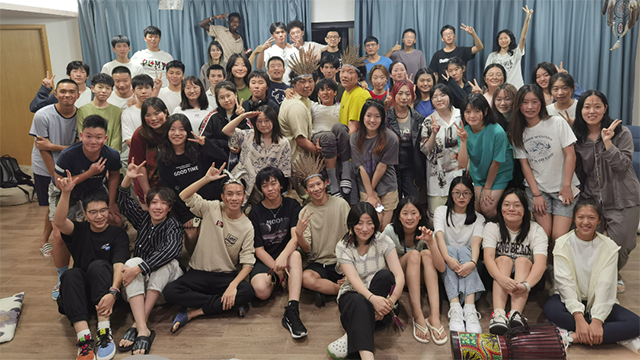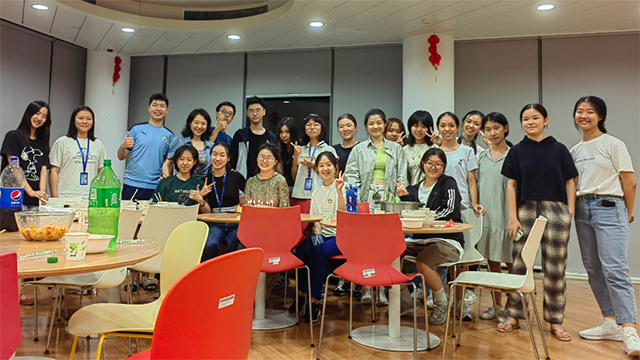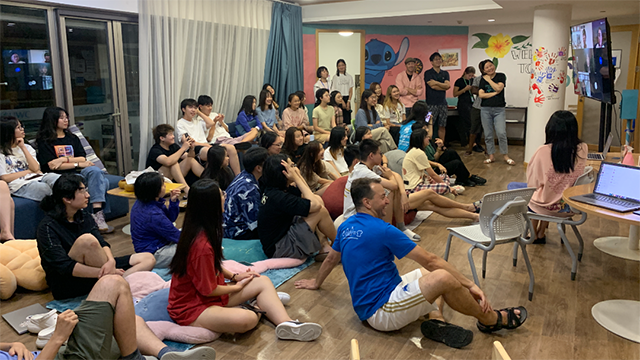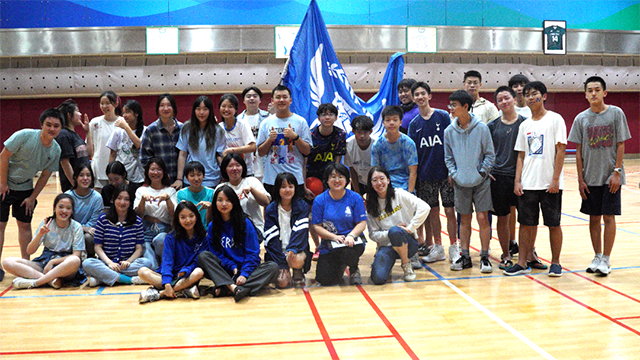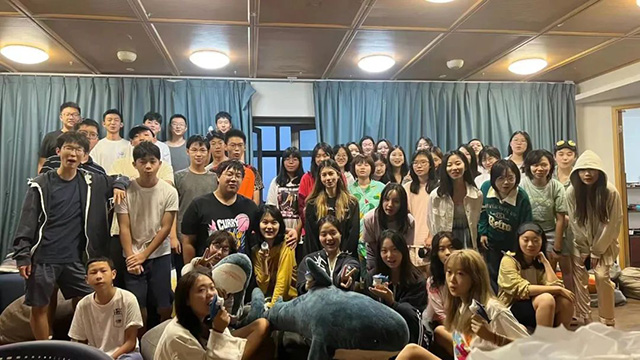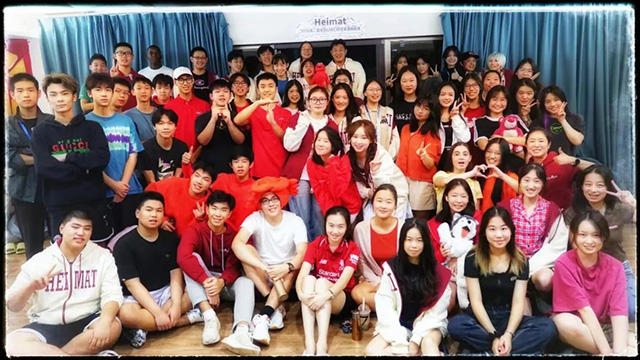 -Swipe left and right to see more- House pictures
Time flew, the activity soon came to an end.Afterward, the PSG members presented us with necessaryinformation about residential life and being at UWC; the seniors gave us practical tips and advice, from the floor structure to the use of washing machines. Each member of the PSG supported us enthusiastically, enabling us to adapt to our new life at ease.
Before we left, we shouted Bayt's House slogan as a closely bonded family: "Shark Bayt, WUHAHA." It was the first time we did so as a family, and our first House meeting ended with joy and fond memories of family members.
03 UWC Vibe
On Monday, August 29th, the first school assembly began with a piano performance by Jason, a DP2 student. The harmonious melodies seemed to caress our ears as his fingers gently danced across the piano. It was a paragon of imagination, creativity and inspiration.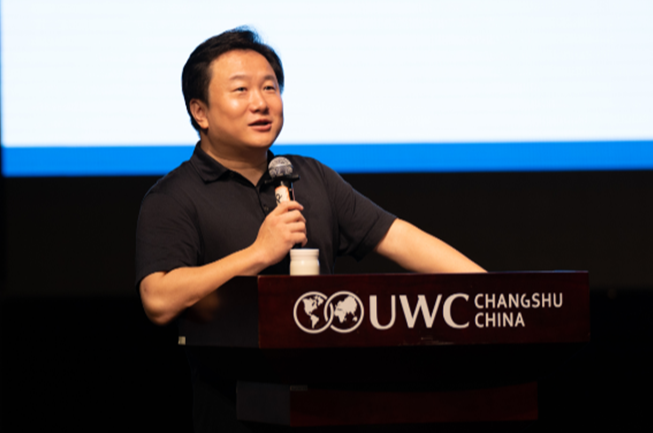 Mark Jiapeng Wang, Founder and Chair of the Board,giving a speech
Mark Jiapeng Wang, Founder, and Chair of the Board of UWC Changshu China,gave a speech to community members. He used his own experience and story to inspire UWCers not to be afraid of challenges and hardships and be courageous to have bigger dreams and take action to make the dreams come true. He said "I believe in two powerful forces in this world, love and education. I discovered both in UWC." He ended his speech with a quote from Leonardo Da Vinci.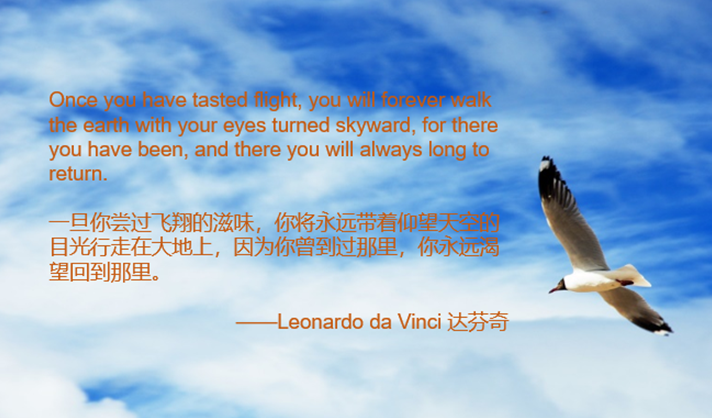 Following Mark's speech, Principal Simon Head delivered school opening remarks. He acknowledged that we were stepping into a phase of uncertainty, possibility and opportunity. Moreover, Simon emphasized "flourish" and "impact". "As we thriveon flourishing and succeeding, we need to value 'being well' as much as being 'academically successful'. UWC provides us a platform and a community to develop passions, construct positive relationships and become lifelong learners. While we flourish, we must strive to become a 'changer'. An impactful changer who brings positivity to the community, society, and the world is the embodiment of the UWC mission, promoting a peaceful and sustainable future".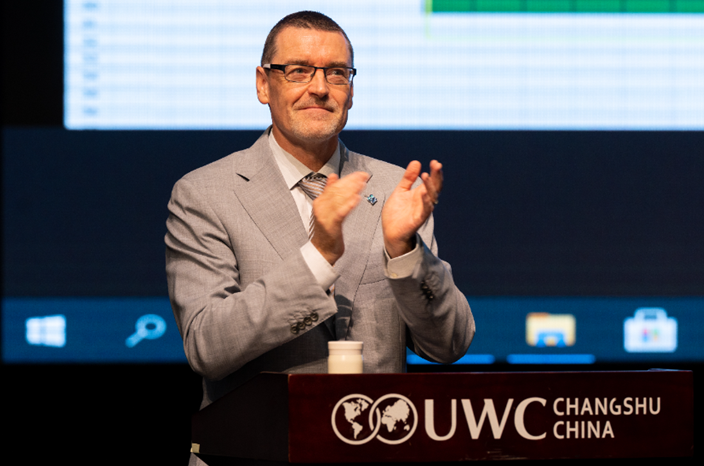 Principal Simon Head giving a speech
Then, two senior students who were members of last school year's College Council, Helen and Aria, performed a duet, narrating the UWC life from the student's perspective. They encouraged new students to balance studying and engaging in the diverse life of UWC. The humorous tone evoked lots of laughter.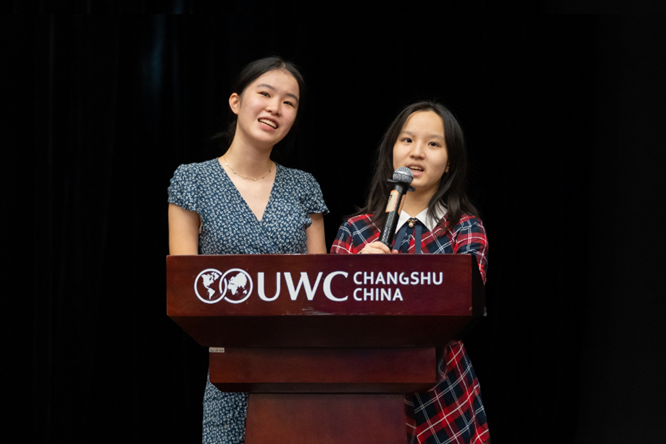 Student representatives Aria(left) and Helen(right) giving a speech
As the Assembly ended, Max - the philosophy teacher, Secretary-General of the College Council, and Head of TOK – went on the stage with exaggerated movements as if dancing to his BGM. After he talked about College Council, to our surprise, Max started singing the song "Ain't no Mountain High Enough" on the stage with a French teacher Nadine singing while walking towards the center of the theatre. In a moment, students and teachers started to join Max and Nadine and sing and dance to the beat of the music. The melody was lively and cheerful, and the lyrics were inspiring. The song delivered an upbeat message that nothing is impossible by symbolizing all hardships in life with motifs such as mountains, rivers, and valleys. It's this kind of moment I felt the UWC vibe.
Staff and students singing and dancing together (Credit to Teacher Rongrong Qu)
04 Feeling at home
Two days later, the PSG introduced us to the Buddy System in a House meeting. It's a system where first-year studentsare paired with seniors who provide unconditional support and share advice with thefirst-year students. Everyone showed their support and love during the orientation regardless of whether they were juniors or seniors, teachers or students, HOHs or principals. I felt at home, with everyone behind my back, supporting me to achieve heights I never dared to imagine.
Showing appreciation was also an essential ritual shared amongst Houses. At the end of every Housemeeting, anyone could show appreciation and gratitude to a person or group of people whosupported them whenever needed. Something as small as folding someone's clothes while taking them out of the dryer can mean a lot for the other person. All these touching moments tightened our bond as classmates and housemates.
The Scavenger Hunt is another traditional game during orientation, with different punch points and rules designed each year. This year's orientation also featured this tradition. Even though every Housecompetedfor the first place, the key is not to win the final victory, but to explore some hiddencorners of the campus and familiarize yourself with the new home. The spaciouscampus was filled withenthusiastic students running from location to location, corner to corner. Although ourHouse did not win the game, we enjoyed the ice creamafterward, given as an award for devotion and team spirit.
How can we fully merge into a home without fully understanding its legacy and history? Polycarp, the Geography Teacher, and Simon Ma, Vice Principal introduced the UWC's history and mission. Since the birth of the first UWC college in Wales, England, 18 UWC collegesand schools have been established. The founding of UWC Changshu China in 2015 opened the door for more students from China and over the world to become UWCers and be committed to promoting peace and a sustainable future. We realized that as the youngest generation ofUWCers, we are now part of the thriving tree and the grand goal of UWC and there is a long and challenging journey ahead of us.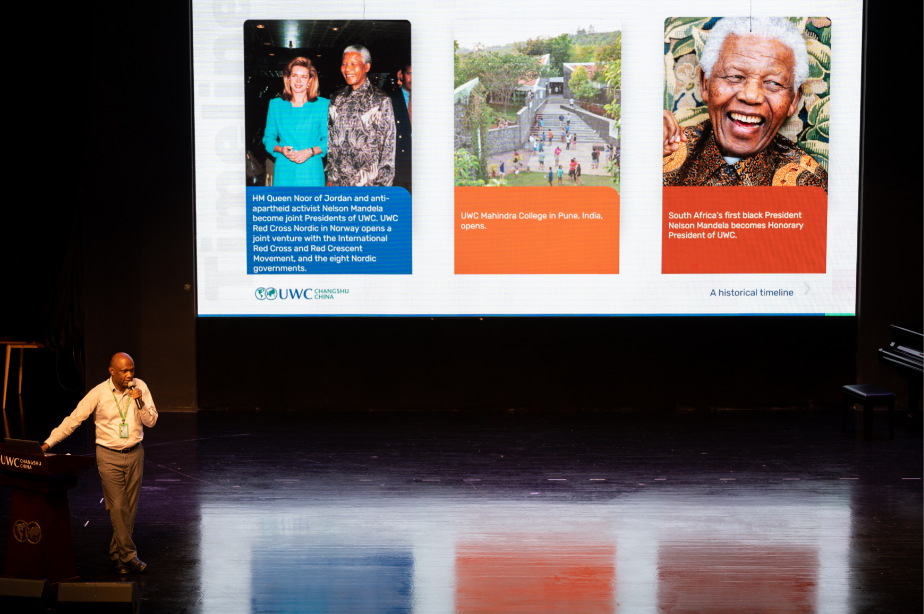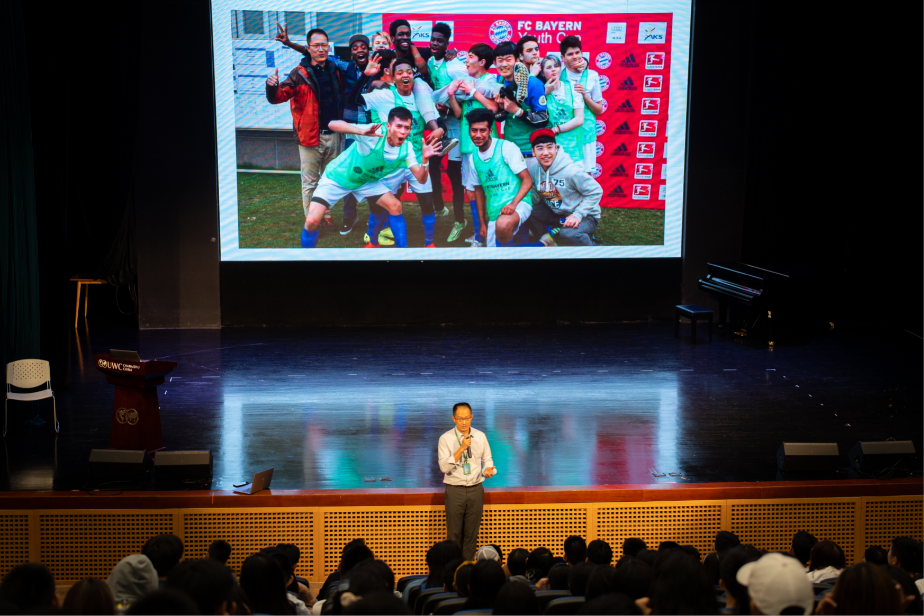 Polycarp and Simon introducing UWC history
Close to the end of the presentation, we all contemplated a question raised by Simon. With all the privileges we enjoy at UWC, what do they mean to us and what can we do to give back to the community, society and the world now and in the future?
During the orientation, teachers and senior students helped us through various ways to learn about different aspects of academics, residential life and experiential learning, and a social-emotional counseling workshop was arranged for us to understand the importance of well-being physically and mentally. Many UWC stories were shared, relationships developed and connections built. From this point onwards, we, the new generation of UWCers, will be ready to embrace the uncertain future with courage and confidence.
05 Looking forward to a new journey
Tina Peng: (From Luoyang)
WhenI arrived at the campus, I knew I had stepped into the right place. Here, I met my Head of House , gentle and experienced ,my advisor ,who did a great job revitalizing the atmosphere, and many warm-hearted seniors who patiently answered every question. Even though I've only been here for a week, I think I have already felt a sense of belonging as a UWCer. However, of course, adjusting to a new environment always takes time, so there are difficulties and challenges too. Anyway, life at UWC is excitingand full of uncertainty, I'm expecting a colorful life here!
Elizabeth Zhao:(From Guangzhou)
UWC is an exceptionalplace. This kind of special can be clearly felt as soon as you enter the campus. Here, regardless of gender or nationality, all students and teachers are open-minded and friendly. I think UWC is not just a school, not just a campus.It is a diverse community that gives everyone here a sense of belonging. Students here dare to think and dare to do. They dare to dream while down to earth. This iswhere you feel your future is in your own hands. When everyone shouted slogans and raised the House flag during the orientation week, I felt a sense of belonging for the first time, and I belonged here. UWC is not a temporary stop in life, but a harbor that may change our future life and welcome us back at any time with open arms.So weird that even though it is my first time here, it still gives me a feeling of being welcomed back home.