My First Book of Plants
Issue date:2022-05-05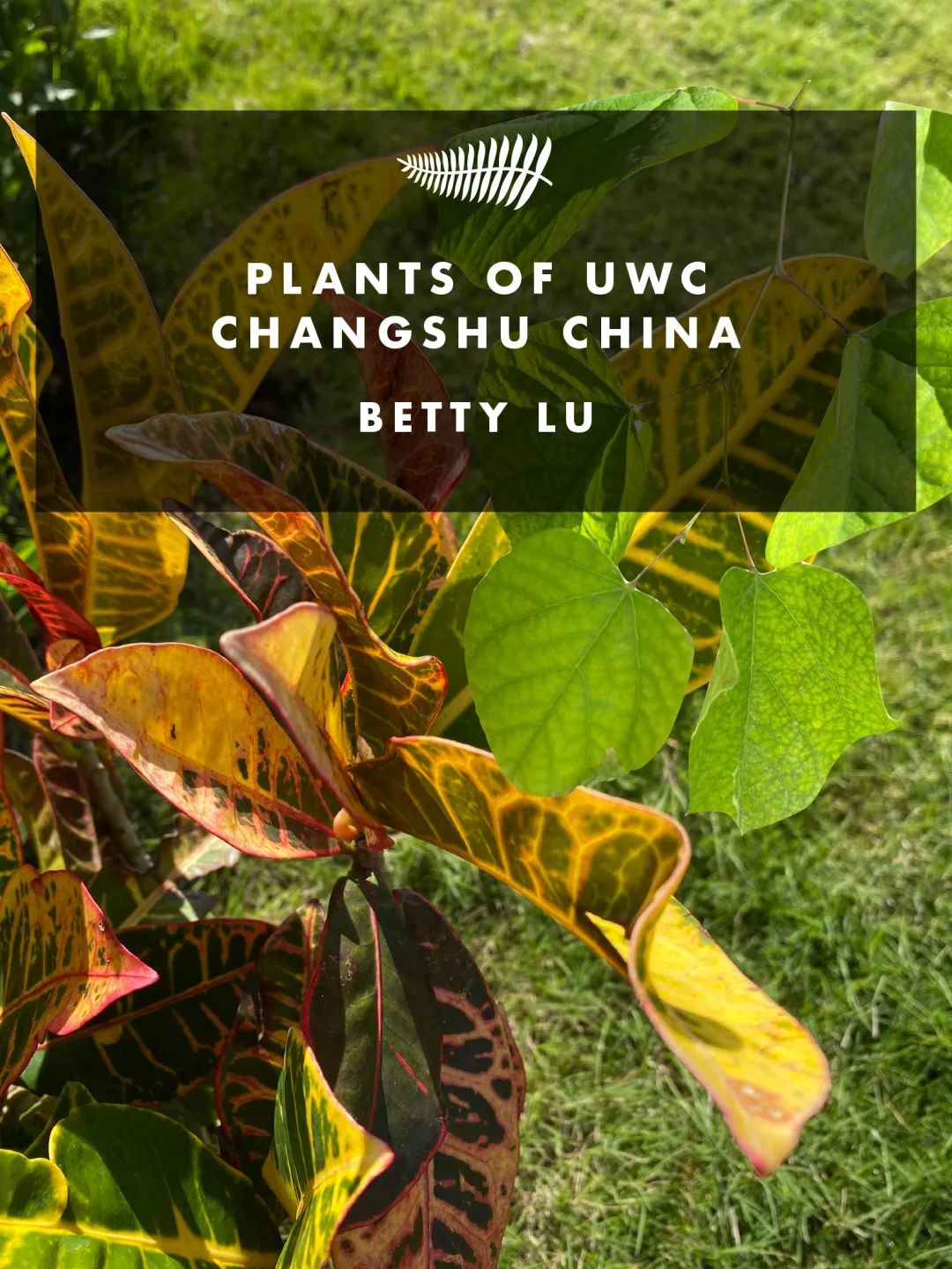 Cover of the book written by Betty Lu
Passion Project is a core component of the Foundation Program (FP) of UWC Changshu China, which aims to cultivate students to conduct in-depth research on areas of interest and turn them into practical projects in order to enhance the ability to put knowledge into practice. In this issue, Betty Lu, a FP student, shared her Passion Project. Betty spent a year exploring and studying the plant species on campus and compiled an ebook of plants introducing more than 30 species of plants with beautiful illustrations.
When I first stepped into the campus of UWC Changshu China in Sep. 2021, I was overwhelmed by the beauty and diversity of plants on the small, tranquil island. Strolling around, I saw vibrant green leaves on the bushes, velvety red flowers peeking out from the grass, and golden yellow fruits hanging gracefully on tall trees. For a fan of plants like me, it was the perfect environment for botanical research!
As a young child, I grew up in Shenzhen, a self-proclaimed "green city" with many plants situated around its high buildings and long roads. I lived in a relatively undisturbed part of Shenzhen that contained many wild plants. I loved observing these plants from different angles, dissecting their flowers and leaves, and viewing samples under my father's microscope. I also enjoyed gardening with my grandmother—planting romaine lettuce, harvesting Chinese mug-wort and jaboticaba, and watching rice seeds sprout……These experiences sowed my passion for plants, a passion that continued to grow.
When I began to study at UWC Changshu China as a FP student, in the cohort meeting during which Avinash, our Passion Project coordinator, introduced the Project to us, I was all but certain that I would do something about plants.
After the meeting, I speed-walked to the library and borrowed a stack of plant-related books. Among them were The Hidden Life of Trees, and The Big, Bad Book of Botany. These books intrigued me as I flipped through their pages. I devoured them from cover to cover and was left hungry for more.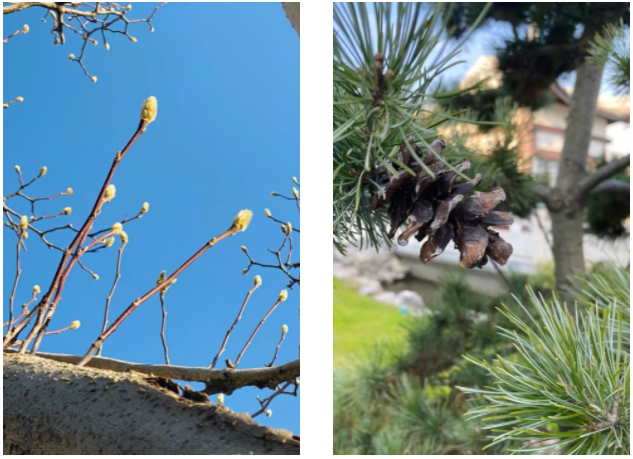 Plants on campus:Brush-like winter buds of the Yulan magnolia, Cones and needles of the Guangdong white pine
When I glanced out of the window of my dorm room and again saw the colorful spectacle of plants. Wait a moment, I thought to myself, I still don't know yet what these plants are called! Just like reading the biographies of historical figures would give you little information about the people around you, reading about plants in foreign countries does not mean that I would know about the plants right in front of my eyes.
Driven by curiosity, I decided to search one of the plants up on my phone using the app "形⾊". I took a photo of the emerald-colored bush. When the result came up, I made note of my discovery. This is Pittosporum tobira, the Japanese cheesewood, don't forget that name. The prospect of getting to know all these names was so exciting to me that I continued to walk around campus, taking snapshots of all the plants that came into sight. At the end of my tour, I had collected 54 distinct plant species, but I was certain that there were more. I made a mental note to myself that I would try to learn as much as I could about the fascinating flora.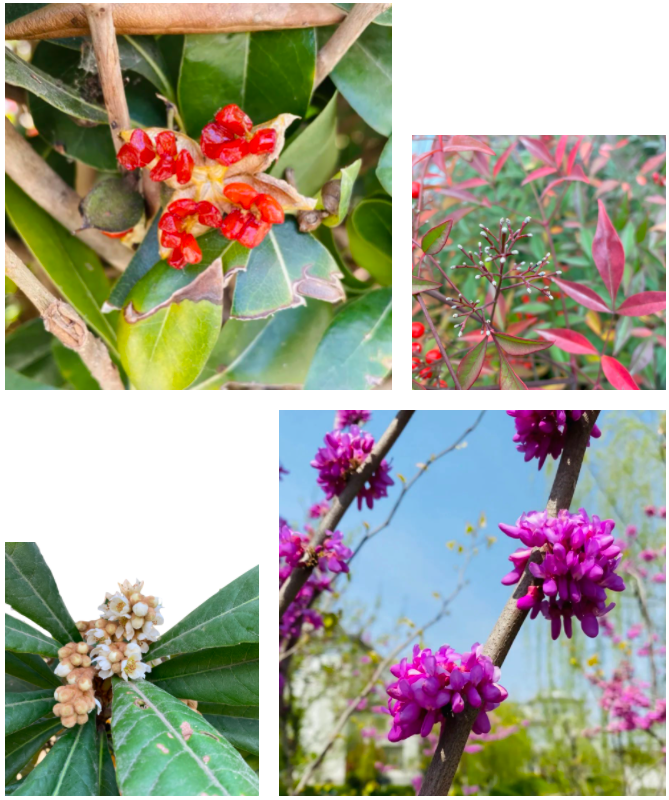 Japanese cheesewood seeds that resemble red gemstones, the buds of heavenly bamboo, the flowers of the loquat tree, Chinese redbud flowers by the river
Then, another thought occurred to me. What if instead of learning about these plants just for myself, I also share this knowledge with others? What if the next person who wonder at the plants on campus could easily learn about them through a book——a book about local plants like the ones in the library that have captured my interest? This was the captivating idea that accompanied me through my year-long Passion Project journey.
The Passion Project is a unique opportunity for FP students like me to choose an area of personal interest and develop it over the course of the school year. Aside from having the freedom to choose my own topic, I was able to set my own goals, establish my own timeline, and develop my own rubric to grade my final product. In this way, this project equipped me with the skills to engage in independent inquiry—skills that have interdisciplinary value and are helpful when writing reports in Math, preparing for presentations in Economics, and more. These independent research skills would become even more important as they accompany me through my IBDP years at UWC.
As I began to fill the pages of my book with words and photos, I felt empowered to do something creative which I never imagined before. Since there were immeasurable amounts of data for each plant on the internet, I sifted through the data to decide which were the most interesting and worth sharing. I carefully picked words trying to avoid monotonous descriptions of every aspect of a plant with extremely technical vocabulary. All in all, researching and writing the book was a massive but enjoyable undertaking, with the devotion of up to four hours each week for five months.
Page on glossy-leaved paper plant
Although I had the initiative to work on the whole project on my own, I got all the support needed. My supervisor Tanya talked with me about my ideas and provided invaluable feedback on my final report and product. I am very grateful for her consistent support, even when we had to meet online due to the outbreak of COVID. Passion Project cohort meetings also provided me with useful strategies for ideation, research, and communication. For instance, Jodie, our librarian taught us about various online databases such as JSTOR, and Avinash guided us through the process of setting a SMART (Specific Measurable Attainable Realistic Time-Bound) goal.
When I returned to campus after Chinese New Year, my first thought was to revisit all the plants around school. As I called each of them by name, I felt that they really were my friends. "Hi, glossy-leaved paper plant! I can't believe how much you have changed since the last time I saw you—your fruits were green then, now they're black! You too, hall crabapple tree. Look at those pinkish white blossoms you have now instead of the tiny apples a few months ago." It was truly an extraordinary experience to be able to reconnect with plants everywhere on campus whose full stories I now knew and had worked to tell to others, too, through my book project.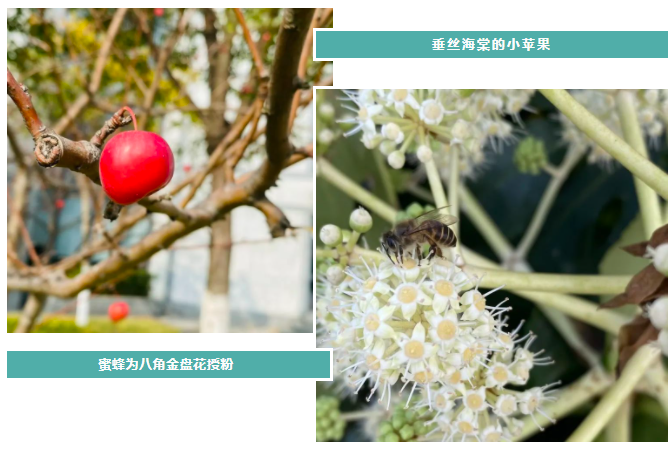 In the next few days, I photographed plants in their new appearances and added the final touches to my book, including a glossary and bibliography. After proofreading, I downloaded the PDF, wrote a blurb, and published the book on Teams, our school's platform for announcements.
As I read the positive comments from students and teachers, memories of countless weekends spent photographing, researching, and writing about plants surged in my mind. I was filled with gratitude and a sense of fulfillment.
Christoph Genz, our music teacher from Germany wrote:"This is absolutely amazing! I love looking through the pages. So well written and such beautiful pictures! And such interesting facts! I did not know for example that the seeds of the Pomelo fruit basically revolutionized Germany's industry! Congratulations! What an amazing Passion Project!".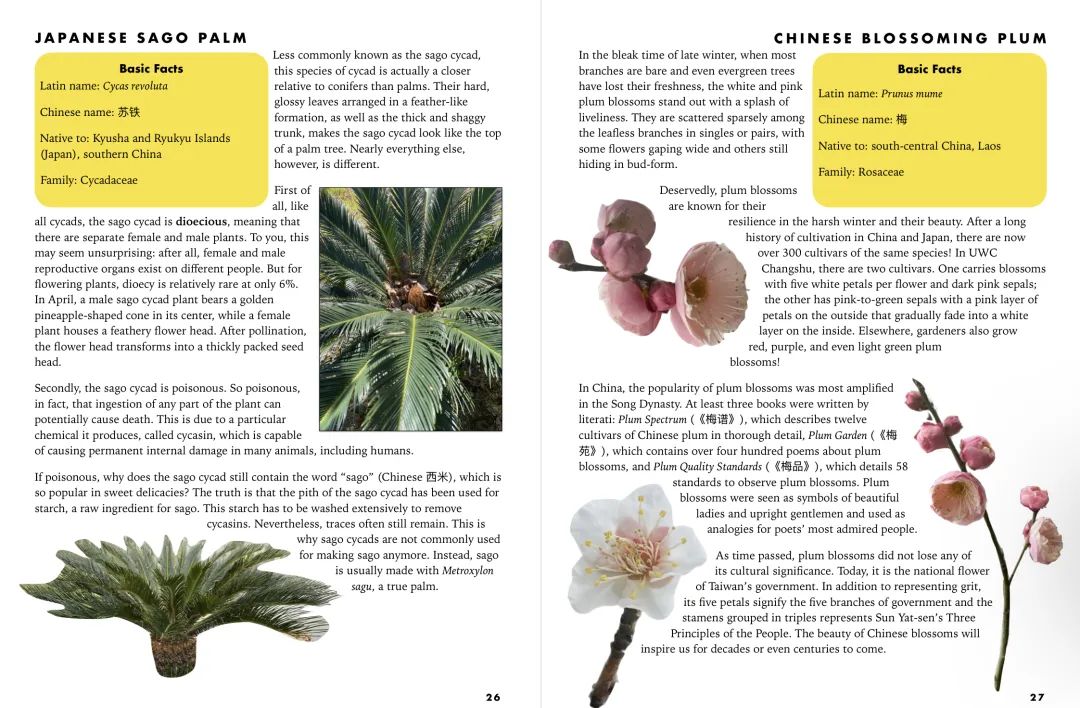 Inside pages of the book written by Betty Lu
Yet, I knew my journey was far from over. Not only can I label plants I have already studied, as suggested by Ramie, one of our university counsellors, but I can also continue to probe into more plants. There are over four hundred thousand species of plants currently known to science, though even more remain undiscovered.
Throughout my Passion Project journey, I realized that each plant has its own secrets, whether those are concealed structures in their flowers, such as the pistils and stamens of winter sweet that mature at different times, or unknown functions of their raised roots, such as the cypress' bewildering knees. Each plant is also beautiful in its own way, no matter how seemingly inconspicuous at first glance—for instance, the wrinkled globe-shaped fruits of the soapberry tree may seem unspectacular, but when you dip them in water and rub them on your hands or laundry, they form a foamy lather and give off a subtle fragrance.
Mysterious cypress knees, plum blossoms in winter
I would like to thank all the wondrously beautiful plants on campus and beyond for their invaluable contributions to our planet. As members of the UWC community, taking care of the plants on our little island and the environment is our responsibility for a sustainable future. As Maisie William, the first WWF Global Ambassador for Climate and Nature, said:
"Open your eyes and not just look but see the green planet around us."