Exploring National Intangible Heritage——Nanjing Baiju
Issue date:2021-07-14
During this year's Project Week from May 31 to June 5, DP1 students at UWC Changshu China went to different parts of Jiangsu Province to engage in various self-initiated projects including Chinese cultural exploration, arts, service, and outdoor activities. This forms an important part of their UWC education, which embodies the education philosophy of "Learning by doing".
Qingyan Zhang,Yumeng Jiang and four other students carried out their project in Nanjing to investigate the national intangible cultural heritage - Baiju, with the hope to promote it to more people not just in China, but to the world.
01
Project initiation
Baiju is a type of Chinese singing-storytelling and a form of opera that originated from Yunjin (Nanjing traditional silk embroidery) workers' self-entertainment. Sang in Nanjing dialect, its context includes local news, the introduction of scenery, street foods, and so on. Starting from the Yuan dynasty, it has a history of over 700 years. However, people nowadays know little about this unique form of art even though it has been recognized as National Intangible Heritage in 2008.
Our group of six students felt it a great pity for Nanjing Baiju. As a UWCer, UWC values have taught us to make positive changes, which guide us to think: is there anything we can do? What can we change? Besides, UWC Changshu China attaches great importance to Chinese traditional culture, and has given us a strong sense of cultural mission to protect and promote Chinese traditional culture. So we hoped to do something to help preserve this unique part of Nanjing culture.
As a group that consists of music, theatre, literature performance and visual art students, we all are interested in Baiju. Therefore, we decided to take Project Week as an opportunity to conduct a series of investigations about Nanjing Baiju, and we hope to use our research results and final products to enhance the public's awareness of this unique and valuable opera.

Group discussion
Initial research plan after discussion
02
Preparation
In the beginning, we had no concerns about doing this program because one of our group members told us that there was a Baiju club in his previous school, Nanjing Foreign Language School, but when he asked his previous schoolmates for information about the club, he found that the club had already dissolved. What's more, since that club did not attract much attention during that period, we even had no idea who the club's leader was. This message disappointed us because Baiju, as a singing-storytelling art with a limited audience, had limited resources and our source of Baiju successors was no longer available.
Thinking for a while, we decided to search for Baiju successors again through the Internet. On the Internet, we found that Master Lingling Huang and Shuhan Li in Nanjing Jinling Style Opera Group and Master Chunhua Xu and Tian Xia in Nanjing Baiju Group are still working for Baiju and have gained some achievements. Therefore at the end of March, we started searching for their contact information on different platforms. During the process, we experienced many difficulties. We were rejected, ignored, and we found that the group had changed its work location.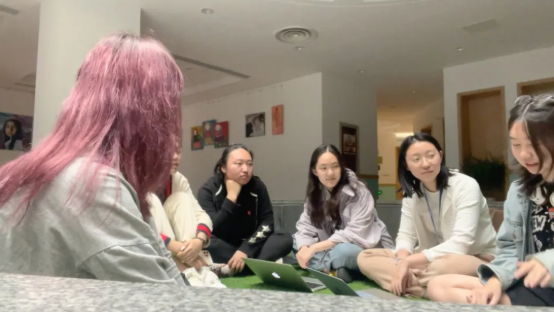 Group discussion
Eventually one of our group members Yumeng Jiang succeeded in contacting Kang Yue from Nanjing No.13 Middle school Suojin Branch School. Thanks to Kang Yue, we found other Baiju's successors such as Chunhua Xu, Tian Xia and Jingzhi Ma and quickly made appointments with them. With the help of Xinran Shan, another group member, we got the Wechat contact of Shuhan Li and told him when we wanted to interview him. Apart from communicating with Baiju experts, we looked up information that is relevant to Baiju. Through group discussion, we shared what we learnt about Baiju, which laid a solid foundation for preparing our interviews later.
03
Field investigation
Pedestrians Interviews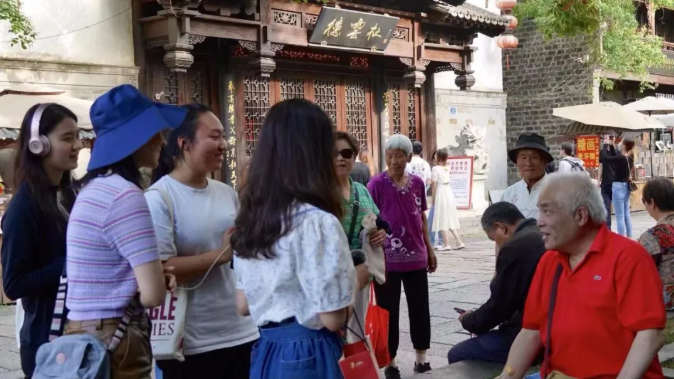 "Hi, have you heard of Baiju?"
After we arrived in Nanjing, we first did interviews with random pedestrians. The purpose of these interviews was to see how well-known Baiju is for the public. Though we already expected that many people may not know about Baiju, the results were still quite surprising - among the 18 people we interviewed, only two of them said they have heard of Baiju, and only one person ever watched a Baiju performance. The results of pedestrian interviews again showed us how Baiju is gradually disappearing and that it is time for us to take action to learn and help preserve this opera.
Visiting Baiju successors
During Project Week, we interviewed various people related to Baiju from elder Baiju performers to the younger generation, from a university student who is learning Baiju to a music teacher who teaches Baiju at her middle school. Just like solving a jigsaw, we tried to present Baiju in its most authentic and comprehensive way using different pieces that we collected from interviewees' various perspectives. We believe art is essentially about humans, and that only through people can a form of art be passed down to younger generations.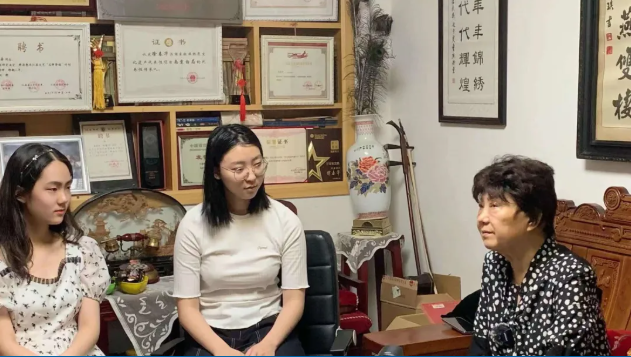 01 Chunhua Xu
We first visited Baiju national successor Chunhua Xu, also the instructor of Nanjing dialect in the movie "The Flowers of War". We felt a little bit surprised when we interviewed Master Xu. In our previous discussion, we all felt that the older generation like Chunhua Xu might reject some novel elements in traditional Baiju. However, in our interview, Chunhua Xu expressed her views in a way that was opposite to our previous thoughts. What impressed us the most is that Master Xu told us that when she held the celebration for the Lantern Festival, she added rap into her lyrics for Baiju on her own initiative. She said that she will not reject these new elements because people would never know whether these would become the momentum for the development of Baiju.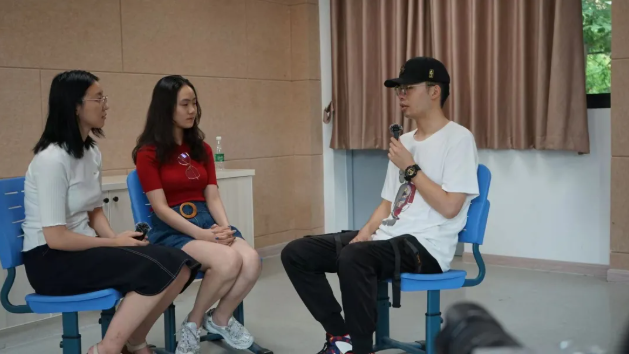 02 Tian Xia
"A beautiful melody is the key to the success of Baiju." When we asked Tian Xia, the youngest Baiju successor, for his view of the future of Baiju, he said: "Only when the melody is wonderful, Baiju will have a bigger audience and then we could have an income. With an income, Baiju would become popular." Tian Xia told us, in order to popularize Baiju, he added many elements from Kunqu Opera and Suzhou Pingtan(storytelling and ballad singing in the Suzhou dialect)into Baiju. After performing these sorts of new Baiju several times, he found that the audience enjoyed this innovation. While we expressed our concerns about whether this innovation would change Baiju completely, Tian Xia pointed out that there was a balancing point between innovation and inheritance. For instance, Xia believes that the Nanjing dialect used to sing Baiju is the root of Baiju which will remain unchanged.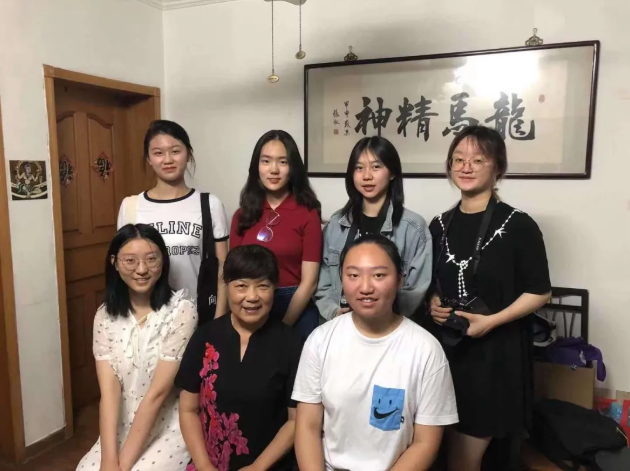 03 Jingzhi Ma
Jingzhi Ma is another Baiju successor. She told us that her family influenced her a lot in her decision to become a Baiju performer. Since Master Ma's family members had Baiju-related occupations, she fell in love with Baiju quite naturally. Even though she was old, she still insisted on teaching Nanjing kids Baiju and performing it in front of them. She believed that through this, these kids would know Nanjing culture and enjoy Baiju. We saw in her eyes her determination in promoting Baiju to the younger generation.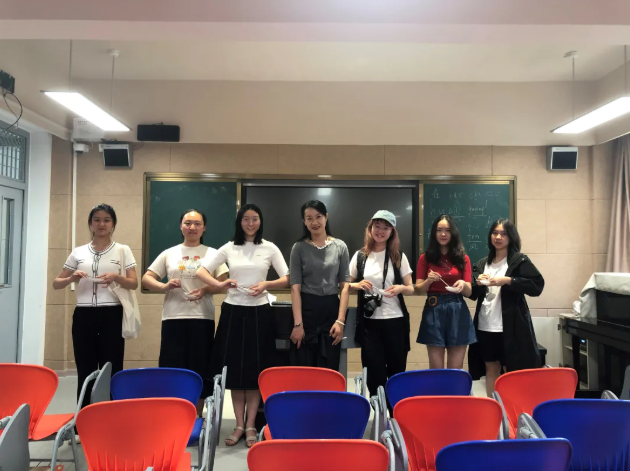 04 Kang Yue
When we first met Kang Yue, her elegant temperament appealed to us. Master Yue said she contributed her entire life to Baiju and met many difficulties throughout. For example, when she raised the idea of inheriting Baiju, her husband who worked as a researcher of intangible cultural heritage disagreed with her from the beginning. Firstly, her husband believed only native Nanjing dialect speakers could inherit the traditional Baiju, while Kang Yue, as a non-native Nanjing dialect speaker, could not. Next, Baiju is no longer popular for its own reasons like its way of singing and the context of its lyrics. Kang's husband believed Baiju had reached a point that it no longer matches modern society's needs and should therefore be exhibited in museums rather than be performed.
Confronted with these voices, Master Yue chose to insist on pursuing her interest. She decided to learn traditional Baiju from Chunhua Xu and then share it with more people. Through their efforts, Baiju gained more and more applause. Before the interview with Kang Yue, we were able to join a music class about Baiju taught by Tian Xia at Nanjing No.13 Middle school Suojin Branch School. The amazing performance by the students demonstrated their love of Baiju and convinced us that step by step, Master Yue was achieving her goal of promoting Baiju.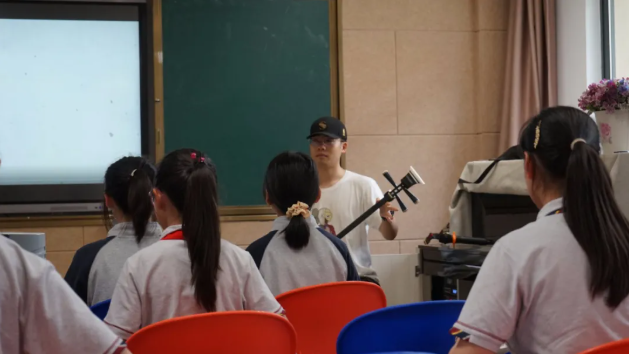 A class teaching Baiju by Tian Xia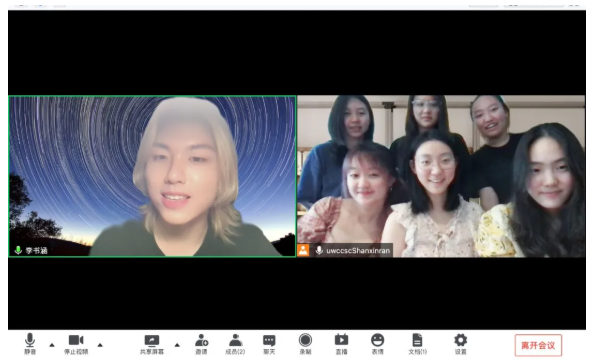 05 Shuhan Li
"Wow, he's cute!" was the first impression of many of our group members when we first met Shuhan Li in our online interview. Indeed, it can be hard to connect Shuhan with the traditional Baiju performer at first glance, as he looked like a fashion hiphop boy with dyed hair. However, as the interview went deeper, we found out with surprise that Shuhan was actually the most conservative one in comparison with other performers we interviewed. He didn't fully agree with the innovative attempts that other Baiju performers are taking but believes that Baiju should innovate more on its context instead of its forms. As a current literature student at Suzhou University, he dreamed that one day he could use Baiju to tell Chinese classical stories such as 《A dream of Red Chamber》and 《The Peony Pavilion》.
In addition, Shuhan also mentioned that there are strict requirements for becoming a Baiju performer. Firstly, the student needs to be a local dialect speaker since Baiju is performed in Nanjing dialect; Secondly, the student needs a good sense of musical pitch. In terms of the attitude towards traditional culture, Shuhan said he tries to break the boundary between so-called old and modern art, for he believes that by doing this more young people can become interested in traditional art forms. Apparently, for him being a Baiju performer doesn't conflict with being a young man at all. When he showed us his music playlist, we also saw many pop songs in addition to Baiju.
04
Reflections
Through this Project Week, we had a closer look into Baiju, the unique art form full of Nanjing local flavour,also learned about the hard life of the workers in the history of Nanjing. Meanwhile, we explored the city life of Nanjing, including its traditional food, and found that Nanjing people had positive attitudes towards their lives.
We are very glad to have heard some impressive voices during our journey. For example, Tian Xia believed his innovation to Baiju was the right way forward and the development of Baiju was closely connected with the innovation of Baiju. On the other hand, an elder man who is the successor of gourd carving, told us he could not accept the innovation of Baiju and found Baiju had changed entirely. These two very different voices inspired our thoughts and helped us think about the right way of developing Baiju.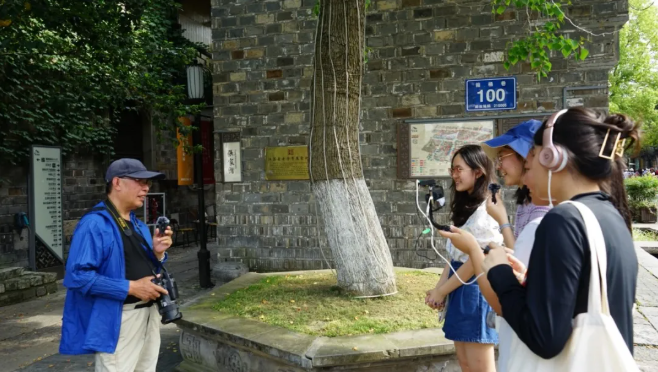 A street interview with an elder man from Nanjing
In addition, thanks to this Project Week, we met our best friends. On this journey, everyone played their own role. For instance, Qingyan Zhang and Yumeng Jiang were interviewers; Shuhan Chen and Xinran Shan were the videographers; Jiayi Wang was our photographer; Ziyan Tan was responsible for editing our videos. Through working collaboratively, we developed a sense of belonging which brought us together and made something seemingly impossible possible. This let us believe that we all have a bright future, no matter how many difficulties we would experience on our way forward!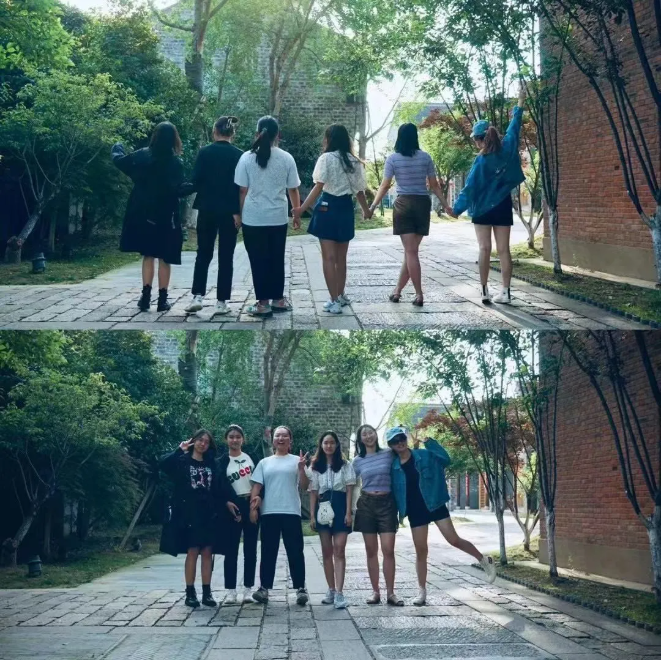 05
Future Plans
"Beside the Zhuque Bridge wild flowers thickly grow, along the Wuyi Lane the sun is setting low." This is a line from a Chinese poem that used to describe the scenery in ancient Nanjing city. As an important part of Nanjing culture, Baiju has witnessed history and connected the present with the past. Project Week is not an end to this story. There are still so many things we can do for Baiju. After Project Week, we plan to make a series of documentaries through which more people can get to know Baiju.
Through our investigation, we also realized that the reasons behind Baiju's current difficult situation are two-fold. Firstly, Baiju has a tradition and history of free of charge. As a result, most Baiju performers are not full-time performers as they can hardly gain any income from performing Baiju, which further prevents Baiju from being professionalized and systemized. Secondly, Baiju needs more successors. We learned from our interviewees that even most Baiju performers nowadays are not charging any fees when teaching their students, there are still very few young people who are willing to learn Baiju.
Therefore, in order to promote Baiju, we not only need financial support from the government but also need to raise social awareness of Baiju. Currently, there have already been some progresses: the new Intangible Cultural Heritage Museum is going to open soon, many schools have started to include Baiju in its curriculum, and non-local people like us are also paying attention to Baiju.
In addition to the documentaries, we also started a petition that aims to help preserve Baiju and ultimately make it into a World Intangible Cultural Heritage. We believe big changes start from small steps, and we hope we can do more for Baiju in the future and that Baiju can be known to more people and gain its popularity.