Zhi Xing | China Band —— Of the Nation, of the World
Issue date:2021-09-14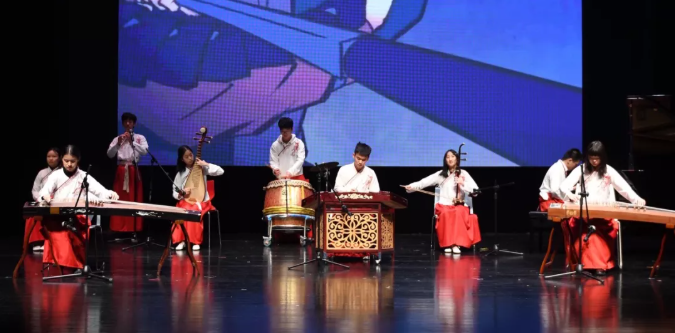 CAS (Creativity, Activity and Service)is a core part of the IB Diploma Programme. At UWC Changshu China, CAS has been given an apt Chinese name -- "Zhi Xing" which means "learning by doing". It serves as an integral part of experiential learning in UWC education. Through Zhi Xing, students are provided with opportunities to put their knowledge, talents,skills and values into practice and make contributions to their community.
In this issue, Jessie a DP1 student told the story of China Band Zhi Xing,initially a Zhi Xing Hub (newly founded Zhi Xing activity) which was founded by a group of Chinese traditional music lovers who share a strong desire to build a bridge between Chinese and Western music.
01 My passion
China Band, which has now become familiar to many of us at UWC Changshu China, was hatched from the heartbreak of a Chinese folk music lover.
I have been learning Erhu since childhood, and I know the basic knowledge of various Chinese instruments. I have joined three Chinese orchestras and participated in numerous musical instrument competitions domestically and internationally, accumulating a lot of experience over the years. Thanks to the support of my teachers, I became the leader of a Chinese music band when I was in primary school. Indeed, before this amazing year at UWC Changshu China, I had never planned and founded a band myself and never imagined that a team of students could carry out the initial preparation, rehearsal and the final performance all by ourselves.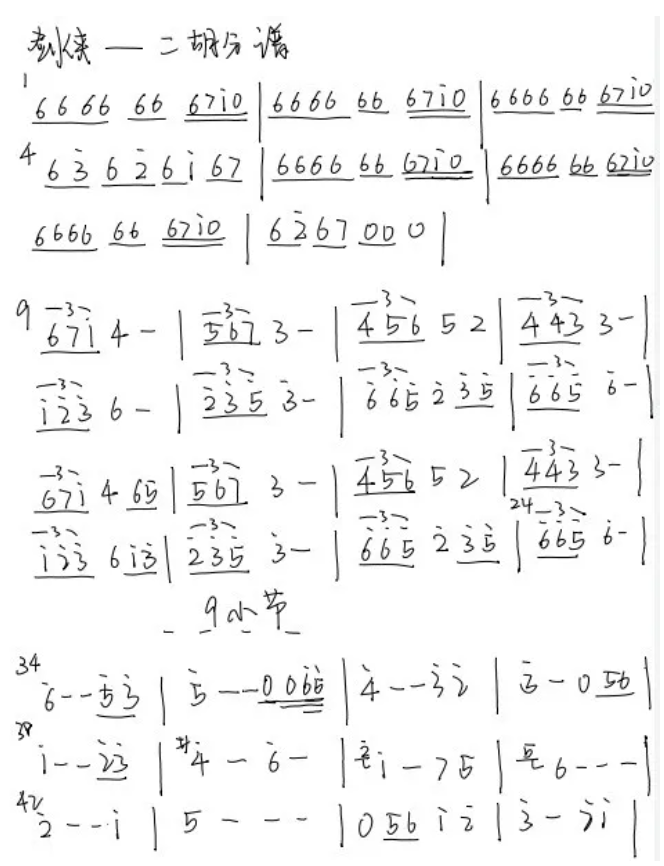 The recomposed Erhu part of《Jian Xia Feng Yun Lu》(The Swordsman's adventure) by China Band
Before coming to UWC Changshu China, I had heard that the community attaches great importance to Chinese culture. Moreover, "Chinese orchestra" which appeared on the list of Zhi Xing activities, caught my eyes every time I glanced over the list. I was looking forward to meeting more Chinese music lovers at my brand-new family.
However, when I asked around for information about Chinese orchestra, I was told that it had been discontinued due to the graduation of its leader a year ago. It was as if I was splashed with cold water.
Nevertheless, the 'cold water' of this kind didn't extinguish the burning passion to establish an orchestra. I believed that since my seniors had been successful, I could also start an orchestra from scratch. To this end, I began to look for passionate Chinese music lovers.
At the beginning of my UWC journey, I got to know Laura through ice-breaking activities. She is not only a talented Pipa player but also gifted at rhythm and intonation. Every time she played Pipa, it sounded like some big and small pearls hitting the jade plate. After that, I got acquainted with Ivan, a Chinese dulcimer and flute player, as well as Priscilla and Gina, two Guzheng players. Because of Ivan's exceptional diligence, he always deserves to be at the center. Owing to Priscilla and Gina's outstanding playing skills, unison and different styles, one being as majestic as《Jiang Jun Ling》(General's order) and one being as graceful as《Gao Shan Liu Shui》(High mountains and running water), they both play very important roles in China Band.
Later, Mike from DP2 approached me and introduced me to Sky, a flute player, and Iris, a singer who loves ancient styles. I admire Mike who is always meticulous in composing and rehearsing and is able to draw on his incredibly rich musical knowledge and experience when he comes up with arrangements and new harmonies for our pieces. Sky has made the biggest improvement among the team members. We have witnessed his flute skills getting more mature from initial instability. Iris has a deep love for singing and a strong sense of rhythm, allowing her to play a variety of percussion instruments.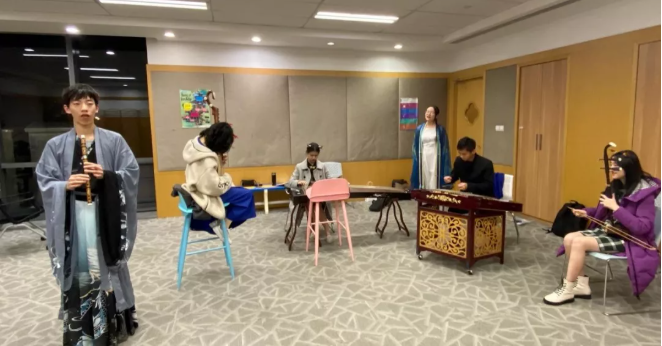 Rehearsing
Finally, the addition of an essential figure, Henry, a graduate of UWC Changshu China, who is the founder of UWC Chinese Orchestra, gave China Band a big boost. As the first person to introduce Chinese folk music to UWC Changshu China, as a musician who is familiar with a great variety of traditional Chinese musical instruments, especially Xiao and Erhu, and as a friend with whom we can talk about everything, he made great contributions to the Band. Initially he would come to watch our rehearsal whenever he was free and offer us valuable advice. I still remember once he practiced the rhythm over and over with our flute part after a rehearsal. Later he joined China Band, practiced with us, and went on stage with us.
02 Rebirth
In this way, our China Band - with Erhu, Pipa, Guzheng, dulcimer, flute, Xiao, percussion and other traditional instruments - was officially established.
Over the past year, we practiced hard in order to present the beautiful pieces of traditional Chinese music for the UWC Changshu China community.
Last Christmas was the first time we performed in front of the public, marking the start of our dream. We performed the song 《Pu Sa Man·Xiao Shan Chong Die Jin Ming Mie》(Buddha's Boogie) adapted from the classical poetry with the same name.
During Chinese Cultural Evening, we presented the eternal classic《Qing Hua Ci》(Blue and white porcelain) and the ancient style song with rock rhythm 《Jian Xia Feng Yun Lu》(The Swordsman's adventure);
At the One World Concert, we attempted a new style. We performed the beautiful piece,《The Wind in the Street》,with two Erhus and a piano;
Finally, at FP graduation ceremony (CLD), we presented our closing piece of the school year —— the impression song of the movie "Big fish & Begonia", 《Big Fish》, which marked the end of this year, a meaningful achievement for all of us.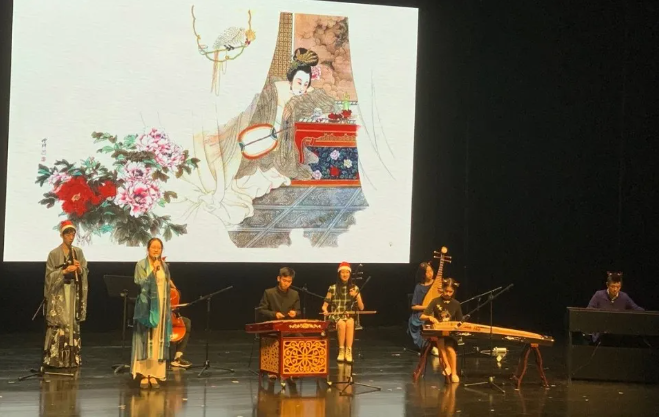 First performance 《Pu Sa Man》(Buddha's Boogie)
It was very difficult at the beginning. For instance, we would have conflicts about the choice of musical instruments and harmony. Sometimes I would feel frustrated because the coordination of each instrument was not tacit enough and the outcome could not reach my expectation, yet we overcame these difficulties step by step.
After practicing several times, we had a tacit understanding, and I also found the most effective way of rehearsal. First, we selected music and arranged music in separate parts. After we were ready in the early stage, the players of each instrument would get the corresponding music score, using a few days to familiarise themselves by listening to the original music and practicing in advance. Then all the players would rehearse together. If there were two parts that did not cooperate well, we would stop to deal with the problem and ask them to practice alone. The rest of us would keep listening and point out the problem, such as where the pitch is missing or where the rhythm is deviated.
With such clear procedures, our rehearsal efficiency was significantly improved. This way, we would rarely be unfamiliar with the song or unclear about our own part. In the rehearsal of《Big Fish》for the graduation ceremony of FP class, I was surprised that we did it in less than six hours. During the whole process, we stayed in the practice room around the corner, focusing only on《Big Fish》, music and dream.
Performing at FP Graduation Ceremony《Big Fish》
03 Our dream
During the time when I wrote this article and made the promotional video for China Band, I thought a lot. Like a slide show, our performance scenes flooded into my mind like a motion picture. What is more lingering is the concentration, the devotion, and the sincere love of all members during rehearsal. It is true that every individual has something he or she is keen on. It shines like a flame in one's heart and releases its eternal charm.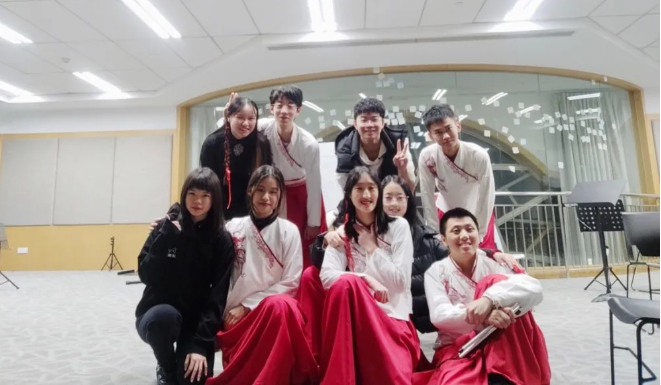 China Band group photo after Chinese Cultural Evening(author: front row, 3rd from left)
When I recall all the memories of China Band, I am not only filled with pride but also gratitude.
Most of all, I want to thank all the people who support me and our China Band. When we stood on the stage and heard the exciting cheers, I felt a warm current throughout my body. I suddenly was full of power. I felt regrettable due to a glitch on the microphone during the graduation ceremony, our performance was impacted. However, I still performed as well as I could and expressed my emotions through Erhu. Tears welled up in my eyes when many peers,including teachers,told me that they are big fans of China Band.
Lulu Ji, Chinese Teacher
"In UWC, the soul of a Zhi Xing is the students. You will see a club disappear due to the departure of students, but also become full of vitality because of the infusion of new blood at any time. Chinese folk orchestra, or China Band, is such an existence. But the most magical chemistry in the process is not the final product, such as the performance 'Blue and white porcelain', which was performed at the Chinese Cultural Evening (CCE), or 'The Wind in the Street', which was performed at the One World Concert, but the collision between the souls of a group of young people in the process of developing these works. In the process of practice, the interpretation of Chinese music and culture, communication with other departments, cooperation among band members, and the training of their own skills all require time, patience, and passion for music and the community. As the supervisor of the flute Zhi Xing five years ago and the supervisor of China Band this year, I am honored and look forward to accompanying them along the way!"
Christoph, Music Teacher
"When I think of the China Band, the first thought that comes to my mind is the admiration I feel for this group of busy IB students who – in their own time and by their own will – have built this incredible group and led it in so many performances. In education we always talk about these big ideas of student agency, experiential learning, intrinsic motivation, student led instruction and so on. Well, one would only need to look at the China Band to see all of those processes put into practice – without big speeches and programmes. Students coming together to do something they are passionate about, to make a dream come true, to work with dedication and persistence towards a vision or a dream, to build something despite obstacles along the way. And I know that I myself have occasionally been one of the obstacles: I was always very harsh in my criticism, about the tuning, about the general quality of the performance, about presentations and generally about having nothing but the highest standard as your benchmark. But what can I say, in addition to being nothing but very impressed by the quality of each final performance, it was me who could learn so much from members of this group on many different levels.
Every time I would be very critical, Jessie would smile at me and thank me for my support and advice – which made me feel terrible. Watching her play the Erhu is such a joy, she is a great performer and able to make the Erhu sing. The music comes to life not only through the truly elegant movements of her arms but also the wonderful expressions on her face while playing.
I have always admired and respected Mike's knowledge and musicality and we would continue discussions about orchestration and harmonization in our music classes and develop more ideas there. Henry has been the driving force behind the China Band, his quiet and modest enthusiasm is a great inspiration – it does not always need loudness and many words to achieve great things.
I wish, there could be more China Bands in so many other parts of our schools and our lives."
I often think about this issue: as a type of music with diversity,flexibility, and unique to our cultural heritage, why is Chinese folk music often regarded as 'antiques' by the public? Gradually I discovered an important reason behind this phenomenon which was that traditional music is rarely shared through modern media that we - the younger generation - are familiar with, such as TikTok, Bilibili and WeChat. As it tends to be found mainly in those quiet alleys and ancient Chinese theatre groups, many young people have a tendency to think that it is only for older people and completely out of fashion. As those young people grow older they are not familiar with this music anymore and are therefore not able to pass it on to the generations which come after them. Sadly, this could lead to a decline of the appreciation and also the performances of traditional Chinese music.
This leads me to the question: should we make an effort to change this phenomenon? And how? My answer is yes, of course! I find it sad (and also a bit disrespectful) if an art form is judged purely on individual opinions regarding taste and preferences. We should also consider and respect how traditional Chinese music has survived and developed throughout thousands of years. It originated in the Western Zhou Dynasty about 3,000 years ago, and 20 regional art forms have been listed as national intangible cultural heritage. The value of national music is immeasurable no matter what the era, as it can help us appreciate traditional culture, trace our origins in history, clear our minds in this busy and noisy world, and share Chinese culture on the world stage. The inheritance of Chinese national music merely requires us to start from listening and gradually explore the story behind the music.
Thus, China Band uses popular social media to share our music: we have an original UWCCSCChinaBand Wechat Channel. I regularly upload our performances, clips during rehearsals and our off-campus shows. At present, the channel has received the attention and support of many audience inside and outside our community. Later we will provide more colorful contents through our own BiliBili account and upload several performance videos and dubbing from time to time. For example, we added background music to the clips we intercepted in the film "Bigfish & Begonia". In future, we will look for more variety of media to introduce the treasures of our own culture to the new generations to come and to the world.
Though we have some regrets over the past year, with the departure of Laura, Henry, Mike, and Iris from the Band as they went to universities abroad, which makes me feel very sad, I will carry on China Band with everyone's support, expectation, and love. Phoenix acquired the chance to reborn after experiencing the ordeal of fire and pain and reached the sublimation in the rebirth. In the coming year, we will welcome more friends who are passionate about Chinese music or want to learn more about it and join us. We will work together to bring better works to the UWC Changshu China Community.
Performing at the Chinese Cultural Evening