My Cross Cultural Journey
Issue date:2021-04-08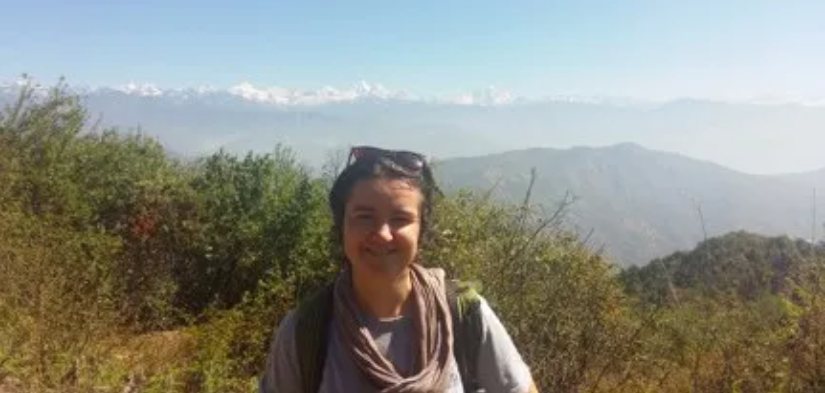 Şefika Seçilir, Physics Teacher
UWC Changshu China
Trekking at Chisopani, Nagorgot, Nepal
The proverb goes 'A fish does not know what the sea is until it is out of the sea.' Changing countries and cities has shown me that we are destined to harness the challenges in life as motives to survive and enrich ourselves.
01
From Bulgaria to Turkey
I was in middle school when my home country, Bulgaria, was shaken by major political changes. Ethnic Turks were not allowed to carry their cultural traditions and had to 'adopt' Bulgarian names, and this was announced as a voluntary act to the general public. Many protests occurred in the following years. President Jivkov then claimed at one point 'Those who felt Turks can leave to their ancestral land.' My father was warned by his Bulgarian colleagues that agents were looking to detain him. We then decided in a rush to migrate on a tourist visa to the 'motherland', Turkey. Together with the grandparents, our family of seven crossed the border with some valuables in June 1989.
In the following months, 300,000 people of all ages crossed the Bulgarian-Turkish border, leaving behind their homes and property. Unfortunately, in today's world, migration continues to be a sad reality and the UN Refugee Agency estimates 80 million people were forced to flee their homes at the end of 2019.
02
Personal challenge, personal responsibility and integrity
Moving to the colourful and yet unreachable world of capitalism from the next-door socialist block was a cultural shock as we started life from level zero. We were the immigrant Bulgars, and the 'motherland' Turkey had its own ethnic issues. In the few months after the immigration, 50,000 Turks returned to Bulgaria as the new administration started recognizing the rights of the minorities. I remember the day my uncle announced he would return to Bulgaria saying, "I can adopt a new name or even new religion, but I will not suffer as an immigrant."
I continued in high school learning everything in the Turkish language and not even assisted with a Bulgarian-Turkish dictionary in my studies. We were trying hard to adapt. In a year we lost our father after a work accident. We discovered that he was not insured by the company even though he worked there for a year as an engineer. Losing our father in addition to our homeland increased our grief! Immigrants around the world still face injustice today not only because of displacement but also from a lack of ways to know the laws of the country to secure them from being exploited as cheap labour.
We were supported by family and friends and continued to stay strong. After high school, I took the national university entrance exam and was placed at Middle East Technical University (METU). I was a girl, and my mother was the sole breadwinner, why was I to study in a different city? The preconceived societal idea is that teaching is an easy profession, but still, "physics would be a challenging subject for girls". Yet I had my family's full support to pursue my dreams.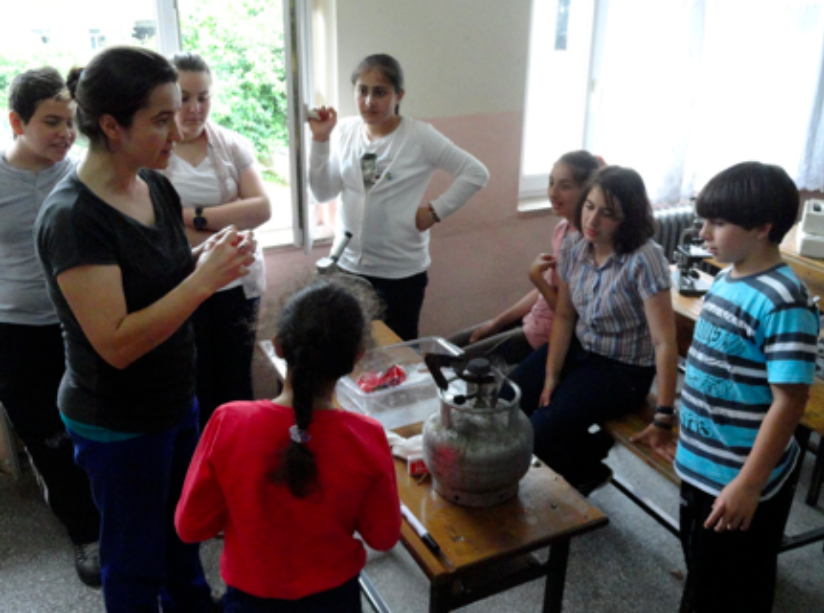 Demonstrating science experiments for students in project week Hopa, Turkey
The language of education in METU was English and this time I had a dictionary to assist me. Upon graduating from Physics Education at METU, I worked in great schools such as Izmir American Collegiate, Robert College and The Koc School. Teaching at these prestigious schools was in many ways challenging. My students' grandparents were philosophers, company owners…, to name a few. My own loving grandparents, on the other hand, have passed me skills like knitting, shepherding the lambs or stopping the young bees from escaping beehive. Growing up in the small mountainous town of Varbitsa I did not know the urban survival skills. I continued, however, to improve culturally and professionally and completed a Master of Art in Physics Education from the University of Virginia.
Working on the NASA Space Settlement Design Project with my astronomy club students for several years made me realize that my homeland was 'the pale blue dot' as Carl Sagan coined it in a phrase. My new point of view was shifting against nationalism and against ethnocentrism.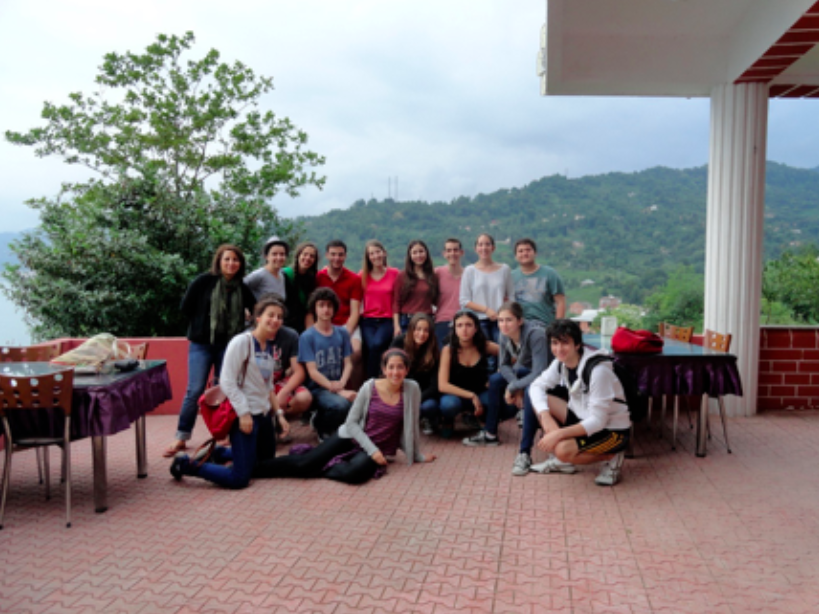 With project week students in Hopa, Turkey
03
Compassion and service
My lens in life has changed by our forced migration out of Bulgaria and yet I was lucky to use this struggle as an opportunity. I embraced my cultural heritage and advocated that support and resilience can bring a change for the better. With these in mind, I was involved in community projects with my own students. History had many examples of such changes: The Village Institutions founded by Hasan Âli Yücel, for example, in 1938 in Turkey, carried out a purposeful education by empowering the villagers from modern farming to art and music.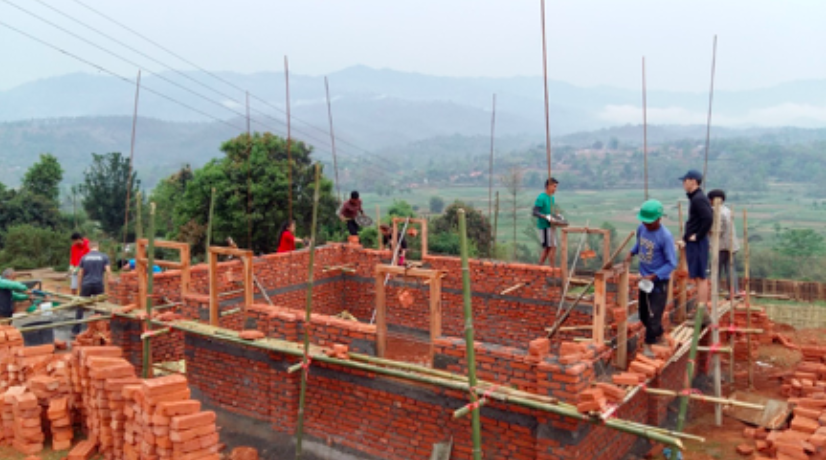 Supporting rebuilding classrooms damaged by the severe earthquake in Panchkal, Nepal
One of my first community projects was supporting 'Street Children' in Izmir, it's a relief to see some of these children now hold jobs in respectable institutions. While teaching in Istanbul, I supervised projects to remote towns in northern Turkey where we interacted with children via science, arts, and sports.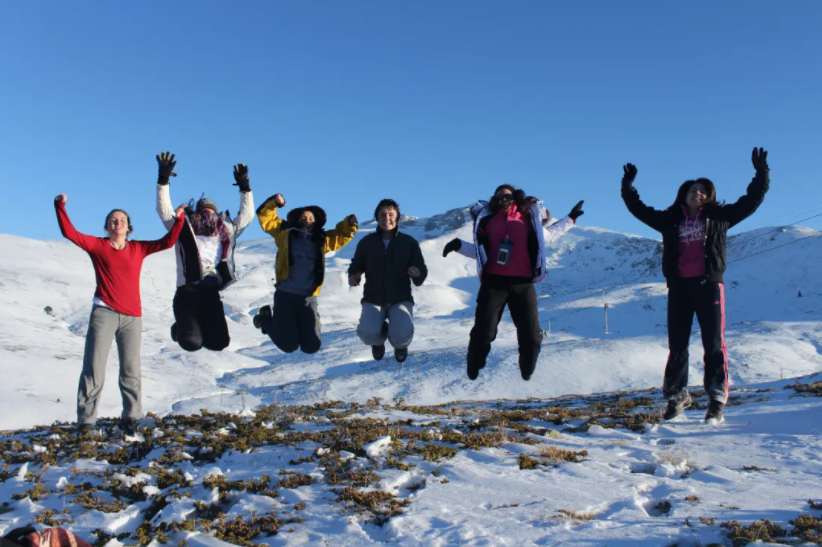 Trekking with students in Bursa, Turkey
Next was Project Nepal while teaching at ACS Egham. We flew from London to Kathmandu with a big group of enthusiastic students, several faculty, and outdoor trained staff. After trekking for a few days and enjoying the sunrise behind mountains in Chisopani, we visited our sister school in the outskirts of Panchkal. We supported rebuilding classrooms that were damaged by the drastic earthquake. Collaborating with adults and students for the common good and feeling the warmth of our interacting local group are what make life valuable and worth living.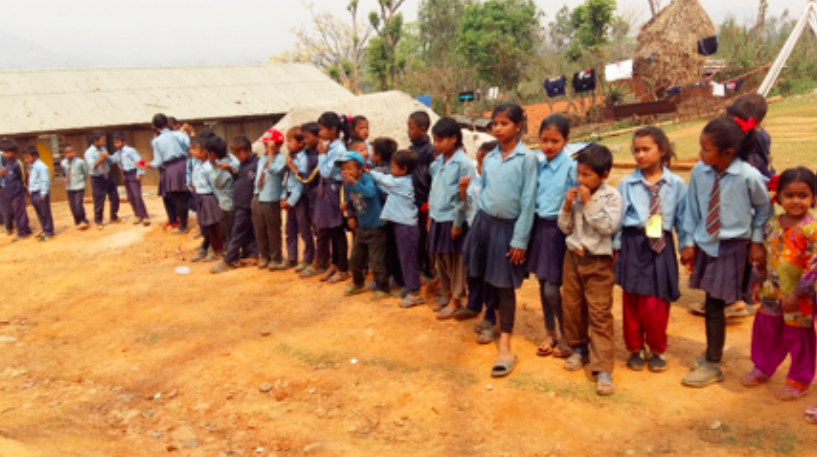 Local students from project school in Panchkal, Nepal
04
Action and personal example at UWC
My international journey continued with our family joining UWC Changshu China in 2017. Our new home was a dynamic community of colleagues and students from various nations and cultures, across the globe and various provinces all over China.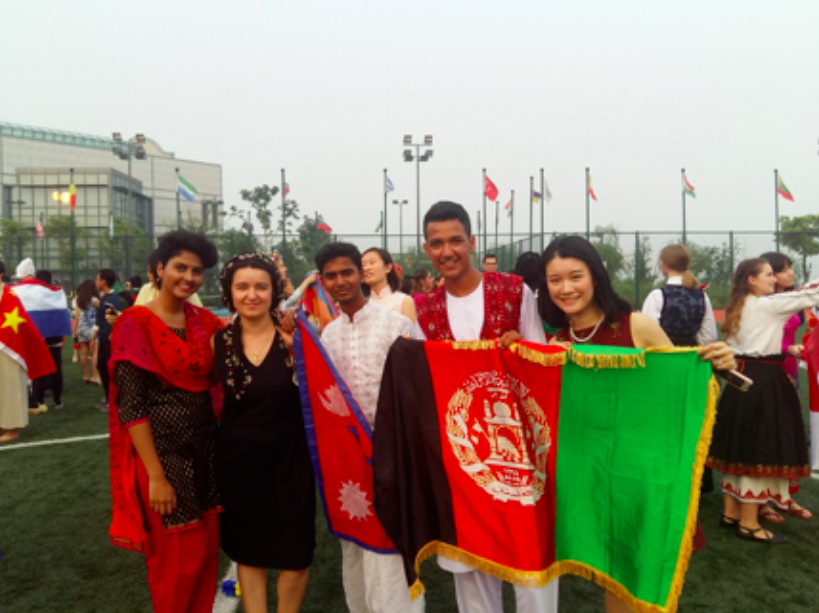 2017 UWC Day
Before coming to China, I was warned to expect a completely different world. Clearly our prejudices towards different cultures cannot be resolved within regular classroom education. Bruno della Chiesa, a linguist and professor at Harvard Graduate School of Education who visited UWC Changshu, suggested: "No matter how open-minded, we all have our 'doxa's' and only when we communicate and question, we are ready to accept 'the other'. Recently we have seen how the world has changed into a hostile place with the start of the pandemic and many conspiracy theories have triggered people's xenophobia.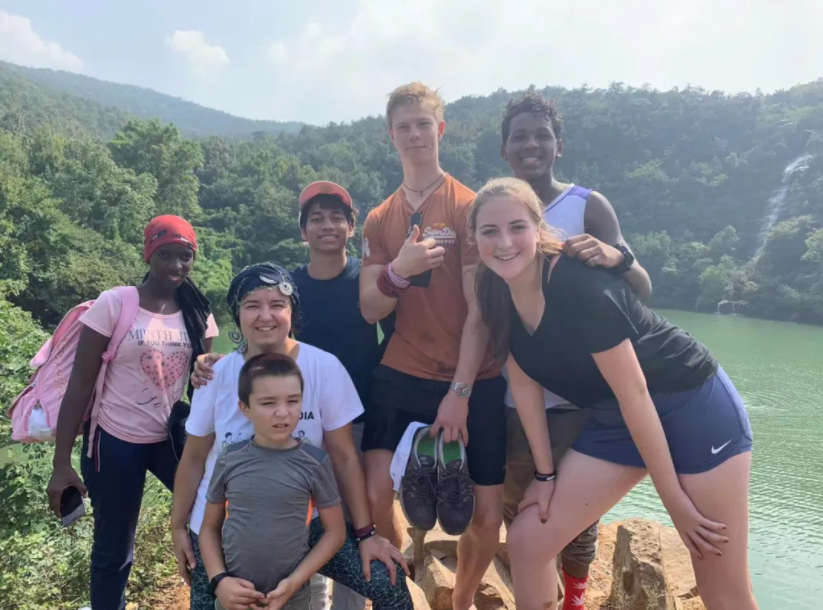 Hiking with UWC students in China
In UWC Changshu China, students and faculty engage in discussions and we learn how to walk in others' shoes. In my experience in spite of the differences, China was in many ways the same as the 'other side' of the world. Cooking for friends and students has enriched my cultural exchange. We cooked Turkish dishes for events like African Middle Eastern week, for students fasting towards Ramadan, and for Hogan Christmas dinners. Just as my Passion Project student learned how to cook Turkish Pide, I learned how to cook dumplings from my aunty from Harbin.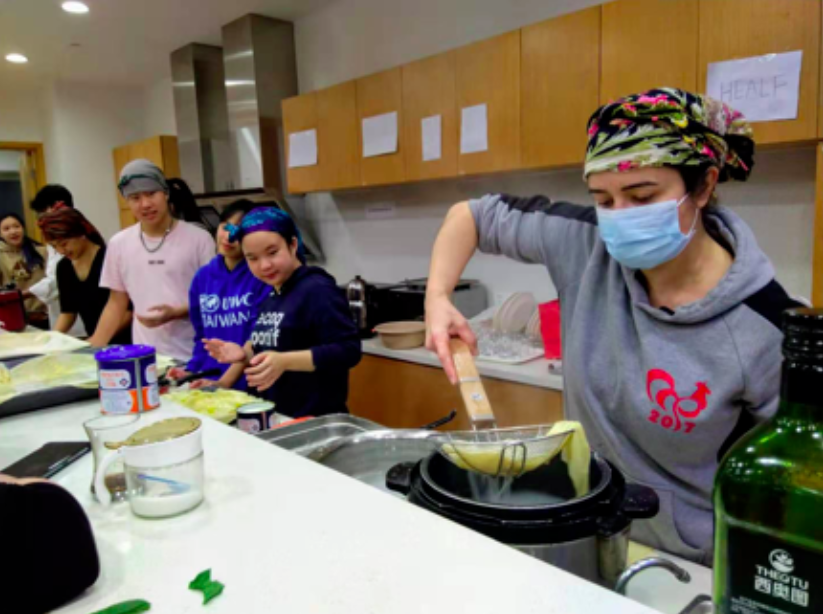 Cooking Borek with students during the Chinese New Year break 2021
As many other teachers in UWC, I coached my students who needed the confidence and skills to achieve in academics and projects. I supervised my enthusiastic ULAB Zhi Xing students to demonstrate science experiments and organize hands-on experiment competitions for local school students. In many schools around the world, science is still taught via problem-solving from textbooks, and ULAB Zhi Xing aims to improve students' interest in science with hands-on experiments.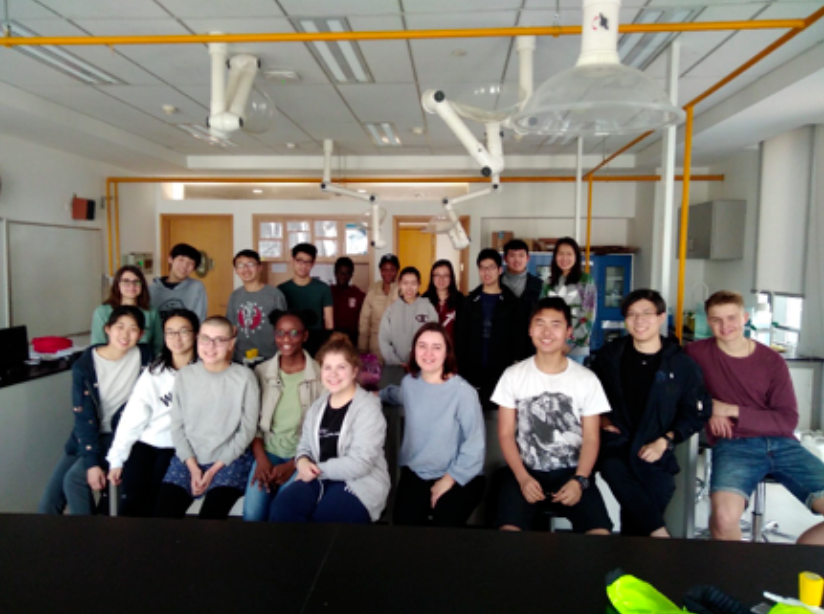 ULAB Zhi Xing Team preparing demonstrations for Changshu local school
05
Embracing UWC values
I have purposefully chosen to move out of my comfort zones and experience the unknown. I embrace my intercultural heritage and resonate strongly with UWC values. Having interacted with the open-minded UWC culture, I somehow feel alienated in my home visits, where some believe that 'we' are more privileged than 'the other'.
UWC education mission and values are a means of empowerment and such an education brings goodness for students as well as nations. We enrich ourselves with the challenges we pursue in life to become who we are. Our basic human needs, however, of being valued by the community stay present--hoping that we each lead our students by example, hoping that our students take a 'bucketful' from the UWC values and change their community and the world for the better.