Turning Campus into Broadway | First UWC Theater Week
Issue date:2020-12-03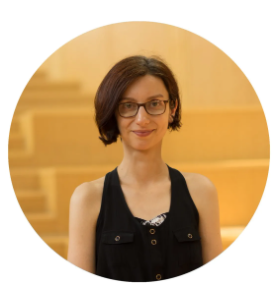 IIinca Todorut
Theater teacher
Dramaturg on professional theater production
in New Haven and New York
PHD in Theater,Yale University
UWC Red Cross Nordic,Class of 2004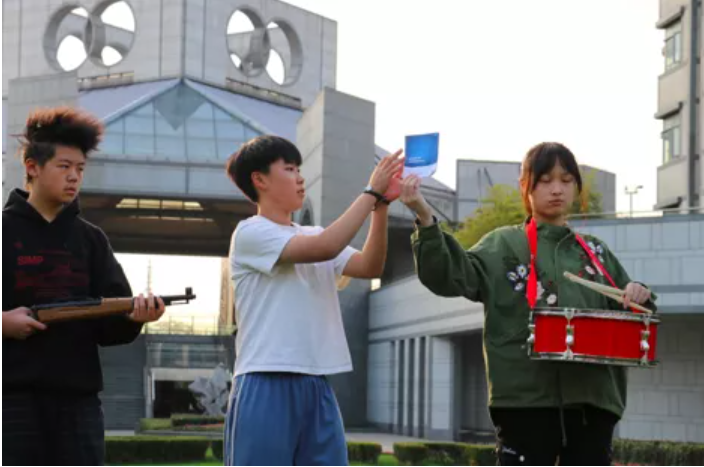 FP Students performing Demonstration on the Grass Circle
"We must all do theatre to find out who we are and to discover who we could become."
— August Boal
Brazilian Theater Director
01
First Theater Week
Amidst the many set-backs this year has thrown at us, we at UWC CSC mustered our positive energies to celebrate our first ever Theater Week from November 11th to 16th. The event showcased six productions where a total of one hundred and five FP, DP1, and DP2 students performed live in front of an audience composed of staff and peers. For some students, this was the first time in their lives to perform and the experience proved unforgettable.
The six productions were staged at various places across our campus, from the Black Box, to the outdoor amphitheater, the grass circle, the stone circle behind the canteen, as well as one of Yushan's inner courtyards. The location spread was planned intentionally to give a concrete sense of a campus-wide event, as well as to convey to students that theater-making doesn't need to be fenced into limited ways of doing and presenting it.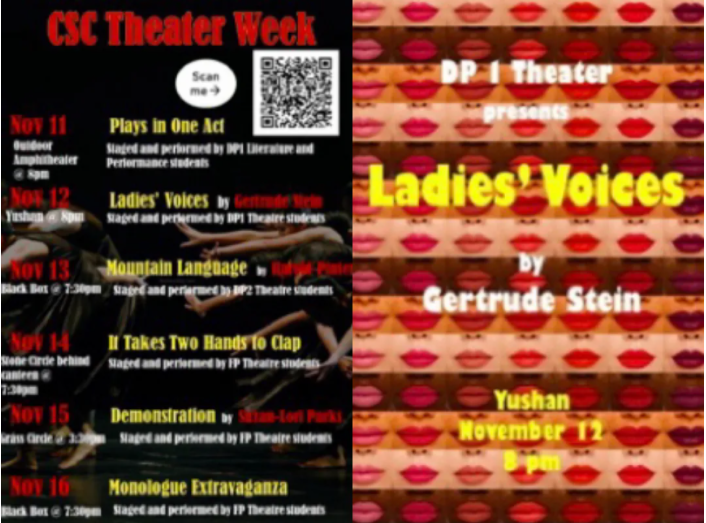 Posters from Theater Week
The festival presented plays in a range of styles and genres, from comedic one-act plays to contemporary tragedies, or abstract physical theater.
We kicked off the Theater Week with a round of one-act plays performed by DP1 Literature and Performance students in our outdoor stone amphitheater. With remarkable self-confidence and skill, students performed Anything For You by Cathy Celesia, Tape by Jose Rivera, Railing it Uptown by Shirley Lauro, and Ferris Wheel by Mary Miller to the delight of their audiences who gasped and squealed watching tales of romance and adventure.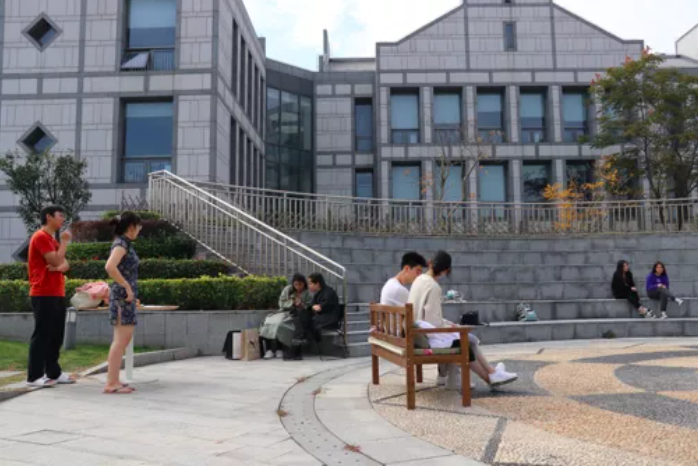 DP1 Students rehearsing Plays in one act in the outdoor Amphitheater
Continuing the vein of short scene performances, FP students invited their audience in the plein-air again for a selection of two person scenes written by D M Larson and Joseph Arnone composing a show evocatively titled It Takes Two Hands to Clap. Ellora Adam, who is a theater teacher and also a graduate of UWC Mahindra, described the show thusly: "The nine short scenes covered a range of topics from bullying, reliance on technology, the importance of friendship, the temptation of lies and how we must nurture and act upon our desire to change the world. The students performed in a new location on campus hoping to show how many parts of our campus can make a great place for a performance." Our youngest students made their debut performing with verve and poise, eliciting much laughter and warmth from their audience.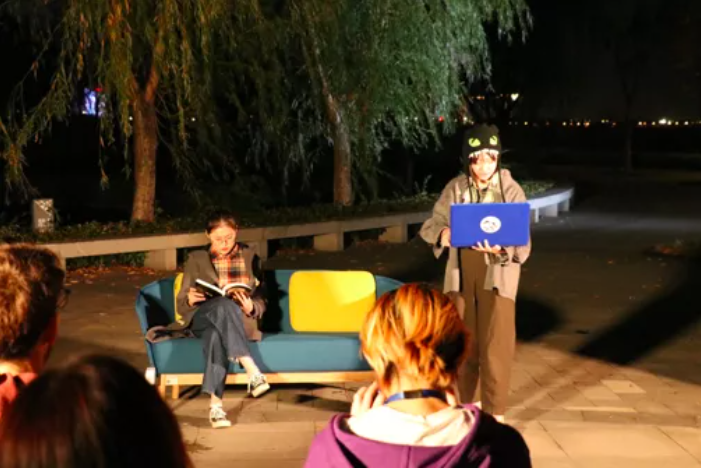 FP Students performing It Takes Two Hands to Clap
Another FP show performed on the grass circle in the middle of our campus also strung together a series of short playlets written by Suzan-Lori Parks. The first African-American woman to receive a Pulitzer Prize. Parks is one of the most important living playwrights. Her work boldly confronts the pervasive violence and oppression that seeps into the fabric of day-to-day interactions, but does so in a style prizing humor and imagination over direct reference. The FP show entitled Demonstration presents a selection of simultaneously deadly-serious and dangerously-silly playlets from《365 Days》/ 《365 Plays》where between November 2002 and November 2003 Parks wrote one play a day.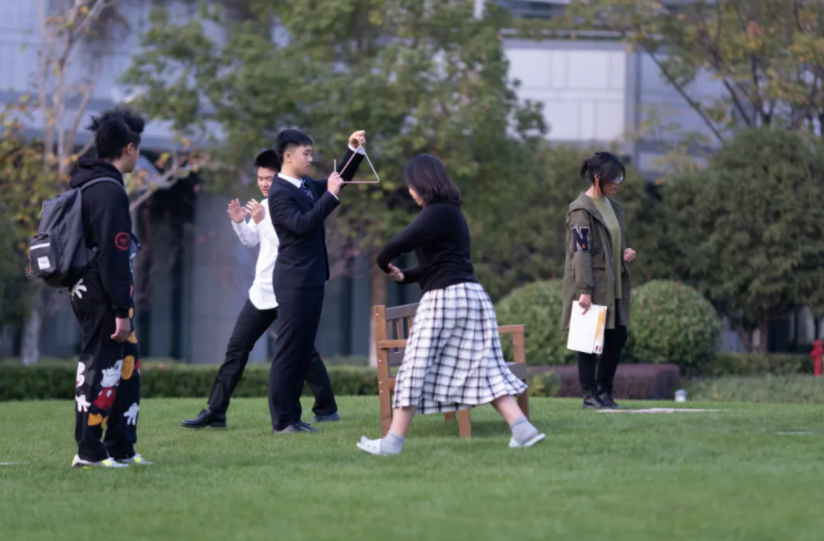 FP Students performing Demonstration on the Grass Circl
The third FP show called Monologue Extravaganza opted for giving a performance of one-person scenes in the Black Box Theater. The show presented short, character-based monologues ranging in genres from farce and comedy to serious drama. As Zachary Meager, who is the Head of the Arts Department, also a graduate of UWC USA, explained when presenting the production, a "monologue is an intense character study typically used for auditions to show-off a performer's ability to develop and express a range of character types." FP students raised to the challenge and performed fearlessly.
A FP Students performing Monologue
Switching to a non-realist style, DP1 Theater students performed Ladies' Voice in the inner courtyard of Yushan's picturesque architecture. It was written by Gertrude Stein, a moderniser, while hanging out around Pairs with Picasso, Apollinaire, and Ezra Pound in 1916. The play is a very short, excellent example of Modernist composition techniques defying plot and logic, and oscillating between free association, raw emotion, and pure sound. The two classes of DP1 Theater students beautifully brought to life the gnomic anti-drama through humor, tightly choreographed movement, and vocal explorations. Video projections provided the only added visual dimension in a physical theater production without props and set pieces that relies on performers' bodies.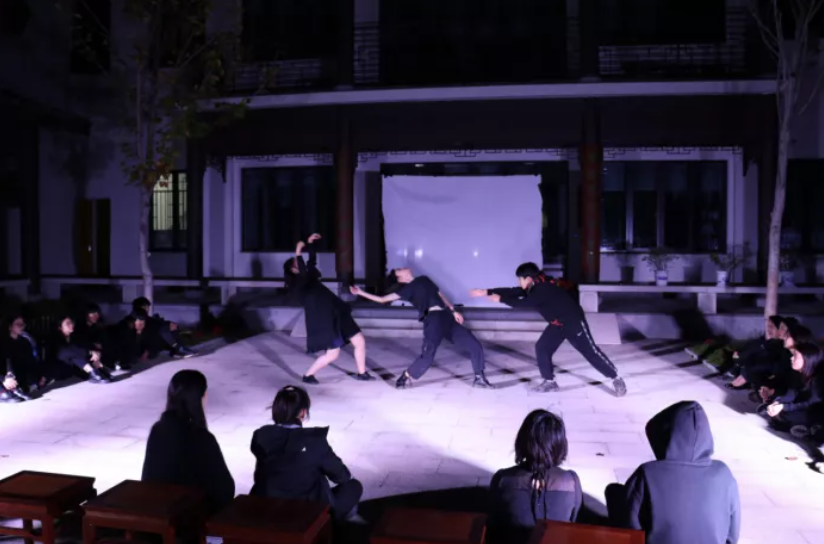 DP1 Students rehearsing Ladies' Voices at Yushan
Switching gears yet again, DP2 Theater students wowed the audience with a performance of British playwright Harold Pinter's Mountain Language. Zachary Meager introduced the play as follows: "Centered around a prison controlled by unnamed guards in an unnamed country, this play blends elements of absurdism and realism in a harsh reflection of modern society and the individual's powerlessness within the state-controlled system." The play, however, lacks any direct references and in a laconic, pared-down style gets to the marrow of acts of brutal dehumanization. Students echoed the script's frankness by staging Mountain Language in our Black Box Theater in a visually sparse décor.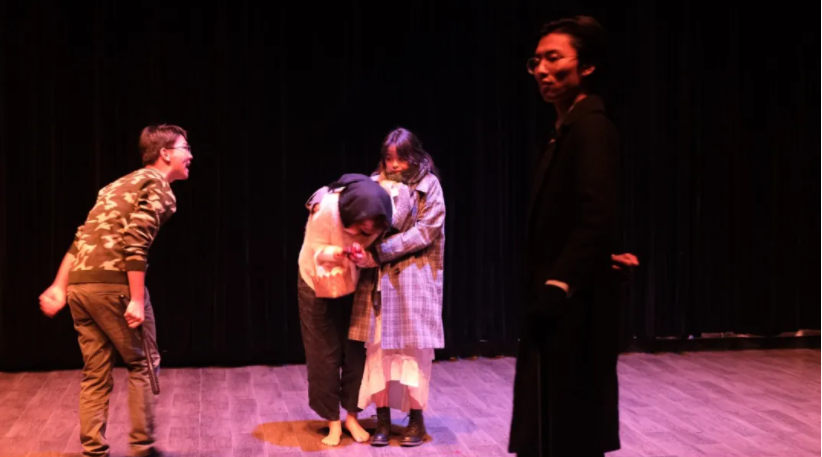 DP2 Students performing Mountain Language
For us, the teachers, Theater Week was a tour de force that left us both exhilarated and exhausted. We were all proud to witness the courage and vulnerability of our students as they braved stage fright. Speaking from my own experience with the DP1s especially, who were confronted at the beginning of their Theater course with an entirely unfamiliar theater style, I was amazed at their openness and resilience, and how quick they came together to confront and conquer a daunting project. They wouldn't have been able to do it without learning to collaborate and rely on each other. A big shout out to their work and their practical, clear demonstration that "united, we can."
02
Why Theater?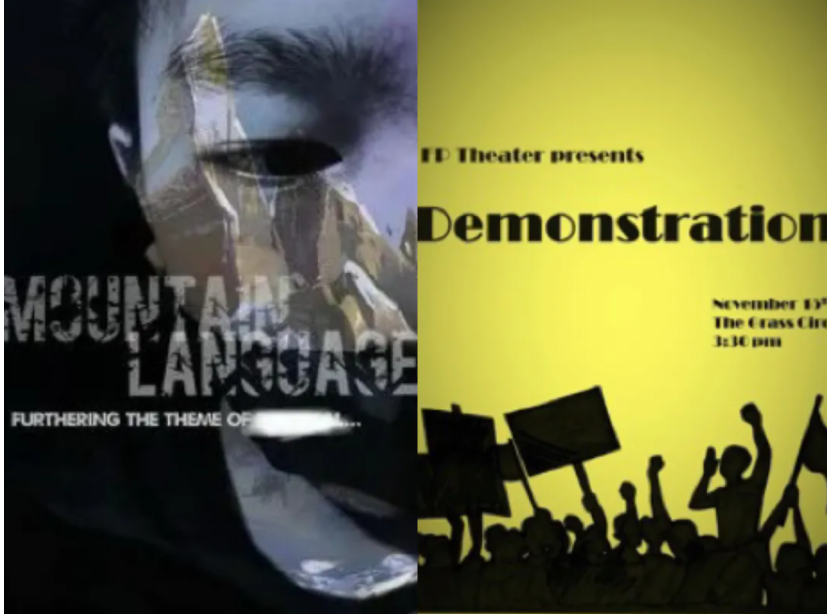 Theater Week posters
If the past year shaken by a global pandemic and record drought and temperatures levels are any fair indication of the future, our children are likely to enter adulthood into a challenging and changing world. As new jobs emerge and old ones are transfigured at a rapid pace, future adults may have to change careers multiple times during their lives.
The cornerstone of a UWC education is an active engagement with the problems facing the real world. We approach the study of Theater with the same framework of equipping students to thrive not only in the academic sphere, but also to navigate reality with empathy and awareness. With its range of practical, transferable skills, the study of theatre equips students to adapt to and thrive in an environment where collaboration, inter-personal skills, creativity, and self-confidence will prove key to success.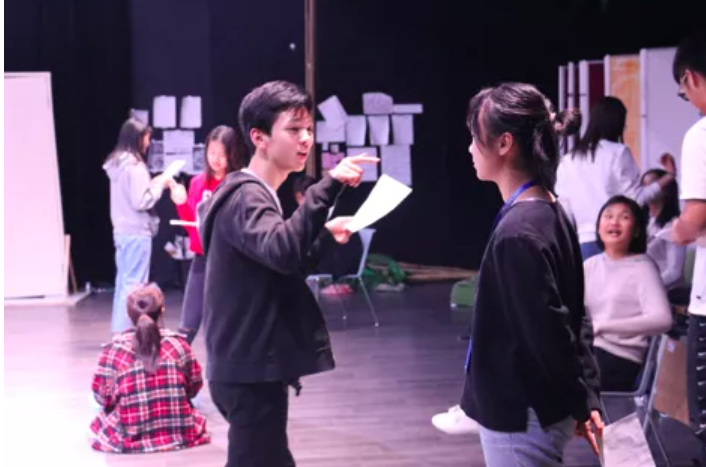 FP Students rehearsing in the Black Box for Monologue Extravaganza
In Theater class, our work ranges from physical actor training, to playwriting and directing, to watching and analyzing professional theater productions, or learning scenography and how to program and operate light and sound equipment. Without written exams, the IB Theater course is the epitome of project-based learning, where students learn through working together to stage productions. Team work is essential for bringing a final show to fruition, and IB Theatre challenges students to learn how to collaborate in order to translate their individual knowledge into communal practice.
Theater students benefit from working on four productions during their first year of study alone, where they perform live in front of an audience. Production work teaches a set of practical skills that students rarely have the opportunity to develop at such an early stage, such as project management and marketing skills, budgeting and time-management skills, public speaking, collaboration, team building, conflict resolution and leadership skills. Working on productions is thrilling and rewarding in the way in which only defeating one's fears and standing in front of an audience can be. Performing in front of a live audience boosts students' confidence in the way they present themselves and their work. These skills will prove crucial in our changing world, and will give students an edge in any field and endeavor they will later choose to specialize in.
"I chose theater because I want to have a course in my IB life that I enjoy the most. As I said to my friend a few days ago: 'It's the most time-consuming class, but the moment we step on the stage and do the curtain call, all our effort has been worth it.' I feel like it's my great honor to present our story and get people to watch it, think about it, and even grow to like it. I was a very, very shy kid, and producing theater helps me gradually find my place. I grew to know that I was of some help to others and felt like I'm part of something. The class has always been more than a class to any of us; we are friends or even family."
– Zhou Pan, DP1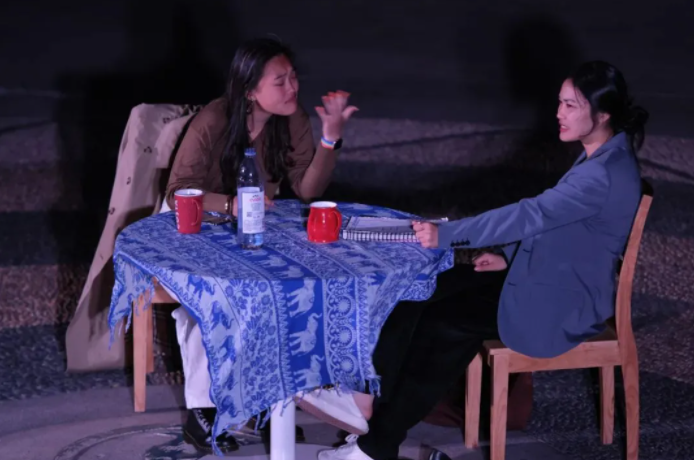 DP1 Students performing Plays in One Act in the outdoor Amphitheater
IB Theatre is a demanding course, but assumes no prior exposure to the art form. It additionally develops students' capacity for open-mindedness and higher-level cognition through the exploration of theaters made by culturally and racially diverse practitioners. With its strong emphasis on research and written analysis, the course nurtures academic rigor and integrity, and thoroughly prepares students for university study. Technology and design, two growing fields in our developing world, feature prominently in the Theater course. As students take different roles in production through the year, from playwright and director, to actor and designer, students learn additional real-world skills such as sound and light engineering, fashion and interior design, verbal and non-verbal communication skills. As risk-takers and explorers of personal and communal issues in theater projects, students grow as individuals and find a voice to express their ideas and points of view in creative, compelling, and persuasive ways. In IB Theater, students learn much academic content and real-world skills in a hands-on experiential way that is inherently exciting, engaging, and personally fulfilling.
"The reason why I chose Theater is because I love acting. Theater class provides me a creative space to challenge myself in playing different roles, such as different genders, ancient people, upper class, and even switching species. During the theater production, acting not only expands my knowledge field by fully understand each characters' distinguishing features, but also encourages me to step out my comfort zone by experiencing something new."
– Sun Yiwen, DP1
Theater Week illustrated the benefits of doing theater, and especially so in a UWC setting. Theater is an inherently collaborative art-form, and here at CSC we stress this aspect as a practice for individual accountability and working together in all fields. In contrast perhaps to other theater programs, here at CSC the accent is not on acting or on any subjective, intangible, and hard to quantify aspect such as "acting talent." Instead of promoting the egos of star actors, we foster theater-making as a form of doing-together. We stress personal responsibility together with demanding each person's contribution and input into a collective effort. Since students realize that a project is only as good as each of their contributions, they learn to help and support each other.
"Theater really and truly lights up my life in CSC. In our theater class, I always feel we are a group rather than I am working alone. We decided to stay there, looking up at the stars together while waiting the lights go up again. Theater class is never a burden to me. I am free to be myself or take my role to experience someone else's life. Since I am pretty sure my classmates have already seen the silliest myself in warm-up exercises and performances (we always do a lot of weird movements and sounds), I am comfortable to do anything when I am with my theater classmates."
– Wang Yilin, DP1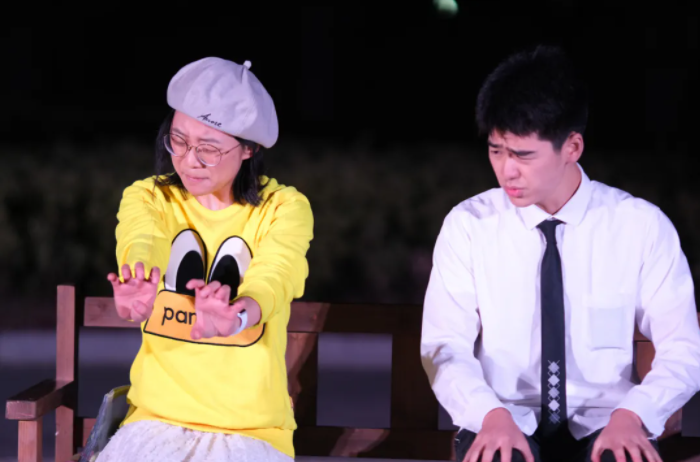 DP1 Students performing Plays in One Act in the outdoor Amphitheater
Another strategy we have in teaching Theater at CSC is giving students the tools to work under their own initiative. They develop a great sense of ownership in their projects because they are encouraged to make their own choices in how they interpret, act, and stage a show. As students discovered, creativity and critical thinking is actually much harder than following instructions, and requires high-level awareness and analysis of their own rationales for making a choice.
"Choosing Theater at first was utterly incidental as I wished to take an art subject, yet it turns out to be one of the wisest choices I've ever made. When I was an FP student, I wrote and directed a play named Mr. Roberts, subtitled '21st-century conflicts in the classroom,' and it was begotten from my daily campus life. I found that Theater was bonded with everyday life, and we could bring our lives up to stages. Since then, the passion for Theater began to germinate in my head. Theater also allows me to know and work with interesting people. There is no doubt that classmates and teachers in Theater class know each other better than any other subject because we always speak out our ideas and collaborate to refine the performances. And having a group of supportive and like-minded friends not only enriches my UWC experience but also adds colors inside of it."
– Sun Edward Xu, DP1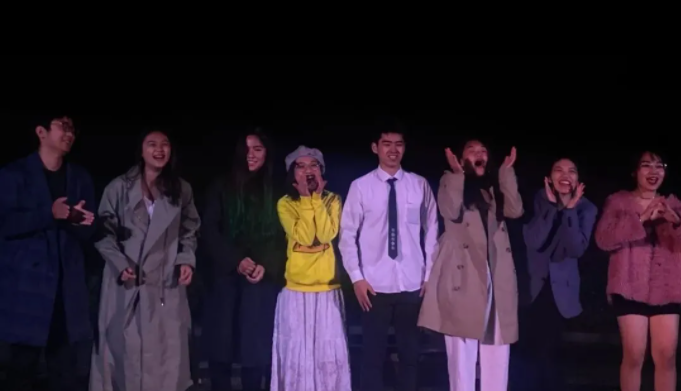 Take the curtain call
As befits a UWC, we also consciously strive to promote awareness of human diversity and honor cultural specificity by working with different theater traditions and with plays written by culturally and racially diverse authors. Students also have the opportunity to create their own theaters, express their concerns about social issues, global issues, and the development of human civilization. In the future, they will step into society with their insights on these issues.