Keep Running towards a Better Future
Issue date:2022-12-21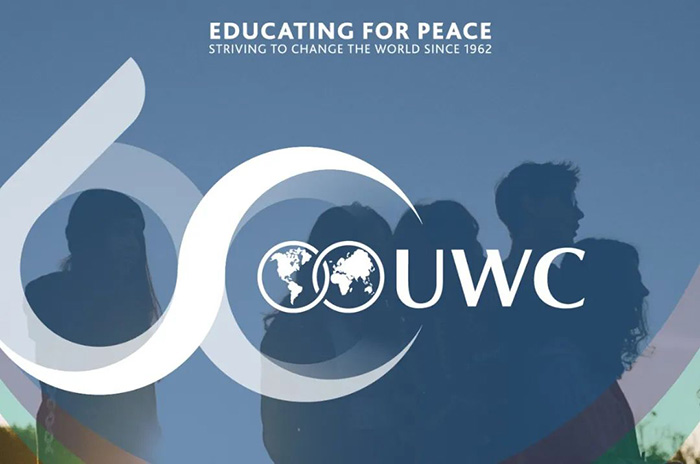 2022 marks a special milestone for UWC, as we come together to celebrate 60 years of educating for peace. Since its inception in 1962 at the height of the Cold War, UWC has championed education as a route to a more peaceful and sustainable future, inspiring young people from all walks of life to become agents of positive change.
Beginning with the founding of one college, UWC Atlantic, UWC has grown into a thriving global community, which now includes 18 schools and colleges across four continents, hundreds of short courses, more than 4,000 volunteers, educators, partners, donors, students, staff and over 60,000 alumni from 180 countries and regions.
Kurt Hahn, founder of UWC, did not believe in preaching to young people, but instead encouraged positive action by instilling a service mindset with the reminder "you are needed". In a world still blighted by war and conflict, this call to action is more relevant now than ever.
To celebrate the 60th anniversary, we have invited UWC alumni currently working in UWC Changshu China to share their UWC experiences and reflections on the UWC movement.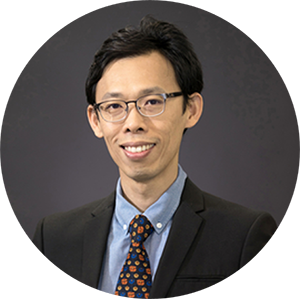 Kokming Lee
Head of Office of Education Administration and Support,
Math teacher
UWC Changshu China
Kokming Lee comes from Malaysia, he graduated from UWC Adriatic in 1992. Kokming has experience teaching at Mahindra United World College of India and Li Po Chun United World College of Hong Kong. He was also part of the founding faculty of the International School of Asia, Karuizawa, Japan, which became the 17th UWC in 2017.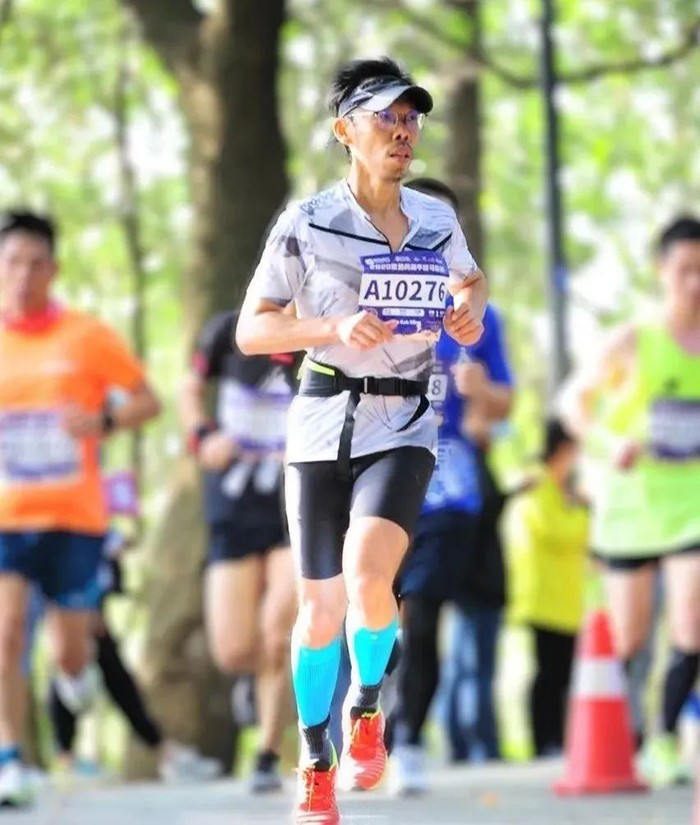 Kokming participating in the Changshu Shanghu Half Marathon
Interviewer: Would you like to share with us your UWC experience? At that time, what was your understanding of UWC mission?
Kokming: In the early 1990s, the UWC mission had not been formalized into the current statement. As a student, I understood the UWC mission from these three key phrases: "International understanding", "Leadership" and "World Peace".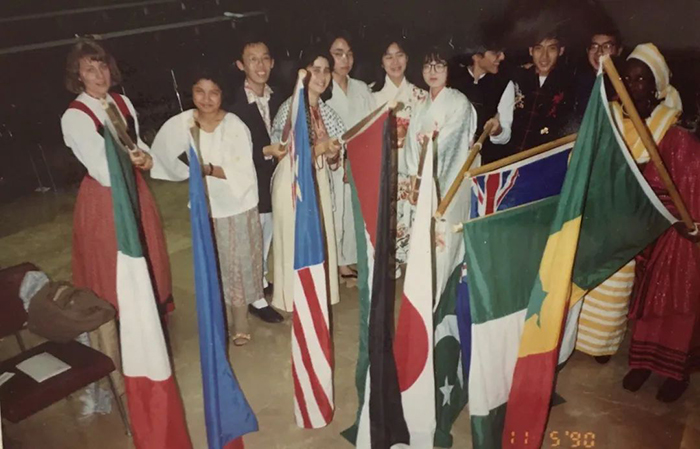 Kokming and his peers at UWC Adriatic, Italy
I remember, when I was studying in UWC Adriatic, the night before the 50km walking to Trieste from Duino for a peace march, we were very excited. I had never done anything like this before in my life. I had also never walked anywhere close to 5km at a time. I had no hiking experience and was not even sure I had the right preparation for this walk. Before I fell asleep, I was happy to know that I would be waking up at 4am to start the preparation for the peace march. During the walk, we walked on mountain paths that had seen action in the first world war, made connections with others, and physically challenged ourselves —— at least for a city boy like me. I ended the 50km walk with a sense of elation and a belief that we can make a difference.
Interviewer: What impact has UWC education made on your life? Any very interesting and memorable experience?
Kokming: In my two years studying in UWC Adriatic, a boy who had grown up in the tropics raced in cross-country skiing, stayed in Croatia as it became a new nation in Europe, as a volunteer working at Red Cross, discussed about the Palestinian issue in Israel with peers, learned to cook, attended a musical performance in the famous La Scala, and made friends in Albania.
Kokming and his Asian peers
While in Duino, I had the opportunity to facilitate two groups at two different peace conferences. The first was on campus in Duino and the other was in the European Parliament in Salzburg. These opportunities allow me to practice public speaking in English, facilitation, and organization skills. Beyond this, I had designed and drew the backdrops for an Italian B language theatre production. To complete the task, I researched the architectural style and color scheme of traditional buildings in Venice. In all these projects, I learned to manage my time, to challenge myself and to complete a task independently.
In short, the two years in Duino had expanded my spheres of experiences in economics, cultural and social issues, and enhanced my self-confidence and can-do spirit.
Interviewer: Why did you choose to return to UWC and work as a teacher?
Kokming:I was curious how I can extend my UWC experience from the perspective of an adult. In the beginning, I was interested in becoming a good content deliver in economics and mathematics. Later I learned that helping students to own a memorable UWC experience is more important. In recent years, I have struggled with this question, "How might I inspire students to walk the UWC mission in my advisory or Zhi Xing activity?" I am still learning and applying different methods to answer the above question. One of my satisfactions is to see how students have grown in walking the UWC mission in my advisory or in ASAP.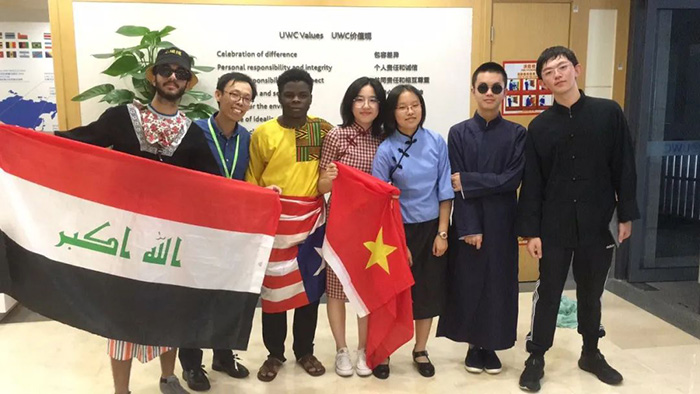 Kokming and his advisory group at UWC Changshu
Interviewer: This year we are celebrating the 60th anniversary of UWC, how do you understand UWC mission now?
Kokming: UWC is a place for making education a force to unite people from different backgrounds for a more peaceful world. People who share close cultural ties are still fighting in many places of the world, some children are still being forced to live an uncertain future in refugee camps. Climate change is still the number one global problem of our generation. We still have a long way to go.
Interviewer: What are your hopes for the future of the UWC movement as an alum and how do you think you will continue to live the UWC mission?
Kokming: We need to inspire more teenagers, their relatives and parents included to walk the UWC mission. To spread our message, I think we need to design, contribute, and organize more UWC short courses for teenagers and even interested adults. As an individual, I aspire to live and practice the UWC values in my daily life.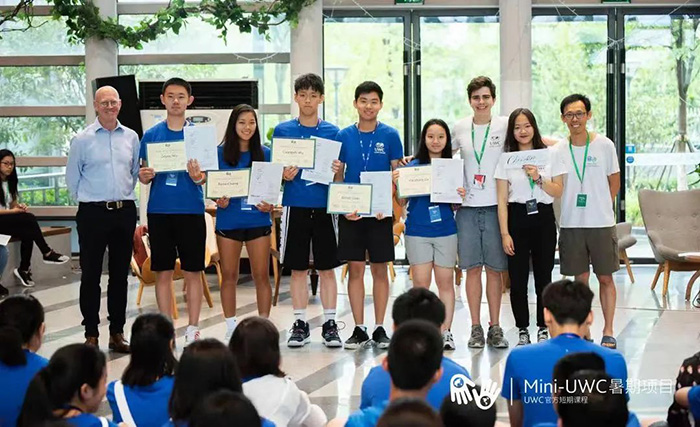 Kokming awarded the closing certificates to the campers at Mini UWC summer programme
A sense of idealism: I aspire to provide guidance in ASAP (student Zhi Xing and organiser of Mini-UWC) so that student organizers can bring out their best in designing activities and help other teenagers to learn more about UWC mission and values.
Compassion and service: I aspire to practice more compassion in my everyday interaction with students and colleagues and with my family members. I am practicing to think from the perspectives of others so I can make decisions that are more inclusive and respectful of others.
Respect for the environment: I am ever mindful of my carbon footprints and seek to reduce my negative impacts on the environment. I will think twice before I make a purchase and try my best to choose products that has less impacts on the environment.
Personal Challenge: Everyday I train to become a better runner despite my age. I am glad that my colleagues and students also join me in the running and in Marathons. I once initiated a campaign to raise scholarship for UWC through running.