Earth Day: 50 Years Later
Issue date:2020-04-22
It was on the April 22nd of 1970 that the concept of an Earth Day was first put forward: a day of solidarity and symbolism to spread a message that the Earth needs to be cared for and protected, preserved for the people of that time and for future generations, such as us. Now 2020 marks the 50th year for which we've been commemorating this day. Today, in terms of awareness and concern we are certainly doing much better than we were 50 years ago and the situation is no longer how it was in the April of 1970 and that begs the question: 50 years later, is the Earth Day still relevant?
Before I answer that, let's start by taking a look at how the community members at UWC Changshu China feel about the Earth, its environment and nature; and how they have been engaged with it.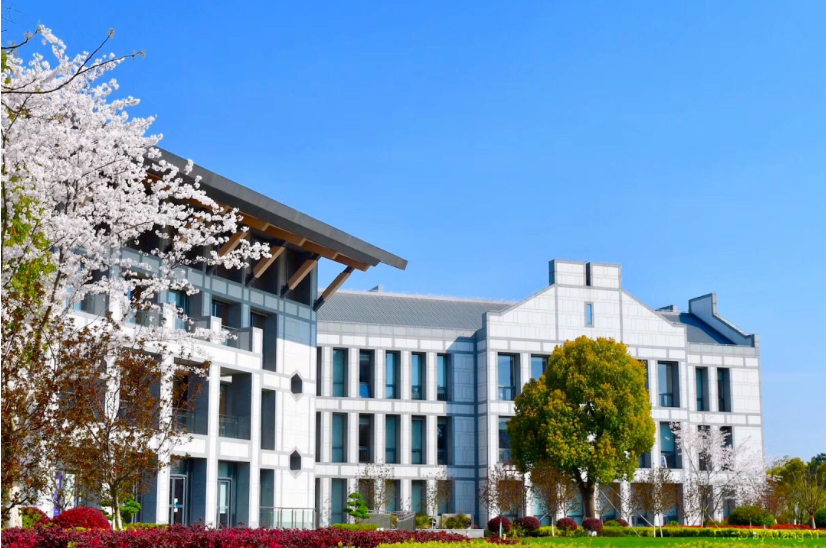 Campus in spring
An appreciation for the nature
"I love hiking and joining hiking trips every year. During one of my hiking trips with a group of teenagers, we organized a meditation session in the forest beside a river where everybody found a quiet place without getting too close to each other. It was a long twenty minutes. I struggled with my impatience for the first half of the session, but as the time went by, I felt more and more at ease. I listened to the sounds of the birds, the crickets, the river, and the leaves; I thought about my relationship and our relationship with nature; and finally I thought about nothing and I felt myself becoming a part of the nature. This is such a unforgettable experience for me."
The above is part of an account from Cecil Zhao, a DP1 student, as he finds his link with nature and comes to appreciate its beauty. It can be said that overtime we have come to appreciate nature in general a bit more than we used to; it has become more and more distant as more and more of us move away from it to live in concrete jungles.
Stanley Qiu, a bird lover, and an incoming student of Class of 2023 shared his appreciation for the biodiversity that surrounds the campus.
"UWC Changshu China's lakeside habitat is blessed with an abundance of wildlife. Small egrets and pond herons are frequently spotted around campus. With some patience, you can observe many species of birds sing, catch food or rest on bridges, treetops, and riverbanks. As a wildlife enthusiast, I believe bird-watching is not only about taking photos, but also learning about their behaviors, how they are affected by human activities and environmental changes. I hope to use my photos to encourage more people to help protect our campus, so that we can see more of these beautiful creatures thrive."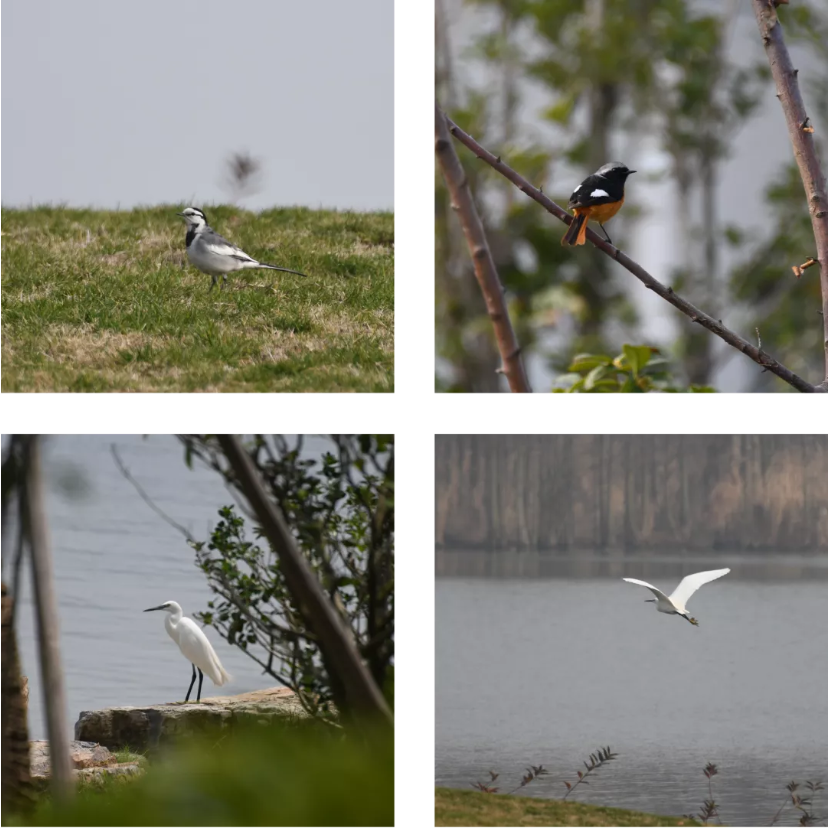 Photos by Stanley
Orlando Gu, a DP2 student is also a bird lover. He recalled how he sat by the lakeside and enjoyed his moments with the birds.
"There wasn't a clear boundary between the lake and our campus until the second phase construction was completed. Each time I stand at the end of C block, the image of a waterfowl fleeing away when the constructing workers nearby show up. I thought we lost them for good. Unexpected they returned after that winter, not blaming us for taking their home away.
The second phase construction provides a perfect condition for those waterfowl. They take the reed as their habitats, usually hiding themselves for most of the time. It's my daily habit to take a walk twice a day and almost every time I can meet some of them. The one that always holds on the pillar under the bridge, the one that hunts near the farm, and the one with the most unique color and long beak, they are UWC residents.
Before the spring festival holiday, I rowed to another side of the lake and found another group of them. Like nearly everywhere else, that small population is under the risk of construction and urbanization. We can move closer to a sustainable future by hosting these homeless waterfowls on our campus. I hope there will be more and more animal residents living in peace with us. "
While any given day is enough to help one see the magnificence of our home planet, a specific day to commemorate it can be treated as a reminder and Earth Day can be seen purposeful in doing so.
Bruce Zhou, a DP student shares below his experience as became a member of the Gardening Zhi Xing at the College.
"A valuable part of my childhood is the memory of the farm managed by my grandfather. I have always dreamt to have a piece of land in which I could cultivate my favorite vegetables or fruit; and to witness their growth. Fortunately, with assistance from Eco-Warrior, a student Zhi Xing group focusing on caring for environment and Mr. Cui, father of one of our teachers, I got a chance to work on a mini-farm we have on our campus. We harvested sweet potato, plowed the land, sowed Chinese cabbage, and transplanted tomatoes. I truly sensed the pleasure of farming. Mr. Cui provided us with knowledge and skills related to agriculture during this process. 'Why do we need to cover the garlic seedlings with a layer of weeds?' 'How to fixate the plant with a climbing stem?' I was amazed by the mysterious power hidden in the earth to turn seeds into plants and the wisdom we have accumulated on farming throughout the human history."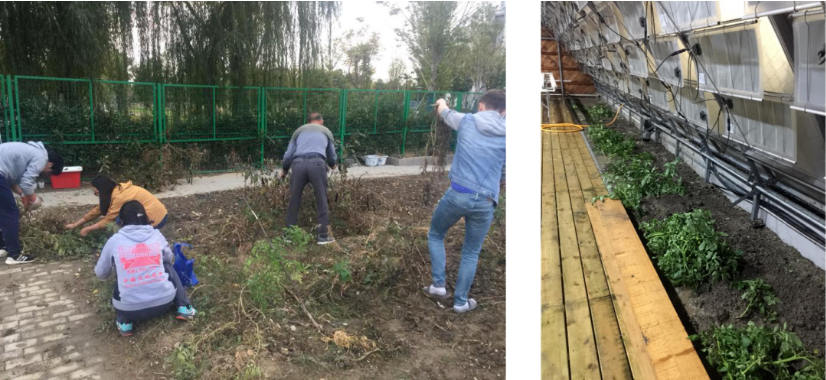 Gardeners in action in the garden and the enclosed greenhouse with its fresh plantations
Bruce's statement about the "mysterious powers" of the Earth has made me wonder about the remarkable position we are in as inhabitants of the Earth. We've gone far and beyond across the universe and have seen that there are millions of planets out there and yet still we haven't managed to observe a single one with the same "mysterious powers" as the Earth. It really should inspire gratitude in us and respect for our home. The Earth is truly a home like no other.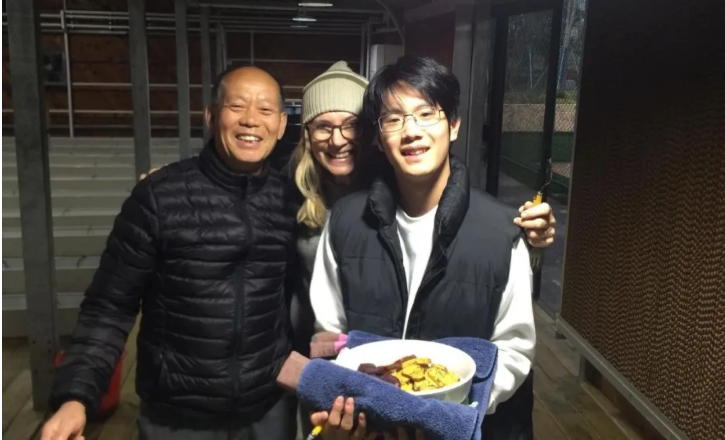 Mr. Cui, Ulrike and Bruce (left to right) enjoying the produce of their hard work
Our impact, as individuals
That is why it raises doubts for me when people treat this place so recklessly that it makes one wonder if they haven't realized that this is the only home we have for now. As humankind has grown exponentially over the past few centuries, so has our impact on the planet we live on. We must question the impact of our actions and try to find ways to be more beneficial than damaging to the Earth's health; quite similar to how Jian Shi and Qianli Xu have done as they recount below.
Jian Shi, a Chinese teacher took an individual step to rescue hydrangeas and bring them back to life. She wrote beautifully about her "life-saving story".
"Last week, I took a walk in the campus. To my surprise, I found that the hydrangea I planted by the lake have been moved by the Property Management staff to the field under the wisteria trellis together with the newly planted hydrangea. I was so happy that they had been 'officially adopted' and have a more suitable home.
These hydrangeas were originally bought when the flowers were in blossom last summer. They were placed in pots around the Taihu stone on campus. When the flowers faded, the gardeners moved them away and placed them in the corner of the vegetable garden. Although there is a shade, there is little rain in autumn, and all the plants withered. Hydrangea is very often part of the beautiful scene in the garden in southern China. I like Hayao Miyazaki's animation films a lot. I remember figures in his animation often are sheltered under a tall cluster of hydrangeas. During a weekend, I moved a dozen pots of hydrangeas which didn't seem to be completely dead and planted them next to the spring flowers at the lakeside. There are also chrysanthemums re-planted by teachers and students from Gardening Zhi Xing. Although those flowers are inconspicuous and trampled on occasionally, they still survive and some of them are in full blossom. When I tried to replant the hydrangea, there was little sign of life. But this spring, I found that each of them got new buds from the roots. Now, even the Property Management staff have noticed them and replanted them into the new garden.

Hydrangeas back to life
I am very happy to have been a caretaker for those flowers which colour our campus and bring happiness to our life."
Qianli Xu, a FP student, with his team of Gardening Zhi Xing members found a way to not only be resourceful by gardening but also reduce the potential damage we do to our environment by recycling:
"Last year, I was a member of the Gardening Zhi Xing. At the beginning, we didn't have enough plots for planting. To solve this problem and to be sustainable, we decided to utilize the discarded paper boxes and soft drink bottles.
On the one hand, we asked our friends for empty bottles. On the other hand, we also checked the rubbish tanks on each floor at night. During that period, if you saw some students who wandered around the trash can and used a stick for rummaging, they must be members of Gardening Zhi Xing. We call what we are doing "Treasure Hunt" because you would never know what you would find in the bin. After taking the bottles out, we cleaned them before transforming them into planting plots. During that period, my desk was always surrounded with paper boxes and plastic bottles.
In one month, we collected nearly two hundred bottles and we never felt worried about our planting plots after that. "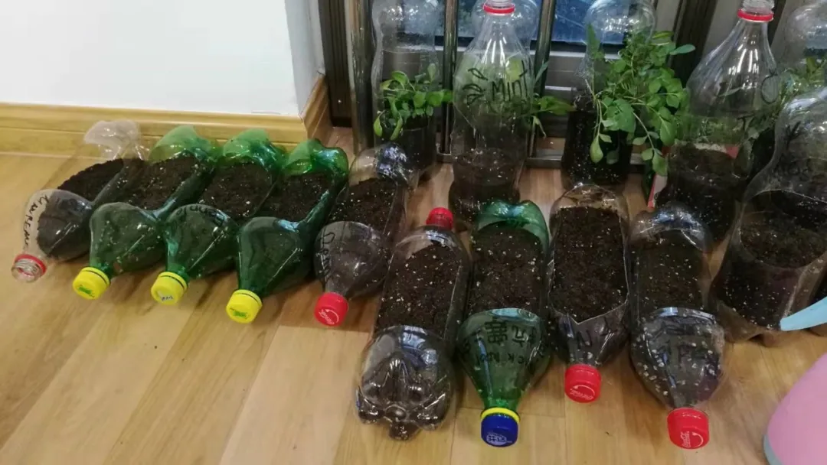 Recycled bottles for growing plants
While, these initiatives were not taken because of Earth Day in anyway, we may still link it back to it because of how the concept demonstrated the power of an individual's efforts combined together. The first Earth Day was a day where thousands of young individuals got together across places to show their support for the Earth. They got around on bicycles or by walking and collected trash that they found lying around. Their actions and voices were heard and their demands for protecting the environment made headlines. Thus, one may perceive Earth Day to have played a role in laying the foundation for many individuals taking initiatives for the environment on their own within their own areas of influence no matter how big or small.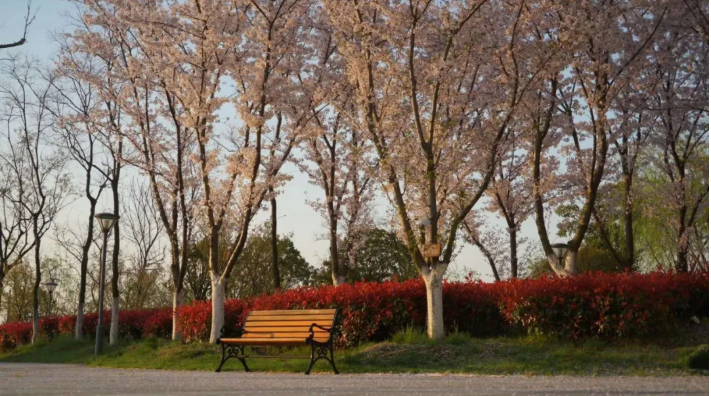 Campus in spring
Our impact, as communities
It can also be said that the Earth Day brought together a community on the basis of environmental advocacy when all those people worked together towards a goal. As a student group focusing on environment protection, Eco Warriors take diverse initiatives throughout the school year bringing our community at the forefront of energy conservation, waste management, recycling, cutting down single use of plastic, gardening and aquaponics and swap shop. A similar instance is regularly witnessed at our College, with Swap Shop held at various times of the year, as Adinda Khairunnisa explains:
"I started to play a leading role in organizing Swap Shop because I was so passionate about it. First of all, it's because of how much I love free stuff – especially clothes; and secondly, it's also about the message that Swap Shop is trying to spread. The idea is that, at a designated place, anyone can come to give out literally anything including clothes, stationery and sometimes even food – things that they own which they don't use anymore and people can just come and trade their stuff with each other, though you don't really need to have anything to trade off to join the Swap Shop. This promotes the idea of the 3Rs (Reduce, Reuse, Recycle) as it really does limit everyone from doing online shopping, and make use of stuff instead of throwing it away and creating more waste. Even such a small act like this can make an impact to the environment! "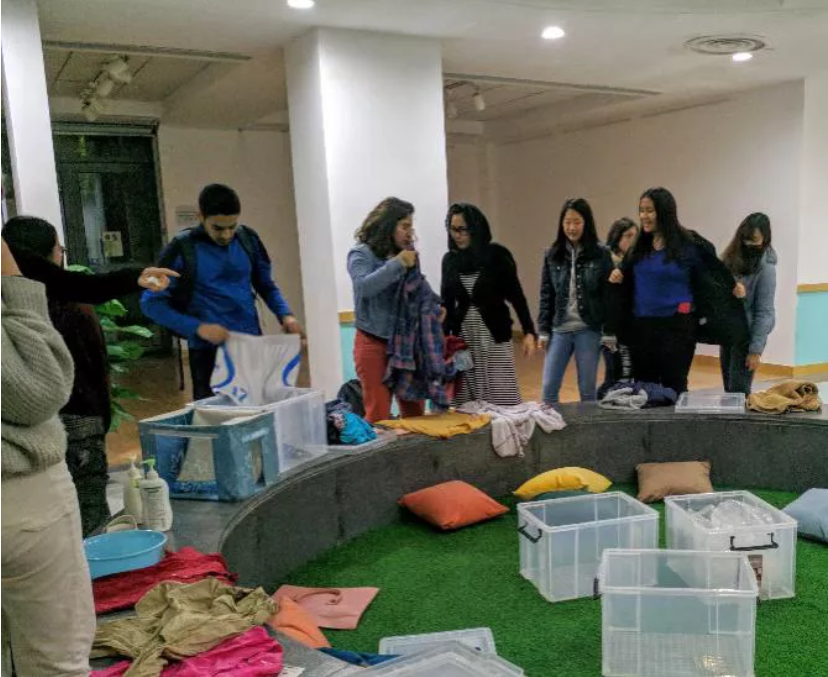 Swap Shop to trade, give-away, take or just hang-out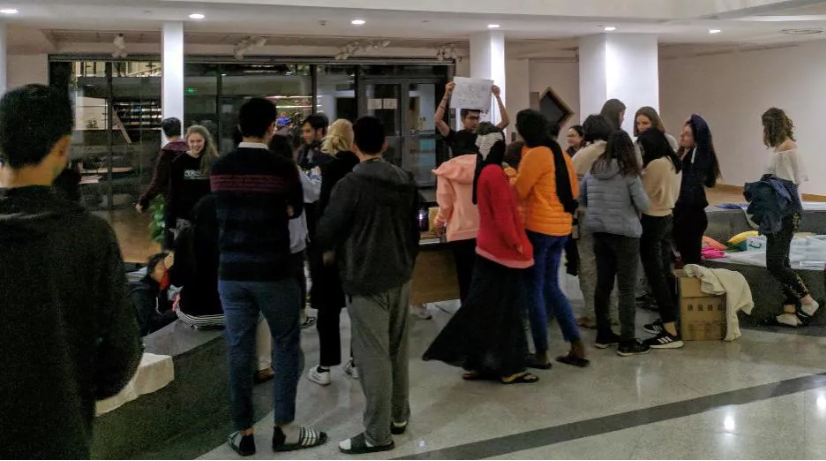 Swap Shop team checking if the stuff are still worthy of use in order to responsibly prevent Swap Shop from collecting trash and just creating more waste.
Such events where the community gets together to show support for the environment are common and within those usually a question is raised about the significance of the impact we are making as individuals.
Over the years, there has been an argument that emerges of whether it truly is worthwhile for individuals to make any efforts towards the environment when the impacts made by much bigger factories and machines is simply outweigh the individual's efforts... or do they?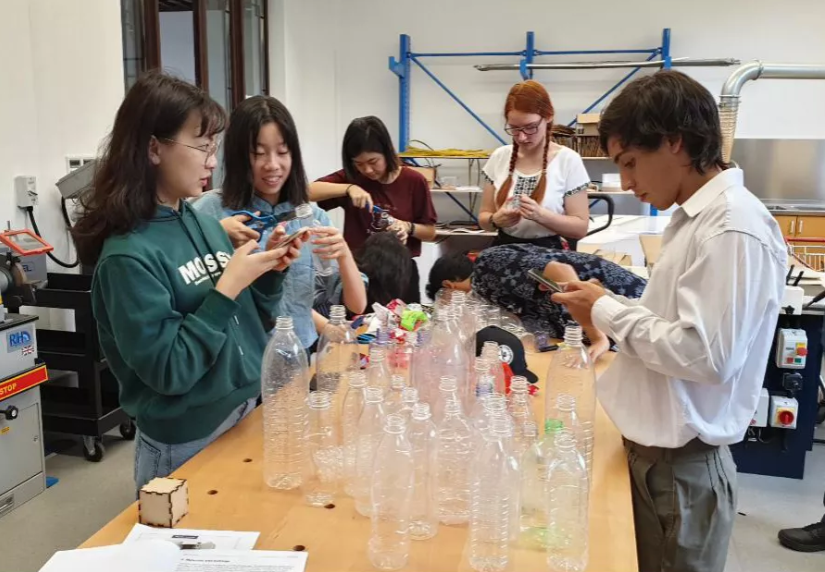 Recycling plastic for design projects
With the COVID-19 we have seen a sharp decline in nitrous oxides and other pollutants in the air due to reduced carbon emissions from cars, planes, factories and other industrial and pollutive processes that were halted. Animals have left their confines to roam freely in cities. Vegetation has started reclaiming urban structures and spreading wildly. To many this seems like a comeback for the environment. Considering only one part of the picture, we can say that the COVID-19 pandemic has been a win for the environment. It has shown us that as individuals when we come together to achieve something, when a community is determined towards a unified goal, that goal can be achieved.
While this is only one perspective of the environmental impacts COVID-19 has brought about, it still shows us that incrementally, we as individuals do hold the power to make a direct impact on our environment and the Earth. The individual's efforts, no matter if as simple as riding a bike instead of driving a carbon-fuel based car or choosing to reduce the flights we take, can make significant impacts that we can clearly observe with our own eyes. This goes back to what Earth Day began as: small groups of individuals advocating for the environment. It can make a difference.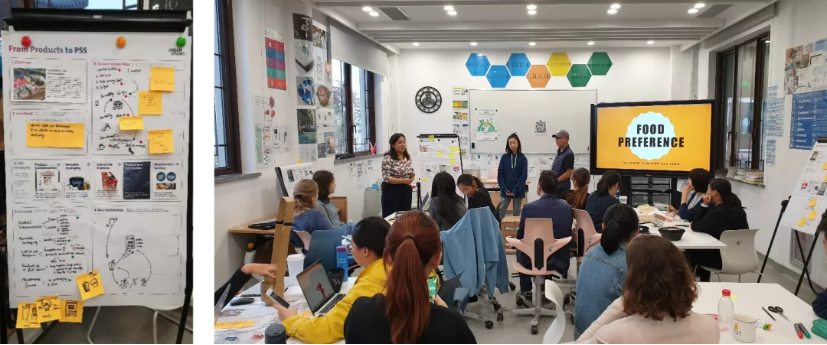 Students designing innovative solutions for more eco-friendly practices
However, of course, there is another side of the coin. Fixing the issues of global climate is not as simple as correcting a few factors. There is much more at play. As more people have chosen to stay indoors, habits on online shopping, consumption and waste production have changed and those habits, if they stick around, might end up worsening the situation for the environment in the long-run. As the economy goes into decline; many businesses have halted their recycling projects to either save costs or reduce risks and, policies and long-term plans are also being reconsidered for the better or for worse. In 2008 we saw a similar situation with the global economy which unfortunately did not change for the better. In 2020, changes from this pandemic could lead to a worsened climate crisis or a brighter future depending on how we emerge out of it and what lessons we learn from our past. There is a rare opportunity to change our habits and to reform our economy with a much more modern and sustainable framework on our hands, where concern for the preservation of our planet as a shared resource is prioritized high enough to make a real difference.
Earth Day: still relevant?
So, how does Earth Day stand in this situation? Although, it hasn't solved the climate crises or protected flora and fauna from going extinct, we do see, nonetheless, that it started this conversation. Had there not been as high an awareness and as great a concern raised by activists and scientists before us, many of us may not have had appreciated the Earth, its beauty and value as much and we may not have taken the steps we did as individuals and communities to show our care for it. Our planet needs us to advocate for its health and sustainability during recent times more than ever: Undeniably the negative impacts of the lack of sufficient efforts are openly visible: deaths in forest-fires, droughts, starvation and famine, losses in flooding, health concerns (lung diseases etc.). Climate change and protecting the Earth is no longer a distant goal that we have to deal with so that our future generations can strive – like the people thought back then. It is for us; now, so that we can survive.
I believe, that today, a commemoration like the Earth Day serves as a reminder of these concepts that our home is an invaluable resource and the individual matters well enough that together we are capable of making a difference for ensuring a more sustainable future.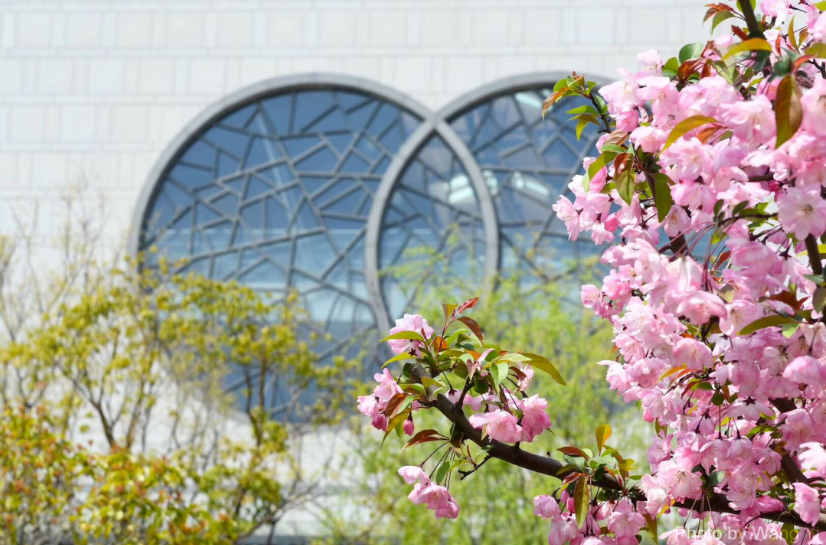 Campus in spring
Making education a force for a sustainable future
UWC Changshu China is all set to mark the 50th Earth Day, 22 April 2020. We are celebrating Earth Day with a series of online events during 16th to 22nd April. UWC community members engaged themselves in online discussions, webinars, film screening, digital campaign, volunteering for events and celebrations around the world. Community leaders participated in webinar by the United Nations Economic and Social Commission for Asia and the Pacific (ESCAP) to get started on climate action in the workplace. Even during these exceptional times, we are committed to caring for our planet by making education a force towards a sustainable future.