A Journey of Cultural Fantasy——2019 Chinese Cultural Evening
Issue date:2019-01-22
"When the spring flourishes, within the blossom, she smiles." This is a stanza delivered vividly by Ms. Ping LI, Vice Principal, Director of the Chinese Programme, together with a few Chinese teachers and their young children at Chinese Cultural Evening (CCE) 2017. As we are bidding farewell to the year of the dog and welcoming the arrival of the year of the pig, such a melodic sound often lingers around us and we can't wait for the unveiling of the 4th CCE on Jan. 25th, also known as the "Spring Festival Gala" of UWC Changshu China. Are you curious about what surprises 2019 CCE will bring to all of us?
A Chinese Cultural Fantasy
CCE is the biggest Chinese cultural event of UWC Changshu China. It is a platform for students to showcase the diversity and charm of the Chinese culture and express their understanding of Chinese culture through a variety of cultural performances.
While the theme of 2018 CCE was to unfold the history of the evolution of Chinese culture from ancient times to the modern era, the theme of 2019 CCE is to manifest the cultural diversity of China and provide a glimpse of the splendid spectacle of Chinese culture across the country. From North to South, from East to West, cultures and traditions are strikingly different in certain ways, but they are just as glamorous and dynamic: from a popular song originated in areas inhabited by Hakkas, in Fujian Province, to the traditional dance of Fengyang, in Anhui Province; from a dance of Dai minority nationality in the Southwest to Peking opera in Beijing's teahouses; from the famous Tang poem "Mooring by Maple Bridge at Night", depicting a scenic spot in Suzhou, to a melody from Xinjiang Autonomous Region in the far West.
Iwani, a student from Botswana shared what CCE meant to her:
"CCE for me as an international student and as an African woman is really about indulging in the traditions and stories about China and Chinese culture and really getting to immerse myself in all the wonders it has to offer. From a hosting perspective, we are on a journey throughout China experiencing the different ways Chinese New Year is celebrated in different parts of China. This is like an adventure, getting to explore and understand more about southern and northern China, western and eastern China,different cultures, dialects and celebrations. It's really important for me to get my Chinese to the adequate level because I am representing much more than myself – I am representing my country, the international students in China and I am representing the UWC community and it's really important to be a good representation for what we stand for here."
Let's join Iwani on the forthcoming journey of Chinese cultural fantasy!
A debut of Baimao Folk Song at UWC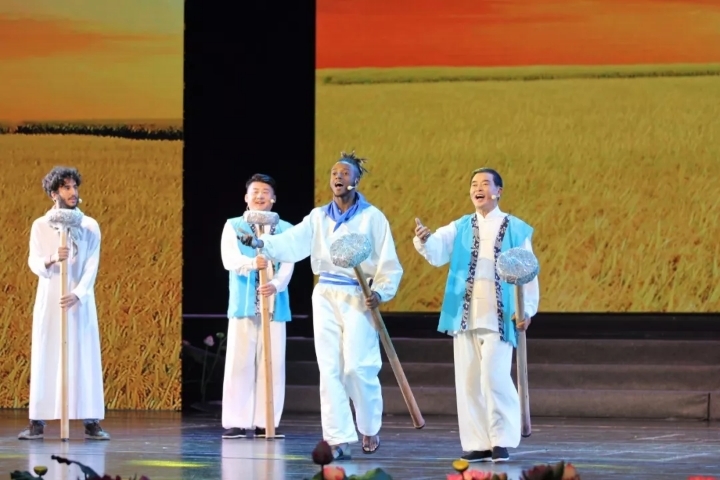 Ms. Shirla Sum hosted the reflection session
Not only is this year's CCE a fantasy tour, but also one filled with great surprises. Two examples of Changshu's local intangible cultural heritage will appear on the CCE stage. One of them will be the "Baimao Folk Song" derived from Guli, Changshu more than 4500 years ago. This is a traditional folk song, passed down from generation to generation, popular among the local people to tell stories of their daily life and express their feelings. In 2006, it was named as a national intangible cultural heritage. Having foreigners sing the "Baimao Folk Song" was an idea initiated by the Centre for Chinese Programme of the Yushan Academy of UWC Changshu China. Four students of UWC Changshu China from different countries will perform with local folk artists of Guli at 2019 CCE. This will certainly be a highlight and an innovation, as it is a reflection of UWC's value of uniting people from different nations, cultures and the local community for peace and a sustainable future.
"There is more in you than you think"
CCE is not merely a gala event, but also a chance for students to improve their skills in organization, communication, leadership, time management, and creativity. The entire Organising Committee of CCE is run by students with the support of Vice Principal Ms. Ping LI and teachers in the Chinese Programme.
The Director-General of 2019 CCE, Sunny Fan, just recently celebrated her 16th birthday. Although she is one of the youngest students at the College, she had the courage to take on this very challenging role. When asked what she regarded as the greatest lessons she learned from her role, she said time management, communication, and control of her emotions:
"I had to learn to balance my time to study and work on CCE and ensure I have some sleep. I also needed to learn how to better communicate with my peers to make sure they improve their performances to the best they can. Meanwhile, I also needed to keep control over my own emotions, being under such immense pressure. Now I learned how to trust myself and trust everybody around me to get the work done with joint efforts."
Broadcasting an online live stream of CCE all over the world started in 2017. This gave the Chinese students who are studying aboard in different UWCs an opportunity to enjoy the festive atmosphere and the wonder of their home culture no matter where they are. Parents and friends of UWC students can also watch our live broadcast of students' performances, sharing their love for Chinese culture while experiencing cultural diversity.
This year, for the first time, the live stream system will be operated solely by our own students in the tech crew, which is undoubtedly a new challenge and a task of great responsibility. Yet, the students are not daunted by the many technical details involved and are eager to learn new skills through such valuable hands-on experience.
(Live stream QR code will be posted soon on our website, please stay tuned.)
Throughout the whole CCE preparation process, there are always unexpected situations and issues to be dealt with. Bearing in mind the wisdom of UWC founder, Mr. Kurt Hahn: "There is more in you than you think", students are ready to turn challenges into opportunities and grow stronger through trial and error.
2019 CCE Overture
With 2019 CCE getting closer and closer, our campus is illuminated by festival lights and lanterns, decorated with flowers and Spring Festival couplets. An array of activities focusing on Chinese culture are also taking place: a GIF discussing education in rural areas of China, workshops introducing Chinese traditional culture, a food fair of festival delicacies and a Chinese movie night. All of these activities are designed to help Chinese and foreign members of the community to better understand different aspects of Chinese society and Chinese culture.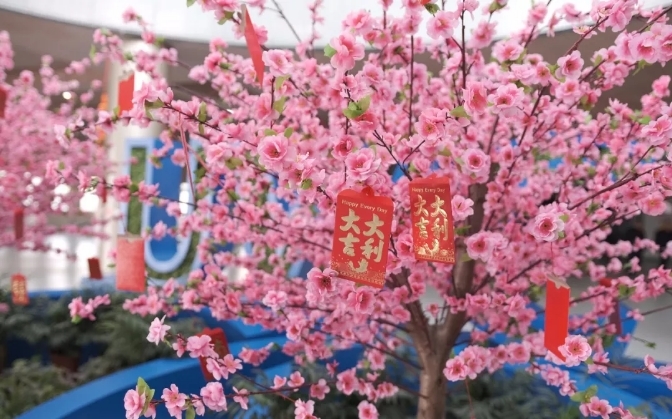 Festival decorations on campus
Due to the success of CCE in the past three years, the significance of the gala event has gone far beyond expressing appreciation of the Chinese culture, sharing the achievements and exchanging experience of Chinese study among teachers and students coming from more than 100 countries and regions. CCE now is a meaningful way for UWC Changshu China to thank all our friends and partners for their care and support over the past year. CCE also provides an occasion for us to build an even stronger bond between the city of Changshu and our College and at the same time to share with the world the best-preserved treasures of the Chinese cultural heritage.
CCE is perhaps best captured by the sentiments of Joyce Wang, a three-time host of CCE, who is going to graduate this year to study at Harvard University.
"Being in this very international environment just reminded me of how much I should preserve and appreciate my own culture. I want to show people what Chinese culture really is. And one of the best way to show it is through eloquently presenting my culture to foreign friends. So it's really meaningful to me. I want to re-emphasize how important it is to remember who you are and what your cultural identity is in an international environment. Sometimes you get lost, however, you should never forget who you are because how can you ever learn from and appreciate other cultures if you don't know and love your own. That's what CCE means to me."
When asked what she would remember most fondly, Joyce said:
"The most unforgettable moment of CCE has to be the first ever Chinese Cultural Evening, because I was the person who said 'This marks the end of the first ever Chinese Cultural Evening of UWC Changshu China!' and everyone started cheering, people started tearing up. It was a very beautiful memory for me and I genuinely felt so proud of my culture, so proud of myself, and so proud of my peers who were there with me."
2019 CCE is just 3 days away!
Are you getting excited?